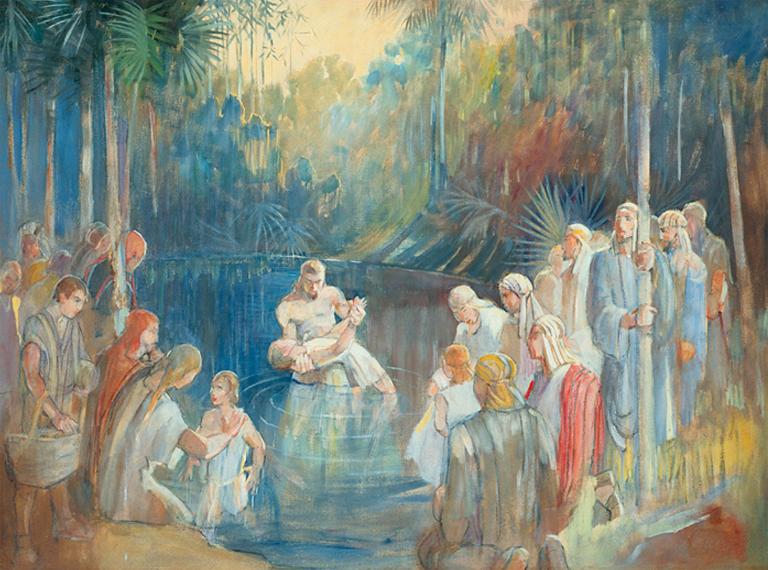 ***
The newest article in Interpreter: A Journal of Latter-day Saint Faith and Scholarship was written by Noel B. Reynolds and appeared today (Friday):
"The Goodness of God and His Children as a Fundamental Theological Concept in the Book of Mormon"
Abstract: The phrase goodness of God does occur occasionally in the Hebrew Bible but has not been considered by Old Testament scholars to be an independent principle in Israelite theology. Rather, it has been interpreted as just another way of talking about God's acts of hesed, or loving kindness for his covenant people and is usually interpreted in the context of the covenants Israel received through Abraham and Moses. The Book of Mormon clearly echoes that Old Testament pattern but also presents two additional conceptual frameworks that are explained in terms of the goodness of God. It advances an explicit divine plan of redemption or salvation that existed before Abraham — even before the creation of the earth — which had as its purpose making eternal life possible for God's human children universally — not just the descendants of Abraham. And it also teaches the gospel or doctrine of Christ that provides the path individuals must walk to take full advantage of that plan — as they become good like God and qualify to enter his presence and receive eternal life. Nephite usage radically expands the Old Testament concept by portraying this mortal probation as each person's God-given opportunity to become good like God. The goodness of God is frequently invoked by the Nephite prophets as a basic theological concept which can explain why God advanced his plan of salvation for men before the world was and why he is completely reliable in blessing and protecting those who have entered the covenant path by embracing his gospel and striving to endure to the end. The Nephites also used the phrase in the Old Testament pattern to explain the acts of God in delivering, blessing, and preserving his covenant people. Furthermore, some usages seem to invoke all three of these contexts simultaneously, demonstrating the comfortable integration of each of these perspectives in Nephite theological understanding.
***
And after you've finished reading the new article by Professor Reynolds, you can perhaps read the essays below, drawn from an earlier number of Interpreter, when you're not ferrying friends, neighbors, relatives, and perfect strangers to showings of Witnesses:
David L. Clark, "If I Pray Not Amiss"
Abstract: In 2nd Nephi, it is suggested that the Lord answers prayers but that requests made in prayer should not violate some kind of standard that would make them "amiss." This undefined standard most likely excludes many prayers requesting immunity from those conditions of mortality which all mortals accepted and embraced with great enthusiasm in the great Council in Heaven. However, except for limited latter-day explanations of that great conference, our eager acceptance of all details of the conditions of mortality did not carry over into mortal memory. Consequently, when we request exemption from those conditions joyfully endorsed in premortal time, perhaps many qualify for the "prayers amiss" category. Exceptions from mortal conditions are granted only for divine and sometimes incomprehensible purposes.
Paul C. Peterson, "To Be Learned Is Good, If One Stays on the Rails"
Abstract: This review essay looks at certain problematical issues in the recently published collection of essays honoring Latter-day Saint historian Richard Lyman Bushman. Problems emerge from the title itself, "To Be Learned is Good," as a result of the failure to note that the Book of Mormon passage "To be learned is good" is a conditional statement. In addition, since these essays are billed as "Essays on Faith and Scholarship," it is odd most of them do not touch on this subject at all. I examine four essays in depth, including Adam Miller's "Christo-Fiction, Mormon Philosophy, and the Virtual Body of Christ," which is offered as a form of clarifying Mormon philosophy but provides more confusion than clarification. Jared Hickman's essay, "The Perverse Core of Mormonism: The Book of Mormon, Genetic Secularity, and Messianic Decoloniality," presents Mormonism as a religion that has much in common with Marxism, Frantz Fanon, and Sean Coulhard. While not as bold as Hickman, Patrick Mason looks at Mormonism as a modern religion and suggests that premodern thinkers are largely irrelevant to Mormonism and the modern world. Mason argues that "Mormonism is a religion that could meaningfully converse with modern philosophies and ideologies from transcendentalism, liberalism, and Marxism." I discuss the weaknesses of this view. Attention is also given to the distinction between apologetics and "Mormon Studies" that arise from essays by Grant Wacker, Armand Mauss, Terryl Givens, and Brian D. Birch, who suggests "'a methodological pluralism'" in approaching Mormon studies. I note that several of the essays in this volume are worthy of positive note, particularly those by Bushman himself, Mauss (who does address the presumed theme of the book), Givens, Mauro Properzi, and Melissa Wei-Tsing Inouye (who also addresses the titled theme of the book in a most engaging manner).
Review of J. Spencer Fluhman, Kathleen Flake, and Jed Woodworth, eds., To Be Learned is Good: Essays on Faith and Scholarship in Honor of Richard Lyman Bushman (Provo, Utah: Neal A. Maxwell Institute for Religious Scholarship, Brigham Young University, 2017). 368 pp. $24.56 (hardcover).
Matthew L. Bowen, "Moroni's Wordplay on Joseph in Ether 13:1-13 and Moroni 10:31"
Abstract: In two related prophecies, Moroni employs an apparent wordplay on the name Joseph in terms of the Hebrew idiom (lōʾ) yôsîp … ʿôd (+ verbal component), as preserved in the phrases "they shall no more be confounded" (Ether 13:8) and "that thou mayest no more be confounded" (Moroni 10:31). That phraseology enjoyed a long currency within Nephite prophecy (e.g., 1 Nephi 14:2, 15:20), ultimately having its source in Isaiah's prophecies regarding Jerusalem/Zion (see, for example, Isaiah 51:22; 52:1– 2; 54:2–4). Ether and Moroni's prophecy in Ether 13 that the Old Jerusalem and the New Jerusalem would "no more be confounded" further affirms the gathering of Israel in general and the gathering of the seed of Joseph in particular.
Brad Wilcox, Wendy Baker-Smemoe, Bruce L. Brown and Sharon Black, "Comparing Book of Mormon Names with Those Found in J.R.R. Tolkien's Works: An Exploratory Study"
Abstract: The works of Tolkien and the Book of Mormon have been compared in a variety of ways by multiple authors and researchers, but none have looked specifically at the unusual names found within both. Wordprint studies are one tool used in author attribution research, but do authors use specific sounds more than others — consciously or subconsciously — when selecting or inventing names? Some research suggests they may and that their patterns could create a "sound print" or phonoprint. This constitutes a fresh and unusual path of research that deserves more attention. The purpose of this exploratory study was to see if phonoprints surfaced when examining Dwarf, Elf, Hobbit, Man, and other names created by Tolkien and Jaredite, Nephite, Mulekite, and Lamanite names found in the Book of Mormon. Results suggest that Tolkien had a phonoprint he was unable to entirely escape when creating character names, even when he claimed he based them on distinct languages. In contrast, in Book of Mormon names, a single author's phonoprint did not emerge. Names varied by group in the way one would expect authentic names from different cultures to vary. Although much more research needs to be done to establish the validity and reliability of using phonoprints for author identification, this study opens a door for future research.
Stephen O. Smoot, "Et Incarnatus Est: The Imperative for Book of Mormon Historicity"
Abstract: Some have come to insist that the Book of Mormon should be read as inspired fiction, which is to say that readers, including Latter-day Saints, should abandon any belief in the Book of Mormon as an authentic ancient text and instead should see it as an inspired frontier novel written by Joseph Smith that may act as scripture for those who follow his teachings. This paper provides reasoning to reject this proposition as not only logically incoherent but also theologically impotent.1 It raises the objection that this position fundamentally undercuts the credibility of Joseph Smith. The Prophet's direct claims concerning the coming forth of the Book of Mormon as well as how the Book of Mormon presents itself to the world do not easily permit any leeway for a "middle ground" on this matter.
Taylor Halverson, "Why Did Northern Israel Fall to the Assyrians? A Weberian Proposal"
Abstract: This article is centered on possible causes for the fall of Israel and, secondarily, Judah. The topic is not new. The very destruction of these ancient kingdoms may be the cause for the production of much of the Biblical literature that drives our interpretive enterprise. My proposal is that Max Weber's socio-political theories of power and domination, sometimes called the tripartite classification of authority, may provide a fruitful lens by which to understand some of the reasons Judah persisted for more than a century after the fall of Israel. Specifically, I wish to investigate whether the lack of routinization of charismatic authority was a contributing factor in Israel's fall.
Posted from Devils Lake, North Dakota