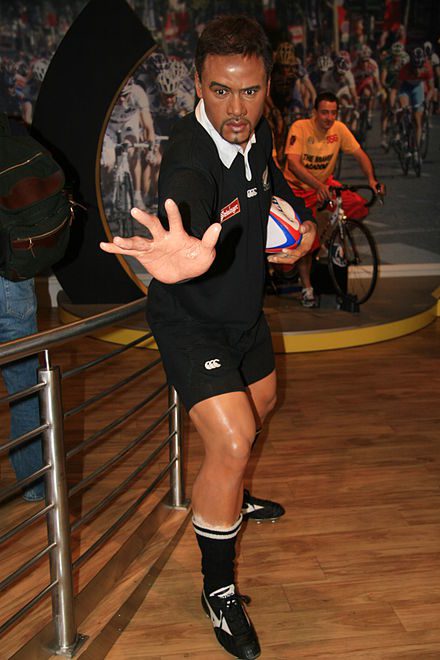 ***
I really like the 2009 Clint Eastwood film Invictus, which I consider quite inspiring. It stars Morgan Freeman as Nelson Mandela and Matt Damon as the rugby player François Pienaar, the captain of South Africa's rugby union team. I'm not authority enough on South African history to confidently pronounce Mr. Mandela a hero, but his portrayal in the movie certainly inclines me in that direction. I hope that it captures him accurately.
In the final, climactic phase of the film, South Africa's national team, the Springboks, face the legendary All Blacks of New Zealand for the 1995 Rugby World Cup.
The chief menace on the All Blacks team — who arguably constitute one of the greatest sports franchises of all time — was the enormous but agile Jonah Lomu, the All Blacks' "left wing," who was widely considered the best rugby player in the world. He was played in the film by Isaac "Zak" Fe'aunati. In the movie, President Mandela, shaking Lomu's hand in the middle of the field just prior to the game, tells him "I'm afraid of you!"
Jonah Lomu died on 18 November 2015, aged just forty. The cause was a sudden and unexpected heart attack connected with the chronic kidney disorder called "nephrotic syndrome" with which he had been diagnosed in the very year of the World Cup game with South Africa. That disease had ultimately ended his professional career as a player.
Here is a one-minute video showing part of the haka that was performed in Auckland, New Zealand, in honor of Jonah Lomu at his death. Am I alone in finding it deeply moving?
I think that some readers of Sic et Non may perhaps be interested to know that Jonah Lomu and his wife joined the Church of Jesus Christ of Latter-day Saints in 2012, three years prior to his death.
The poem from which the film Invictus takes its title — and which evidently inspired Nelson Mandela during his many years in South African prisons — was written by William Ernest Henley (1849-1903). Curiously, at least according to his Wikipedia entry, Henley — who lost one of his legs to disease as a boy — inspired Robert Louis Stevenson to create the character of Long John Silver (in Treasure Island, 1883), while Henley's little daughter Margaret inspired J.M. Barrie's choice of the name Wendy for the heroine of his play Peter Pan (1904). (It had been a relatively rare feminine name prior to that time.) A sickly child who could not speak clearly, Margaret referred to her friend Barrie as her "fwendy-wendy," from which Barrie derived the name. Unfortunately, neither William Ernest Henley nor his daughter Margaret lived long enough to see Peter Pan published or produced. Margaret died in early 1894, at the age of five.
But here, for your consideration, is the text of Henley's famous poem:
"Invictus"
Out of the night that covers me,
Black as the pit from pole to pole,
I thank whatever gods may be
For my unconquerable soul.
In the fell clutch of circumstance
I have not winced nor cried aloud.
Under the bludgeonings of chance
My head is bloody, but unbowed.
Beyond this place of wrath and tears
Looms but the Horror of the shade,
And yet the menace of the years
Finds, and shall find me, unafraid.
It matters not how strait the gate,
How charged with punishments the scroll,
I am the master of my fate:
I am the captain of my soul.
I like the poem. I like its spirit, its strength, its affirmation of self-reliance, its sense of personal responsibility, its resistance and refusal to surrender. I can easily see why Nelson Mandela loved it.
However, there is another perspective, a very Christian one expressed by Orson F. Whitney, who served as a member of the Quorum of the Twelve Apostles of the Church of Jesus Christ of Latter-day Saints from 1906 until his death in 1931:
"The Soul's Captain"
Art thou in truth the master of thy fate?
The captain of thy soul?
Then what of him
who bought thee with his blood?
Who plunged into devouring seas
and snatched thee from the raging flood?
Who bore for all our fallen race
what none but him could bear–
the God who died that man might live,
and endless glory share?
Of what avail thy vaunted strength,
Apart from his vast might?
Pray that his Light
may pierce the gloom,
that thou might see aright.
Men are as bubbles on the wave,
as leaves upon the tree,
O' captain of thy soul, explain!
Who gave that place to thee?
Free will is thine–free agency,
To wield for right or wrong;
But thou must answer unto him
To whom all souls belong.
Bend to the dust thy head "unbowed,"
small part of Life's great whole!
And see in him, and him alone,
The Captain of thy soul.
***
Finally, here are a few little gems of unspeakable horror that I've drawn from the Christopher Hitchens Memorial "How Religion Poisons Everything" File©:
"What Peru's first lady had to say about the Church humanitarian aid program"
"Church donates, distributes emergency supplies in Haiti; meetinghouses opened as shelters"
"Scott Taylor: What I learned about Haitian resiliency from witnessing responses to the devastating 2010 earthquake"
"Community of Sharing: Laie Hawaii Crops Farm"
"Church provides over $400,000 in COVID-19 relief to Paraguay"
"American religious groups have a history of resettling refugees – including Afghans"
"Afghan refugees coming to Utah? What we know so far and how to help: Gov. Spencer Cox lauds 'outpouring of support' from Utahns"
"Working to Prevent Neglected Tropical Diseases in Nigeria Through the COVID-19 Crisis"
"BYU major partner in project to combat Alzheimer's, dementia in Native, Pacific Islander communities:$14.6 million grant to fund effort led by WSU, BYU, University of Miami"
"2 Billion COVID-19 Vaccinations Roll out to At-Risk Populations Church donation helps support UNICEF's role in global effort"
"A man filled with the love of God is not content with blessing his family alone, but ranges through the whole world, anxious to bless the whole human race." The Prophet Joseph Smith)
Posted from Newport Beach, California