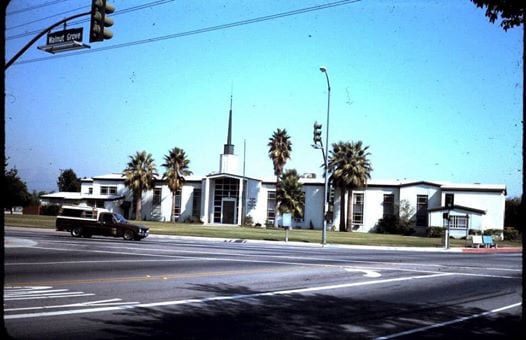 ***
Just a reminder that the Interpreter Foundation's theatrical film Witnesses is now available on DVD, both in bookstores — in Deseret Book outlets and, I'm told, at Seagull Books — and for online purchase. You know your duty.
***
Yesterday was a continuation of the Dan Peterson Nostalgia Tour. With friends, we traveled up to the Huntington Library and Gardens, in San Marino, California. En route, we drove through San Gabriel, past the place where Gabrielino High School now stands on the land that was formerly occupied by Thomas Jefferson Elementary School, from which I graduated. We drove past the vast now-empty lot where I attended church until my departure for studies at BYU, and where I happened to be speaking when my wife, visiting from Colorado, tracked me down with her non-member Caltech-student high school friend, which led to our marriage. We drove past the address where long stood the house in which I grew up, which has since been replaced by a much newer and much bigger house. We drove past San Gabriel High School, where I spent four years, then past the nearby Mission San Gabriel Arcángel, which was founded in 1771 — it celebrated its 250th birthday on 8 September of this year, just three weeks ago — and which is still undergoing repairs in the wake of an arsonist's 11 July 2020 attempt to destroy it. My brother is buried nearby, in the San Gabriel Cemetery, which is located next door to the Episcopal Church of Our Saviour, on Roses Road, and is located partly in the city of San Gabriel itself and partly in San Marino. The Church of Our Savior was the home church of the Patton family, and a large bronze statue of General Patton stands in the cemetery. (The General himself died in Europe, a few months after the end of the Second World War, under rather odd circumstances, and he is buried in Luxembourg.)
Finally, we arrived at the Huntington. We spent almost all of our time there in the fascinating Brody Botanical Center, the relatively new Chinese Garden, and the venerable Japanese Garden, where I proposed to my wife back near the dawn of human history. Most of the indoor spaces are temporarily closed, but a few remain open. We walked through the Rose Garden, enjoyed the remarkable Scott Galleries of American Art, and saw what we could of the West Hall of the Library.
When I was growing up, I thought of the Huntington Library and Gardens only as a place where, roughly once a year, my class took a field trip and we had a day away from school. We enjoyed the Desert Garden, the Jungle Garden, and all of the other gardens, of course, but quite a few years were required for me to recognize that the Huntington is a genuinely significant place — among other things, one of the world's finest repositories of materials in such areas as English and American literature, Shakespearean studies, Western American history and Latter-day Saint history, and the history of science.
Leaving the Huntington, we went to the original location of The Hat, at the corner of Garfield Avenue and Valley Boulevard in Alhambra, where, enjoying a pastrami dip sandwich, I was in sentimental and gastronomic bliss. Many times, for a special evening or when, for whatever reason, my mother didn't feel like cooking, my Dad and I were dispatched to pick up pastrami dip sandwiches for consumption at home. This particular location was the place to which we were sent. Later, when I could drive, I would go on my own. The location is still as humble, not to say bedraggled, as it was in my day.
Then, we topped off the pastrami dips with a visit to Fosselman's, my brother's favorite ice cream shop. I had a chocolate milkshake. Wonderful. And not surprisingly so. Fosselman's is, after all, according to its own advertising, the home of "the world's best milkshake."
Then we began the drive back to Newport Beach, through the area where the family construction business was (and is) located, past the cemetery (Rose Hills) where my parents and my paternal grandparents and a niece and several of my paternal aunts and uncles are buried, as well as a number of members of my childhood ward, and past the house in Whittier (Friendly Hills) where my parents spent their last three decades.
We even drove by the playground of an elementary school that called back to my mind one of the most painful experiences of my late childhood: When I was a junior in high school, a member of my ward who was in the class ahead of mine was killed in an accident. It was April 1969. He had been at the supermarket with his father when they ran into a friend of his. The friend had a new motorcycle, and he offered to give Gordon a ride home on it. Unfortunately, the friend tried to beat a train to a crossing on San Gabriel Boulevard. The train dragged the motorcycle along for about a block or so, injuring the friend and killing Gordon pretty much instantly. It was the closest death had ever come to me since my childhood — my grandfathers had both died before I was born, and both grandmothers died when I was five years old — and the closest that it would come for several years thereafter. After his funeral service, as our funeral cortege headed slowly down Walnut Grove past Willard Elementary, the students were out at recess. They gathered up against the chain link fence and yelled "How old was the old geezer? How old was the old geezer?" Gordon was just short of his eighteenth birthday. I prayed that his smitten parents could not hear them.
Thereafter, we went onto the freeways and headed back down to where we're staying right now.
I hope that our friends weren't too terribly bored. They endured it well, with great patience, fortitude, and politeness.
***
I'm bemused, I confess, by embittered former believers who listen to General Conference merely to look for things to ridicule and to complain. It seems rather odd. I've enjoyed Conference thus far, and I hope that you have, as well.
Posted from Newport Beach, California