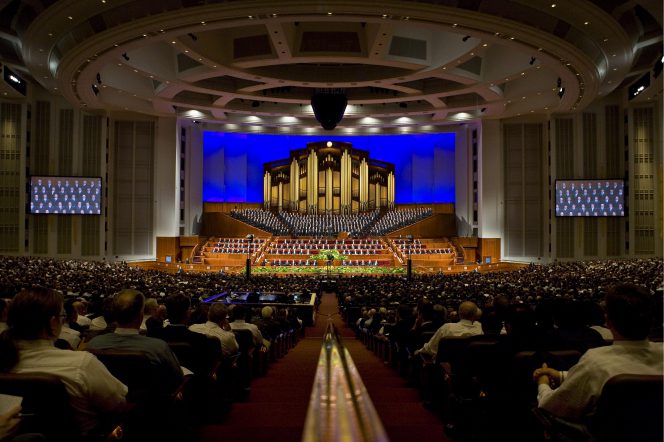 ***
Many years ago now, I found myself sitting in the office of a BYU faculty colleague.  I had been with her in a meeting in her building and, forty-five minutes after it concluded, I was scheduled for another appointment in that same building.  She, though, was teaching a class during that intervening hour, and she offered me the use of her office while I waited, so that I wouldn't need to walk to my own office across campus and then to walk back again.
Hers was a rather small office — she was a part-time instructor at the time — and I ended up sitting in her chair at her desk and doing a bit of my own work.  From that vantage point, I could see a two-page list posted on the wall — though somewhat hidden behind a file cabinet and plainly meant for her eyes only.  It was a list of speakers from the recently-concluded General Conference of the Church of Jesus Christ of Latter-day Saints.  To the right of each speaker's name was a brief, practical, specific, one-sentence resolution, inspired by that speaker's conference remarks.  Each named at least one particular action or change that she intended to undertake, in response to what each speaker had said, over the next six months.
I'm putting it very mildly when I say that I was deeply impressed.  In fact, truth be told, I felt more than a little rebuked.  I realized that, although I have listened live to virtually every conference address delivered over at least the past four decades or so, I hadn't been listening nearly as carefully as she was.
Frankly, I still don't.  I admire her seriousness about General Conference, but I continue to fall short.  Nevertheless, I admire her example, and I continue to think about it and to want to emulate it.
I still listen to all of the conference speeches live.  Typically — always, really — I'm doing something else while listening.  I go through stacks of magazines and papers.  I walk on our treadmill.  I organize books.  I can't just sit there.  But what works best for me, ideally, is to read the speeches again thereafter, in the conference issue of the Church magazine or online.  One each day.  And, as I do so or shortly thereabouts, I try to listen for impressions, for indications of what I should do in relation to the speaker's remarks.
In this way, I try to make conference a source of personal revelation to me.  And, in this way, conference isn't merely a set of repetitious talks on familiar themes, as some like to dismiss it.  I'm actively involved with conference when I do this, not merely a passive listener.  And, thus, General Conference becomes an ongoing twice-annual spiritual challenge to me.  I look forward to it, I enjoy it, and, however modestly, I profit from it and progress by it.  I love General Conference.
And the news of thirteen new temples that was announced at the very end of today's closing session, to say nothing of the announcement of a "reconstruction" of the Provo Utah Temple — the word suggests, to my mind, something along the lines of what was done in the case of the Ogden Utah Temple — was icing on the cake.  Conference ended on a very high note.  I love to hear about new temples.  As the Prophet Joseph Smith wrote in a letter to the Saints not many weeks before his assassination in 1844:
"Brethren [and sisters], shall we not go on in so great a cause? Go forward and not backward. Courage, brethren [and sisters]; and on, on to the victory!"
***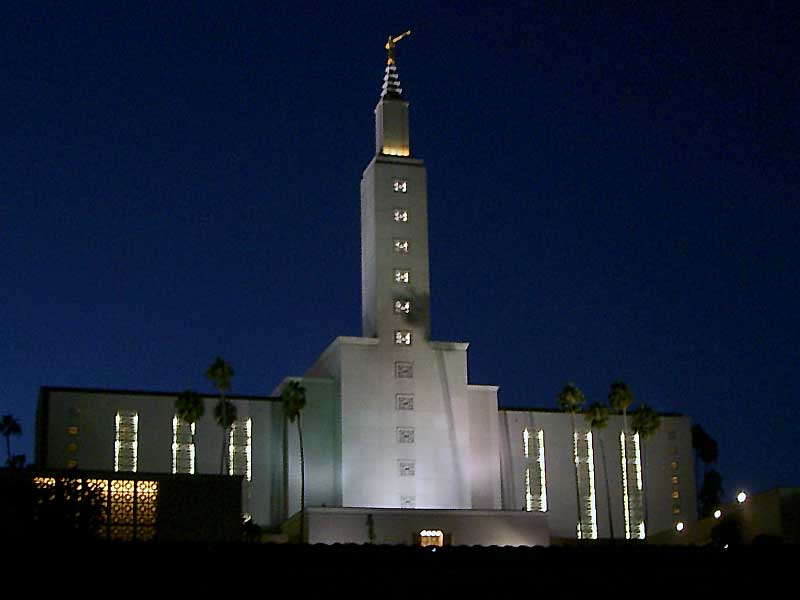 You may perhaps be aware of Sharon Osbourne and her husband, Ozzy, the heavy metal singer, songwriter, philosopher, public intellectual, and moral exemplar.  Here's something that she said in 2005 about settling in Los Angeles:
"One of the first things I bought for the house was a big old-fashioned telescope, which I kept in the living-room area. And the first thing I did every night when I came home was go to the spyglass and look out across the city to the Mormon temple on Santa Monica Boulevard. On top is a golden angel blowing a horn that glints at sunset. It was my ritual, a way of anchoring myself. And at night, with the city lit up, it was breathtaking. And I built a hot tub on the top terrace where you could sit and look out at it all glittering beneath you."
Somehow, I rarely make it back to west Los Angeles, to the area of the University of California at Los Angeles (UCLA, where I earned my doctorate) and of the Los Angeles California Temple, where my parents were sealed relatively late in their lives and where, as married adults, my brother and I were sealed to them.  It was "my" temple when I was growing up; it meant a great deal to me, and it still holds a special place in my heart.  I would like to attend a session there again.  But my travels seldom take me to that area these days.  I didn't get to it this time, for example.  Nor last time.  I'll need to make it a specific and deliberate goal.
***
Here's a column that my late colleague Bill Hamblin and I published in the Deseret News back in 2015.  The topic to which it's addressed has been on my mind, for some reason, as we've been driving around here during this trip:
"California's explicitly Christian heritage"
***
Sharon Eubank's conference talk on Saturday evening offered an absolute treasure trove of blood-curdling horrors from the Christopher Hitchens Memorial "How Religion Poisons Everything" File©:
"Sister Sharon Eubank: 'I Pray He'll Use Us'"
You can listen to it here from about the 25:30 mark to 36:00.  I'll try to remember to post a link to it when the speech eventually goes up independently.
Posted from Newport Beach, California