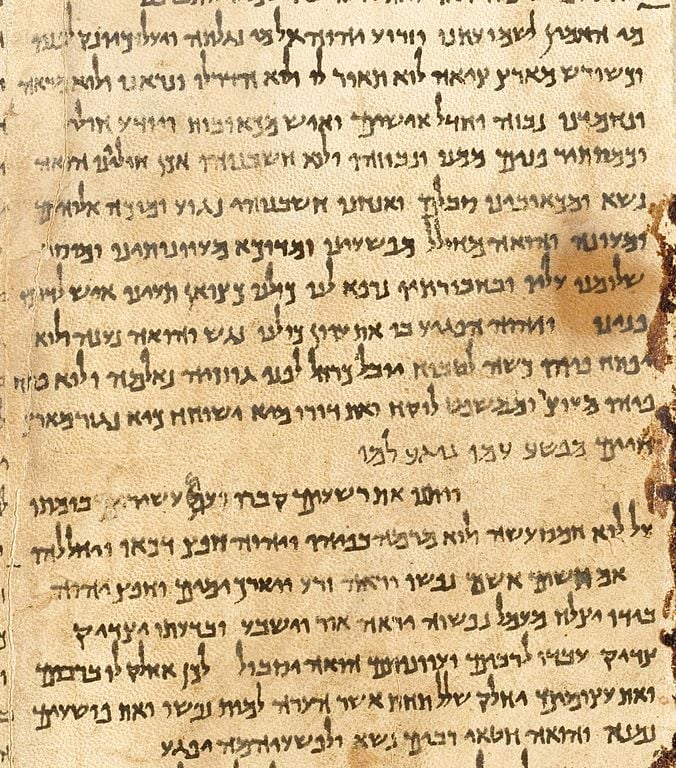 ***
New on the website of the Interpreter Foundation:
Come, Follow Me — D&C Study and Teaching Helps: Lesson 42, October 11-October 17: D&C 115-120 — "His Sacrifice Shall Be More Sacred unto Me Than His Increase"
Audio Roundtable: Come, Follow Me Doctrine and Covenants Lesson 42 "His Sacrifice Shall Be More Sacred unto Me Than His Increase": D&C 115-120
The discussants in the Interpreter Radio Roundtable for Come, Follow Me Doctrine and Covenants Lesson 42, "His Sacrifice Shall Be More Sacred unto Me Than His Increase" on D&C 115-120 were Neal Rappleye, Jasmin Rappleye, and Hales Swift. The roundtable was extracted from the 5 September 2021 broadcast of the Interpreter Radio Show. That complete show may be heard at https://interpreterfoundation.org/interpreter-radio-show-September-5-2021/. The Interpreter Radio Show can be heard Sunday evenings from 7 to 9 PM (MDT), on K-TALK, AM 1640, or you can listen live on the Internet at ktalkmedia.com.
***
Jeffrey M. Bradshaw, Matthew L. Bowen and Ryan Dahle, "Where Did the Names Mahaway and Mahujah Come From? A Response to Colby Townsend's "Returning to the Sources," Part 2 of 2″
Review of Colby Townsend, "Returning to the Sources: Integrating Textual Criticism in the Study of Early Mormon Texts and History," Intermountain West Journal of Religious Studies 10, no. 1 (2019): 55–85, https://digitalcommons.usu.edu/imwjournal/vol10/iss1/6/.
Abstract: In the present article, Part 2 of 2 of a set of articles supporting Colby Townsend's efforts to raise awareness of the importance of textual criticism, we focus on his argument that Joseph Smith created the Book of Moses names Mahijah and Mahujah after seeing a table of name variants in the Hebrew text of Genesis 4:18 in a Bible commentary written by Adam Clarke. While we are not averse in principle to the general possibility that Joseph Smith may have relied on study aids as part of his translation of the Bible, we discuss why in this case such a conjecture raises more questions than it answers. We argue that a common ancient source for Mahujah and Mahijah in the Book of Moses and similar names in the Bible and an ancient Dead Sea Scrolls Enoch text named the Book of Giants cannot be ruled out. More broadly, we reiterate and expand upon arguments we have made elsewhere that the short and fragmentary Book of Giants, a work not discovered until 1948, contains much more dense and generally more pertinent resemblances to Moses 6‒7 than the much longer 1 Enoch, the only ancient Enoch text outside the Bible that was published and translated into English in Joseph Smith's lifetime.
Daniel C. Peterson, "Two Essays on Sustaining and Enlarging the Doctrine"
Abstract: In a pair of recent books, Patrick Mason and Terryl and Fiona Givens seek to revitalize, reinvigorate, and deepen our understanding of basic terms and concepts of the Restoration. I welcome such efforts, convinced (even where I sometimes quibble) that the conversations they will engender among faithful and committed believers can be very healthy. Now that "the times of refreshing [have] come from the presence of the Lord" (Acts 3:18), it is imperative, both for ourselves and for a world that needs to hear the news, that we not lose sight of the radical freshness of the divine gift and of its comprehensively transforming power. My hope for The Interpreter Foundation is that — while joyfully recognizing, indeed celebrating, the fact that prophets and apostles lead the Kingdom, not academics and intellectuals — it will contribute not only to the defense of the Restoration but to the explication of Restoration doctrines and enhanced understanding and appreciation of their riches.
John S. Thompson, ""We May Not Understand Our Words": The Book of Abraham and the Concept of Translation in The Pearl of Greatest Price"
Review of Terryl Givens with Brian Hauglid, The Pearl of Greatest Price: Mormonism's Most Controversial Scripture (New York: Oxford University Press, 2019). 285 pages. $34.95 (hardback).
Abstract: In recent years there has been an effort among some scholars to make sense of the historical sources surrounding Joseph Smith's claims to be a translator of ancient records. Terryl Givens, with some assistance from Brian Hauglid, has explored the evidence surrounding the Book of Abraham and suggests that, in this case, Joseph Smith may not have translated an ancient record of Abraham's writings into English as typically believed in the Latter-day Saint community. Consequently, Givens provides four alternative ways the work of "translating" may have been understood or practiced by the Prophet and his scribes. This essay highlights some evidence that was overlooked, misunderstood, and glossed by Givens, calling into question his fourfold attempt at redefining what it meant for Joseph Smith to translate this ancient record.
Brian C. Hales, "A Priesthood Restoration Narrative for Latter-day Saints Believers"
Review of Michael Hubbard MacKay, Prophetic Authority: Democratic Hierarchy and the Mormon Priesthood (Urbana, IL: University of Illinois Press, 2020). 184 pages. $22.95 (paperback).
Abstract: With ready access to all the documents acquired by the Joseph Smith Papers project, Michael Hubbard MacKay, co-editor of the Joseph Smith Papers' Documents, Volume 1: July 1828–June 1831, presents a new historical reconstruction of the priesthood restoration in Prophetic Authority: Democratic Hierarchy and the Mormon Priesthood. MacKay summarizes how Joseph Smith's initial authority was based primarily on charisma drawn from the Book of Mormon translation and his revelations. The transition next to apostolic authority — derived from priesthood keys restored by Peter, James and John — is also detailed. MacKay contextualizes the priesthood as part of Smith's efforts to offer "salvation to humankind and [bind] individuals to Christ" (37‒38). Historical controversies are handled with frankness and depth. This study constitutes an important upgrade in the historiography of this controversial topic.
Donald W. Parry, "The Great Isaiah Scroll (1QIsaA)—Catalogue of Textual Variants"
Abstract: In this erudite survey of textual variants in the "Great Isaiah Scroll" from Qumran, Donald W. Parry lays out the major categories of these differences with illustrative examples. This significant description of the most significant book of Old Testament prophecy provides ample evidence of Parry's conclusion that the "Great Isaiah Scroll" "sets forth such a wide diversity and assortment of textual variants that [it] is indeed a catalogue, as it were, for textual criticism."
[Editor's Note: Part of our book chapter reprint series, this article is reprinted here as a service to the LDS community. Original pagination and page numbers have necessarily changed, otherwise the reprint has the same content as the original.
See Donald W. Parry, "The Great Isaiah Scroll (1QIsaa)—Catalogue of Textual Variants," in "To Seek the Law of the Lord": Essays in Honor of John W. Welch, ed. Paul Y. Hoskisson and Daniel C. Peterson (Orem, UT: The Interpreter Foundation, 2017), 247–65. Further information at https://interpreterfoundation.org/books/to-seek-the-law-of-the-lord-essays-in-honor-of-john-w-welch-2/.]