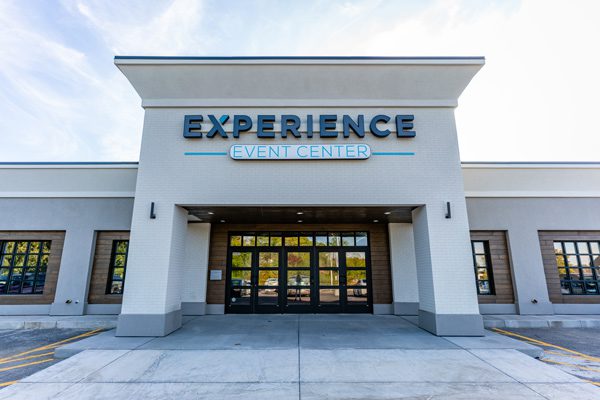 ***
I don't know whether there are any seats left — I think so, but I'm not sure — for Deseret Book's and Excel Entertainment's big Witnesses event this coming Thursday evening, but it received a bit of publicity this afternoon on the Fox-13 television show The Place:
"Meet actors and producers of WITNESSES October 14!"
If you're interested in attending this event on Thursday night — it's coming to seem a bigger deal than I had first envisioned — please don't delay. Go to this site and sign up:
What Is My Witness? Reflections from the Cast and Crew of Witnesses
Don't wait too long, though, or the opportunity may pass you by.
Incidentally, too, if you choose to come, please don't get lost. The Experience Event Center is located at 1440 N. Moon River Drive, and it's pretty easy to reach. But it's also easy to miss, because it's slightly hidden.
If you go to the vicinity of the Macey's supermarket in Provo, which is located at 1400 North State, and face the supermarket, the Experience Event Center is situated a little bit back and to your left. It doesn't look overly distinguished at first glance, perhaps, and not especially large. But it's rather larger than it looks.
***
Elsewhere online, it is being insinuated that I deny the age of the Earth as it's currently estimated by mainstream science. This is not true. The current consensus, I believe, is that the Earth is 4.543 billion years old — and that, or whatever the age of the Earth is currently believed by modern scientists to be, is how old I think the Earth is. To the best of my recollection, since my earliest childhood years I have never, ever, been a young-Earth creationist.
I have said this numerous times.
Moreover, as far as I can remember, publications for which I am or have been responsible have only published three articles that have addressed the topic of evolution and the age of the Earth in any very substantial way. Here they are:
Gregory L. Smith, ""Endless Forms Most Beautiful": The uses and abuses of evolutionary biology in six works"
Gregory L. Smith, "Often in Error, Seldom in Doubt: Rod Meldrum and Book of Mormon DNA"
Michael F. Whiting, "Lamarck, Giraffes, and the Sermon on the Mount"
That should settle the matter as far as my beliefs go. But I'm sure that it won't. The allegation will be leveled at me yet again. And again. And again. And again. Why? Because, for certain negative views of me to remain plausible, I simply must reject science. I have a role to play in their demonologies, and some folks insist on having me play that role regardless of anything I actually say or do.
***
I've been reading Alexander L. Baugh, Steven C. Harper, Brent M. Rogers, and Benjamin C. Pykles, eds., Joseph Smith and His First Vision: Context Place, and Meaning (Provo and Salt Lake City: Religious Studies Center, Brigham Young University, and Deseret Book, 2021). Pursuant to my resolution to use this blog more effectively as a means toward completing intended books, I here share notes from one of the essays that I've read in it, Rachel Cope's "The First Vision Within the Context of Revivalism," 65-88:
. . . others found that religious diversity led to internal confusion about which denomination to become affiliated with and how to attain salvation. In such cases, revival attendance led to more questions than answers. As one minister noted, people constantly contended over what they should "do to inherit eternal life." Reporting on an 1842 revival in Hammond, New York, for example, one person described a gnawing sense of internal turmoil:
My mind [is] so torn with conflicting opinions . . . but when I look around and view the many sects and denominations abroad on the earth all contending for the preeminence and all (differing as they do) prophesying to derive their doctrine from the bible I must say that I would give a world were [I] possessed of one to know with a true and perfect knowledge which of them is right for there can be but one right way. (71)
Professor Cope cites the diary of one Jonathan Pearson, of Schenectady, New York:
I have so many minds about the subject [of religion] that I hardly know what to conclude about it. . . . It is lamentable that those who call themselves the worshipers of the same God should be so disunited and so as not to go to each other's meeting[s] in some cases. These things seem to be inconsistent with the character of the followers [of] Christ and I think it to be better if they would be more united. (85 note 34)
It's impossible not to be reminded of the perplexity that, according to Joseph Smith, led him out into the woods near his home to pray. And these passages, too, are reminiscent of that spring day:
As historian Brett Grainger explains, "Retreating to the woods under a state of conviction became a standard trope in conversion narratives during the Second Great Awakening." (76)
Approximately eighteen months after Joseph's First Vision, Charles [Finney, later a famed Presbyterian minister and revivalist] entered a grove of trees in Adams, New York, on a beautiful morning in October 1821, determined to either surrender his heart to God or die in the process. In this spiritually vulnerable state, Charles had a visionary experience in which he encountered the divine — in many ways similar to the experiences later recounted by Joseph Smith. Both young men were influenced by scriptural passages that encouraged and enabled dialogue with God, both encountered bright light followed by a visible witness of their Savior, and both received the promise of justification, as well as hints of personal callings that would affect not only their futures but also the lives of countless seekers of conversion throughout New York State and beyond. The remarkable parallels between Joseph's and Charles's accounts, or between any number of visionary narratives written by their contemporaries, do not diminish the import of the Restoration but rather reflect God's love for all of his children — a reminder that the divine is not a respecter of persons (see Acts 10:34-35). God hears and answers all who pray. Indeed, much like Joseph and Charles, other individuals — including Levi Parsons, Catherine Livingston Garrettson, Benjamin Abbot, Lucy Mack Smith, and Enoch Edwards — recalled retiring to the woods to pray prior to or after revival meetings or when searching for answers to their own questions. (76-77)
I can easily imagine some responding to the materials above by saying that Joseph's experience seems, to some extent, to be only the same old same old for his time. That's a discussion for another occasion. Right now, though, I want to make another point: Many have denied that Joseph ever really had the experience in the First Vision that he related. But historians know of — and accept as genuine — many such accounts from the period, in which earnest seekers after the truth are perplexed by the conflicting religious claims that surround them and are thus impelled to go into the woods to seek resolution through prayer. Why should Joseph Smith's account, alone among all these others, be deemed a lie?