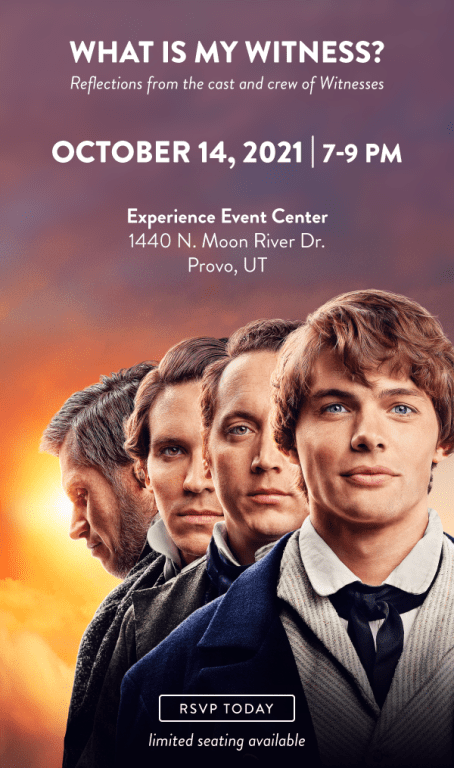 ***
I would like to announce an event to be held in Provo, Utah, on Thursday, 14 October 2021, sponsored by Deseret Book and Excel Entertainment. It is, if you will, an event that is intended to help us make noise about the DVD and the streaming availability of the Interpreter Foundation's theatrical film, Witnesses. But it won't merely be a strictly promotional affair, Rather, we will watch selected scenes from the movie and have a hosted discussion of them as well as musical numbers designed to help audiences reflect on the legacy of the Three Witnesses and to ask themselves the question: What is my witness? Along with Russell Richins (the producer) and Mark Goodman (the director) and a curious goofball whose name somehow also managed to appear in the credits to the film, three to four lead actors will likewise be part of the roundtable that will be hosted by Tammy Hall (host of the Sunday on Monday podcast).
I notice that the "RSVP" button above doesn't seem to be working in my image, so, if you have a problem, please contact eventshelp@deseretbook.com.
Don't delay. I don't know how many seats remain.
Meanwhile, work continues on the next phases of the overall Witnesses project, and we're beginning, tentatively, to think about a Next Film Project beyond Witnesses. The docudrama Undaunted: Witnesses of the Book of Mormon is in the final stages of finishing (regularizing the color and "sweetening" the sound, or is it vice versa?) — it will expand our coverage beyond the Three Witnesses of the Book of Mormon to the Eight Witnesses and to what I call the unofficial or informal witnesses (whose number includes several women). Moreover, this Friday we'll spend the day filming interviews for the short features or "snippets" that we will eventually release, at no charge, online. They will address specific questions and issues raised by the various Witnesses to the Book of Mormon. And, of course, there is the Witnesses of the Book of Mormon website that is intended not only to supplement the film projects but to become a significant resource for research and study in its own right.
This has been, and continues to be, enormous fun. Among other things.
***
Here's the newest installment of Kyler Rasmussen's series of Bayesian explorations:
"Estimating the Evidence Episode 14: On the Lost and Found (and Digging in the Ground)"
[Editor's Note: This is the fourteenth in a series of 23 essays summarizing and evaluating Book of Mormon-related evidence from a Bayesian statistical perspective. See the FAQ at the end of the introductory episode for details on methodology.]
***
And this is also fairly new on the Interpreter website:
Nibley Lectures: Come, Follow Me Doctrine and Covenants Lesson 42 "His Sacrifice Shall Be More Sacred unto Me Than His Increase" D&C 115-120
***
As some of you may be aware, the Interpreter Foundation is sponsoring a tour of Egypt in November, featuring Steve Densley, Hany Tawfeek, John Gee, and some other guy. In connection with that tour, we're also sponsoring a lecture series to provide background for those who will be coming with us to Egypt on what they'll be seeing there. However, I think it quite possible that some who aren't going with us this time will find them interesting, too. (Perhaps they'll even come along on a future trip.) So here are links to lectures from the series that have already been given:
The Ultimate Egypt Interpreter Foundation Tour Lecture Series
***
I had a good time at the FAIR open house last night. (They're back to FAIR from FAIRMormon, in response to President Russell M. Nelson's counsel regarding the nickname Mormon.) It was good to chat with friends there, including some new friends and a few that I haven't seen for quite a while. People dropped in not only from FAIR but also from Interpreter and Book of Mormon Central.
It's a modest facility, not huge, and it's located in a modest area, but I hope that it will serve them well. Although — as we've learned even better over the past nearly two years than we had known before — very much can be done virtually, there is still something to be said for in-person contact as, among other things, a glue to bind an organization together and to build esprit de corps, a sense of belonging and involvement in a cause. We haven't yet felt the need for a brick and mortar headquarters for the Interpreter Foundation, but perhaps that time will come.
***
Finally: For several months, I've been receiving notices regarding online broadcasts of the weekly concerts that are held at BYU's Jerusalem Center for Near Eastern Studies — one of the best ideas that anybody has ever had for use of that marvelous space on Mount Scopus (basically, the Mount of Olives) overlooking the Old City of Jerusalem. I may perhaps be wrong, but it seems to me that it was the late Robert Cundick and his wife, Cholly, who, working in Israel as a service couple at the BYU Jerusalem Center, conceived the idea of the concert series. (The Interpreter Foundation's first filmmaking venture was Robert Cundick: A Sacred Service of Music, produced in 2017, which is available for viewing at no charge, online.)
The Jerusalem Center is certainly one of the best musical venues in Jerusalem, if not the best, and perhaps the best in all of Israel. The view alone is stunning, magnificent. Unless and until I'm told otherwise, I can see nothing wrong with passing those invitations along. So here's the latest:
Dear Music lovers,
This coming Sunday, October 10th at 8pm (Israel local time, 11 am MDT in the U.S.), we inviteyou to join us for our live concert broadcast from Jerusalem featuring the Tel Aviv Wind Quintetwith special guest, internationally acclaimed pianist – Aviram Reichert. Reichert with the Quintetplayers, Roy Amotz – Flute, Dmitry Malkin – Oboe, Danny Erdman – Clarinet, Itamar Leshem – Horn, and Nadav Cohen – Bassoon, will play music by J. S. Bach, J. Haydn, G. Gershwin, U. Rom and more.
For the concert details, please see the attached invitation.
We wish you all the best,
Neomi Weinstein
Coordinator of Concerts