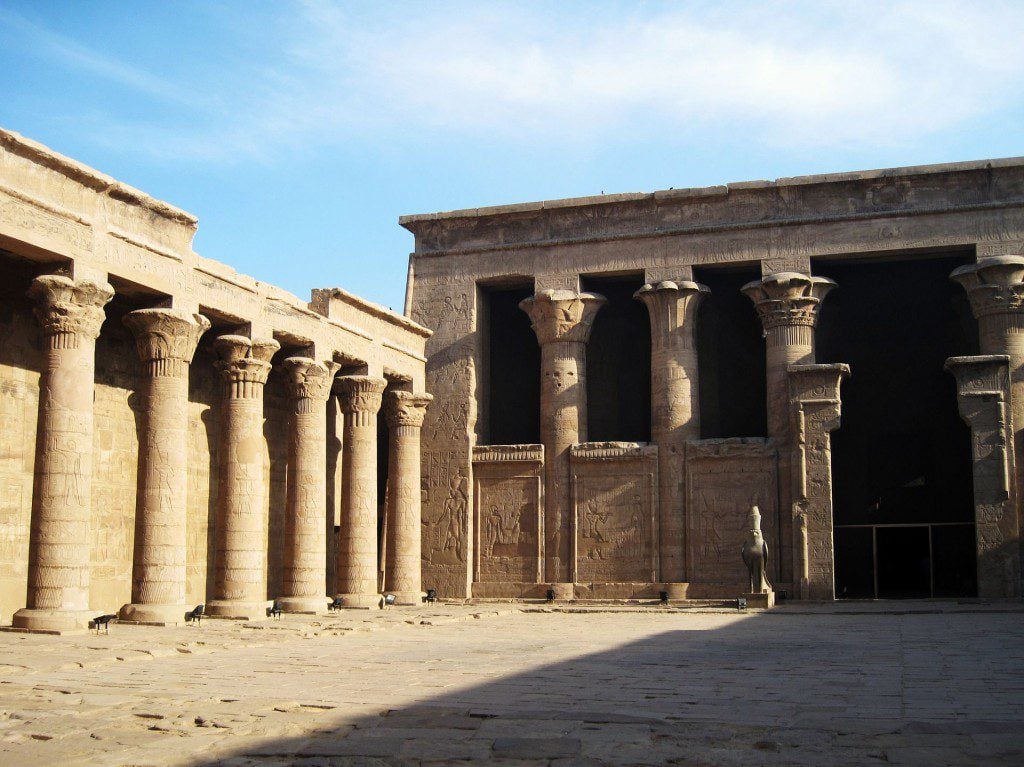 ***
As I write, I'm sitting on a balcony aboard our Nile River ship, looking over the major part of the river's width toward the southwest. We're cruising slowly upstream, further into Upper Egypt. The sun is sinking over the bank to my left. We're between Edfu, where we spent the night on board and where we toured the well-preserved temple of Horus this morning, and the temple city of Kom Ombo, where we'll dock right alongside the temple there and tour it under lights. (A nighttime visit to Kom Ombo is a first for me. The temples of Egypt look very different, and very beautiful, by night.)
Cruising along the Nile like this, seeing the greenery and the desert cliffs behind it, is, to me, to see the real Egypt. The Egypt of Agatha Christie and the British visitors of the nineteenth century before her. But not only that. The timeless Egypt.
Interesting and historic and chaotically alive though it is, Cairo is not that Egypt. This present landscape, or riverscape, is, to me, indescribably beautiful and even romantic. There are few words that are more evocative, in my mind, than the Nile River. And the reality lives up to the evocation.
At Edfu, we recorded a very short video of John Gee interpreting a scene on the wall of the peristyle court that will be of interest, I think, to students of the Book of Abraham. If it turns out alright, it will likely go up eventually on the Interpreter Foundation website. I wish that all of you could be here; but perhaps this little gesture will be of some value to you.
I'm writing in the hope that I've finally figured out how to blog from aboard our boat. I'm not sure whether that will actually work, but it's the dream. (I know. I know. I once lived quite happily without the internet and without the web. Nowadays, though, if. I'm without them for even a few minutes, the world turns dark and I'm deeply distressed.)
We've just passed a couple of feluccas. So very Egyptian, too. And the sun has gone down beyond the west bank of the Nile, behind the land of the dead.
I did my shipboard lecture today, after departing from Edfu and just before lunch. It wasn't really a lecture. It was a miscellany of short comments about such things as the coming of Christianity to Egypt, the importance of the great Alexandrian library, the influence of Philo and Clement and Origen of Alexandria, the role of Arius and Athanasius at the Council of Nicaea, the nature of Arabic personal names, the state of the Church of Jesus Christ of Latter-day Saints in Egypt, and so forth. From what I could see, I think that several people in the audience remained awake throughout the whole ordeal. Even I myself may have done so.
I love sailing on the upper Egyptian Nile more than I can say.
Posted from Kom Ombo, Egypt