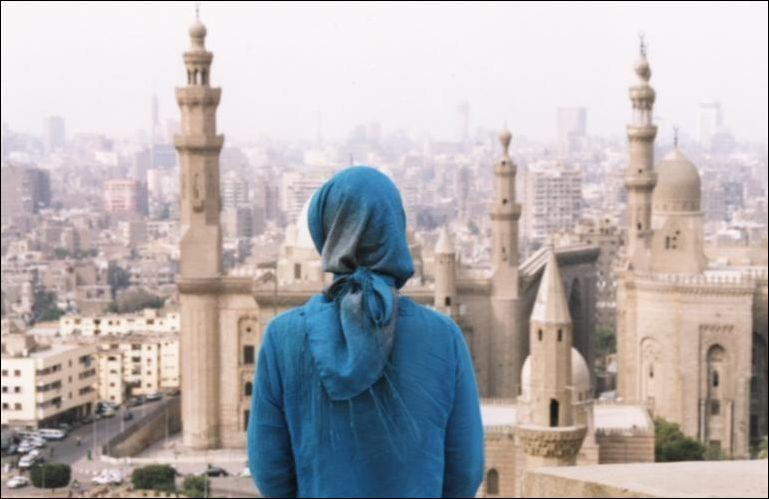 ***
Today was another very good day. We started off with a visit to the enormous mid-fourteenth-century Mamluk mosque, mausoleum, and madrasa of Sultan Hasan, which has been a favorite of ours since we first lived here in Egypt. We even had a muezzin demonstrate the adhan or call to prayer in the sultan's mausoleum, near his empty tomb. (He disappeared, almost certainly murdered, in 1361. He was just 27 years old.)
Then we crossed the pleasant little pedestrian area that, in our earliest days here, was an auto raceway through the manmade gorge separating the Sultan Hasan from the similarly vast and somewhat complementary al-Rifa'i Mosque. Al-Rifa'i is slightly smaller than Sultan Hasan, and, before they had entered either of them, the majority of our group guessed it to be the oldest of the two. But it was completed in 1912 as a royal burial place for the family of Muhammad Ali (who is buried in his own mosque, which we visited yesterday atop the Citadel). Anwar Sadat permitted the deposed last king of Egypt, Farouk, to be reinterred in al-Rifa'i several years after Farouk's death at 45 on the Italian Isle of Capri in 1965. I managed to take a couple of minutes to pay my respects to the tomb of Mohammad Reza Pahlevi, the last shah of Iran, who died in exile in Cairo. I was, for the better part of a year, the private history tutor to his daughter. (Coincidentally, by the way, the photograph of her at her Wikipedia entry shows her as she looked at just about the time that I met her.) I met the deposed Shah just once, when he came unannounced into the room at Qubba Palace, in Heliopolis, where I was tutoring her. After an interesting chat, we shook hands and he left. And I thought to myself, "I just shook hands with a man who, as a head of state, shook the hands of Stalin, Churchill, and Roosevelt." (That was when they participated in the Tehran Conference in late 1943.) Quite ill with cancer, he died two or three months afterward, on 27 July 1980.
From the two mosques, which lie on the eastern side of Cairo, we drove out to the Giza Plateau and visited the Great Pyramid of Khufu. After that, the group rode on camels and in horse-drawn carts around the general area (starting near the Pyramid of Menkaure or Mycerinus) and then we drove down to take a look at the Sphinx. From there, the view was magnificent. I don't think that I've ever seen so beautiful an evening in the area. The air was clear after recent rains, the temperature was pleasantly cool, the light was perfect, and there were gorgeous clouds in the sky. I loved it.
Then we had a late grilled Egyptian lunch at a really good Giza restaurant that we've never tried before (I need to get its name; somehow I failed to notice), and we put in some shopping time at a good-quality papyrus store (Merit) and at a jewelry store.
They're tired, but I think the people in the group enjoyed the day.
Posted from Cairo, Egypt