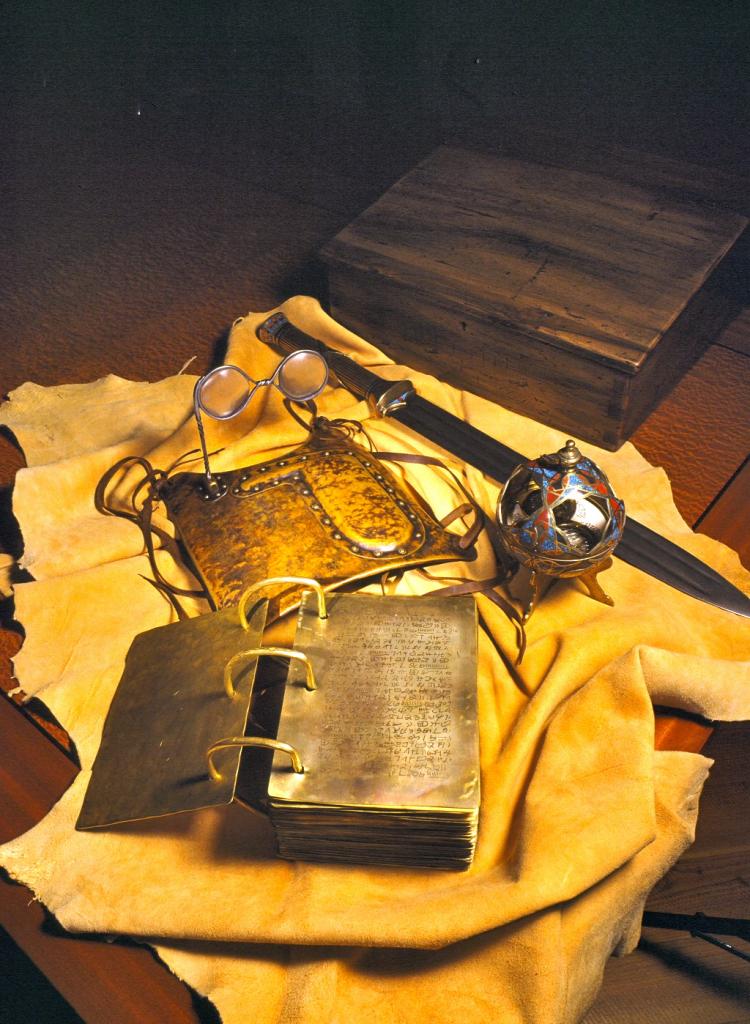 ***
I'm delighted at this news, which comes right out of the Christopher Hitchens Memorial "How Religion Poisons Everything" File©:
"Light the World Giving Machines Return During Christmas Season: Donations accepted at 10 US locations in 2021"
And, while I was browsing in the Hitchens File©, I also came across this interesting piece:
"US Muslims gave more to charity than other Americans in 2020"
***
And some of you might find this little article of interest. It's from the Daily Mail in London:
"Mormon from Argentina, 85, who sparked a religious controversy is the artist behind this year's set of Royal Mail Christmas stamps"
***
I found this quite interesting (and no, it's not about me; I haven't been to Canyonlands for quite a while now):
"Why this 300 million-year-old fossil discovered in Utah has the paleontology world buzzing: Rare creature found in Utah's Canyonlands National Park"
I must have also found it deeply troubling, too, because — as I was yet again reminded just a short while ago elsewhere on the internet — I apparently believe the Earth to be only a few thousand years old. I had plainly forgotten this belief of mine. And, even now, I can't remember any time since I was a child when I realized that I was a young-earth creationist. It sure is good to have anonymous internet strangers out there to remind me of what I think!
***
And now, for what it's worth, here are a few links to articles from a prior issue of Interpreter: A Journal of Latter-day Saint Faith and Scholarship that you might find of interest:
Daniel C. Peterson, "De Profundis"
Abstract: Is the Gospel profound? Yes, it is. And one of the goals of the Interpreter Foundation is to call attention to that sometimes-overlooked profundity. In one sense, though, the question is a peripheral one. If we were drowning — which, figuratively and from the vantage point of eternity, we absolutely are — we wouldn't complain at a life preserver thrown to us if it were chipped, poorly painted, or unattractive, let alone if it were defective as a work of great art. We would simply be grateful to be saved. In another sense, the Gospel is clearly profound because it answers the deepest and most basic of human questions.
Loren Blake Spendlove, "And the One Pointed the Way: Issues of Interpretation and Translation Involving the Liahona"
Abstract: In describing the operation of the spindles in the Liahona, Nephi's statement that "the one pointed the way" in 1 Nephi 16:10 is frequently taken to mean that one of the two spindles indicated the direction to travel. However, Nephi's apparent use of the Hebrew word האחד (ha'echad)1 may imply a different mechanism in which the direction was being shown when both operated as one. If so, there may be added symbolism of unity and oneness inherent in Nephi's and Alma's descriptions of the Liahona. Additionally, I provide a detailed analysis of words and phrases used by Nephi and Alma to describe the Liahona which potentially reveal intriguing Hebrew wordplay in the text.
David M. Calabro, "The Divine Handclasp in the Hebrew Bible and in Near Eastern Iconography"
Abstract: David Calabro explores what he describes as the "divine handclasp" in the Hebrew Bible. The term refers to a handclasp between God and his human servant that had a place in ancient Israelite temple worship. Calabro indicates it was a ritual gesture that was part of temple rite performance with a priest acting as proxy for God in close interaction with mankind. While other scholars have suggested the gesture was indicative of deity transporting mankind to "glory," Calabro's research proposes the clasping of right hands while facing one another was ritually indicative of God granting access to His chosen rather than transporting him.
[Editor's Note: Part of our book chapter reprint series, this article is reprinted here as a service to the LDS community. Original pagination and page numbers have necessarily changed, otherwise the reprint has the same content as the original.
See David Calabro, "The Divine Handclasp in the Hebrew Bible and in Near Eastern Iconography," in Temple Insights: Proceedings of the Interpreter Matthew B. Brown Memorial Conference, "The Temple on Mount Zion," 22 September 2012, ed. William J. Hamblin and David Rolph Seely (Orem, UT: The Interpreter Foundation; Salt Lake City: Eborn Books, 2014), 25–66. Further information at https://interpreterfoundation.org/books/temple-insights/.]
Brant A. Gardner, "Giving the Book of Ether its Proper Due"
Review of Daniel L. Belnap, ed., Illuminating the Jaredite Records (Provo, UT: Religious Studies Center, Brigham Young University / Salt Lake City: Deseret Book, 2020). 320 pages. Hardback, $27.95.
Abstract: Illuminating the Jaredite Record collects ten papers by different Book of Mormon scholars. This is the second publication from the Book of Mormon Academy at Brigham Young University, a collection of scholars interested in the Book of Mormon. As with the first volume, the authors approach the text from different perspectives and thereby illuminate different aspects of the text.
Louis C. Midgley, "Honoring Hugh Nibley — Again"
Review of Hugh Nibley Observed, edited by Jeffrey M. Bradshaw, Shirley Ricks, and Stephen Whitlock (Orem, UT: Interpreter Foundation, 2021). 820 pages. $45.00 (hardback), $35.00 (paperback).
Abstract: Hugh Nibley Observed is the third assembly of essays honoring Nibley by his friends and admirers. It differs from the other two in many ways. It is packed with photographs, observations by his children about their father, and many other similar and related items that are often deeply personal reflections on Nibley as well as the influence he has had on Latter- day Saint intellectual life and also the faith of the Saints. Its contents are far more accessible than the strictly scholarly works written by the academic friends and colleagues of Nibley. There is some of that in this book, but it contains information and reflections on a host of different aspects of the first Latter-day Saint scholar who could and did provide a competent defense of the faith and the Saints. This book is very much about Nibley and not merely for him, as were the two previous efforts to honor him.