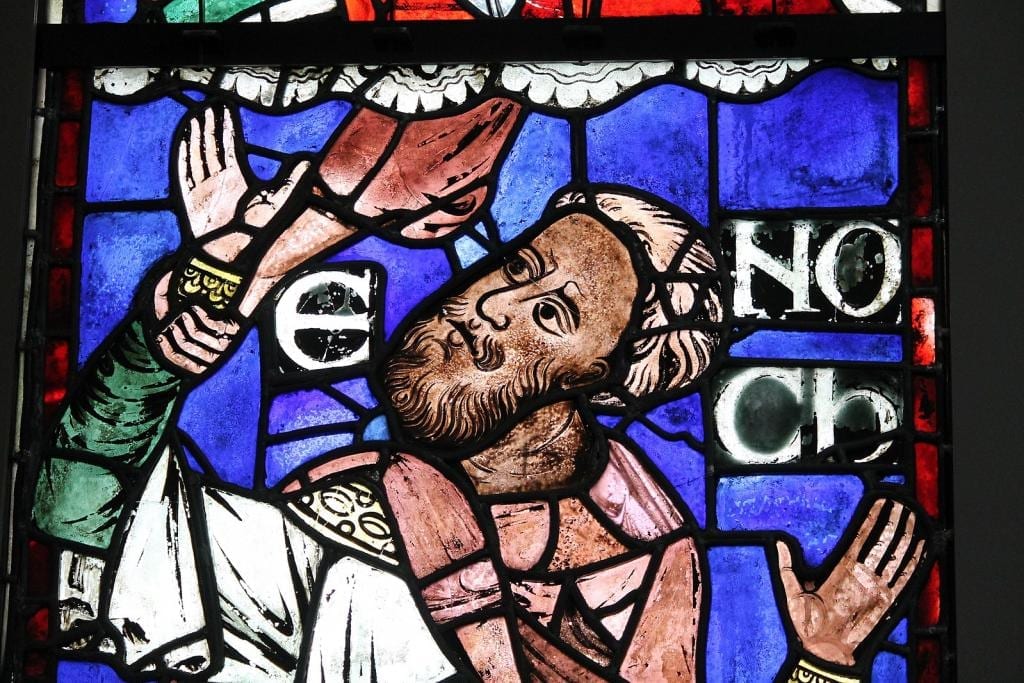 ***
Here's a new item that's just appeared on the website of the Interpreter Foundation, kindly supplied by Jonn Claybaugh:
Come, Follow Me — D&C Study and Teaching Helps Lesson 47, November 15-November 21: D&C 133-134 — "Prepare Ye for the Coming of the Bridegroom"
And this has also just one up on Interpreter's website:
Audio Roundtable: Come, Follow Me Doctrine and Covenants Lesson 47 "Prepare Ye for the Coming of the Bridegroom": D&C 133-134
The Interpreter Radio Roundtable for Come, Follow Me Doctrine and Covenants Lesson 47, "Prepare Ye for the Coming of the Bridegroom," on D&C 133-134, has been extracted — liberated from commercial and other interruptions — from the 10 October 2021 broadcast of the Interpreter Radio Show. The participants in this particular roundtable were Terry Hutchinson, John Gee, and Kevin Christensen. The complete two-hour program can be heard at https://interpreterfoundation.org/interpreter-radio-show-October-10-2021/. The Interpreter Radio Show can be heard Sunday evenings every week between 7 PM to 9 PM (MDT), on K-TALK, AM 1640 or, alternatively, you can listen live on the Internet at ktalkmedia.com.
***
As I said a couple of days ago, I recently read Terryl L. Givens, Stretching the Heavens: The Life of Eugene England and the Crisis of Modern Mormonism (Chapel Hill: University of North Carolina Press, 2021). Here are just a couple of the passages in it that, as the currently somewhat fashionable term has it, "resonated' with me:
Grace cannot bestow salvation because salvation is neither a gift won nor a reward earned. It is a condition attained when sanctified individuals become the kind of persons, in the kinds of relationships, that constitute the divine nature. (121)
The sort of idea is something of an implicit subtheme in an article that I published a while back:
"Notes on Mormonism and the Trinity"
A God who weeps over human misery (and does so in actual corporeal form!) is the most economical and irrefutable argument conceivable for the church's placement far outside the historical Christian tradition with which many of England's contemporaries were pleading affinity. God's distress at the predicament humans have brought upon themselves clearly evidences a disappointment, a regret, at the course of events — which can only mean they are not consistent with his will. We are here at almost the farthest remove imaginable from the God of Augustine and John Calvin, for whom in the latter case "everything is governed by God's hand," from who is saved to where and when earthquakes hit. The Latter-day Saint God, by contrast, does not orchestrate human behavior, choice, and events to comport perfectly with his will. He participates in rather than transcends the ebb and flow of human history, human tragedy, and human grief. Sterling McMurrin, like England, recognized that "Mormon theological writing and sermonizing are more often than not replete with the vocabulary of absolutism. But, like it or not, the Mormon or theologian must sooner or later return to the finitistic conception of God upon which both his technical theology and his theological myths are founded." England unabashedly embraced a finitistic God the Father, physically embodied and susceptible to vicarious suffering. He found in that conception his faith tradition's greatest strength, rather than weakness. (122)
With his wife, Fiona, Terryl Givens has actually written on this subject. See, for instance, The God Who Weeps: How Mormonism Makes Sense of Life. And, for what little it may be worth, so have I. See my article "On the Motif of the Weeping God in Moses 7," which can be found online in an oddly formatted form — thanks, Maxwell Institute! — via a simple Google search.
I was also rather gratified to notice this brief passage in which Terryl illustrates what he regards as the more intellectually open nature of the contemporary Church of Jesus Christ of Latter-day Saints:
As long as a scholar's "speculative theology" makes no authoritative claims, it is highly unlikely to be condemned today; in fact, a Society for Mormon Philosophy and Theology was organized in 2003 and publishes its own journal, Element. (280)
I was present at the creation of Society for Mormon Philosophy and Theology, have spoken at several of its conferences, and published in its journal, Element. In fact, I served for several years not only on its board but as its president.
***
I'm pleased that Gene England is receiving some renewed attention. He has much to offer. And, yes, we can learn from his troubled time at Brigham Young University. Here are two quotations from him that I found just now online:
We must truly listen to each other, respecting our essential brotherhood and the courage of those who try to speak, however they may differ from us in professional standing or religious belief or moral vision. We must speak and listen patiently, with good humor, with real expectation, and our dialogue can serve both truth and charity.
I know God has been found by unusual people in unusual places–in a sudden vision in a grove or orchard or grotto, or on a mountain or in a closet, or through saintly service to African lepers or to Calcutta untouchables. But for most of us, most of the time, I am convinced he can be found most surely in 'the natural sequence to the performance' of the duties he has given us that all of us (not just the unusual) can perform in our own homes and neighborhoods.
I endorse both of them.
***
Finally, on a quite unrelated personal note:
I've been, umm, blessed over the past fifteen years or so, every single day of every week of every month, to be a principal focus of attention for a small group of anonymous online folks who scrutinize everything I do and say and write. They're looking for evidence of real or perceived errors and wickedness. Most recently, they've discovered that the one-hundred-word twenty-third paragraph of my recent nearly-four-thousand-word essay "De Profundis," a paragraph devoted to defining the Greek New Testament word metanoia and the roughly equivalent Hebrew term teshuvah, is verbally far closer than it ought to be to the respectively relevant articles, first, on Wikipedia and, second, on a website called My Jewish Learning.
And they're right. And I'm surprised, somewhat perplexed, and, they'll be delighted to know, embarrassed. I'm not exactly sure how it happened. I vaguely recall that I checked the Wikipedia article and the My Jewish Learning article in order to confirm my sense of the exact meanings of the terms. I wanted to check it against that of people who shared neither my background, my faith, nor my particular "agenda." But I certainly didn't mean to simply reproduce the precise language of those other people. What would I gain from that? After all, it's not as if their precise language was particularly unique or elegant or eloquent. And it's not as if I needed to look up the basic meaning of terms that I've known for decades. (I earned an undergraduate degree in classical Greek, and I took my first Hebrew course before embarking on my mission at the age of nineteen. And these are absolutely central words, not peripheral obscurities, in the New Testament and in the Jewish tradition.) Had I not already known the basic meaning of the two terms, it would never have occurred to me to look them up. I looked them up in much the same way, and for much the same reason, that I'll sometimes, when writing, check out the exact meaning in the Oxford English Dictionary of a word that I use pretty much every day of my life.
Oh well. I can only apologize and make an effort to take pleasure in the fact that I've made at least one tiny group of online enthusiasts very, very happy today. In a world such as ours, that's not a small thing. I freely plead guilty to the unforced error, but I won't concede their eager imputations of depravity or corruption.