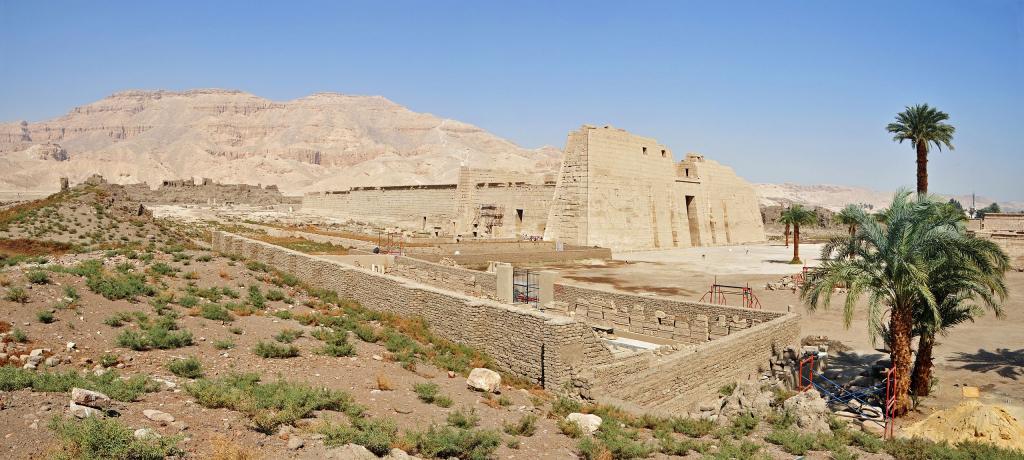 ***
Here are a few links to articles that have previously appeared in Interpreter: A Journal of Latter-day Saint Faith and Scholarship.  Perhaps you missed one or more of them:
John Gee, ""Put Off Thy Shoes from Off Thy Feet": Sandals and Sacred Space"
Abstract: While many have written on ancient temples looking at the big picture, John Gee discusses one small detail on a single Egyptian temple from the New Kingdom. He focuses on depictions of Ramses III in and out of the temple of Medinet Habu. Outside the temple and when entering and leaving there are depictions of him wearing sandals. Inside the temple proper the king is always shown barefoot. Ramses III built Medinet Habu only slightly after the time of Moses and as Gee further notes, while not wearing footwear was a clear practice among the Egyptians it is far more explicit in Moses' encounter with Deity when he is told to remove his "shoes from off thy feet, for the place whereon thou standest is holy ground." Gee observes that contemporary Egyptian temple practice "reflects the commands of God recorded in the Pentateuch," as well as reflects Moses' Egyptian background.
Duane Boyce, "Did Captain Moroni Lack the Typical Religious Virtues?"
Abstract: In his well-known volume about the Book of Mormon, Grant Hardy focuses primarily on the book's main narrators. However, he also makes a number of observations about other figures in the book that are of particular interest, including some about Captain Moroni. In addition to those I address elsewhere, these observations include the claim that Moroni lacked the typical religious virtues — which Hardy identifies as "humility, self-sacrifice, kindness, and relying upon the Lord." They also include the assertion that Helaman, in his manifest reliance upon God, serves as a counterexample to Moroni's military leadership. A close look at the text, however, indicates that both these claims are mistaken.
David R. Seely, "Remembering Hugh Nibley as a Scholar and, More Importantly, as a Man: Observing the Faith of the Observer"
Review of Hugh Nibley Observed, edited by Jeffrey M. Bradshaw, Shirley Ricks, and Stephen Whitlock (Orem, UT: Interpreter Foundation, 2021). 820 pages. $45.00 (hardback), $35.00 (paperback).
Abstract: Those who knew Brother Nibley best knew he was a remarkable man of both depth and breadth. This new volume plumbs both that depth and breadth in the recounting of personal stories and colorful history. This volume is a welcome addition to any library.
David J. Larsen, "From Dust to Exalted Crown: Royal and Temple Themes Common to the Psalms and the Dead Sea Scrolls"
Abstract: David J. Larsen, after showing how many of the Qumran texts rely on the "Royal Psalms" in the Bible—which have a vital connection to the temple drama—then goes on to exaltation in the views of the Qumran community. He indicates how Adam and Eve are archetypal for Israelite temple ritual, which makes humans kings and priests, bringing the participant into the presence of God by a journey accompanied with covenants, making him part of the Divine Council. Bestowed with knowledge of the divine mysteries, one then becomes a teacher helping others on the way through divine mysteries, who then, as a group are raised to the same end. It is, Larsen shows, a journey where one is dressed in royal and priestly robes and receives a crown of righteousness, in a ritual setting.
[Editor's Note: Part of our book chapter reprint series, this article is reprinted here as a service to the LDS community. Original pagination and page numbers have necessarily changed, otherwise the reprint has the same content as the original.
See David J. Larsen, "From Dust to Exalted Crown: Royal and Temple Themes Common to the Psalms and the Dead Sea Scrolls," in Temple Insights: Proceedings of the Interpreter Matthew B. Brown Memorial Conference, "The Temple on Mount Zion," 22 September 2012, ed. William J. Hamblin and David Rolph Seely (Orem, UT: The Interpreter Foundation; Salt Lake City: Eborn Books, 2014), 145–156. Further information at https://interpreterfoundation.org/books/temple-insights/.]
Alan Goff, "Types of Repetition and Shadows of History in Hebraic Narrative"
Abstract: Modern readers too often misunderstand ancient narrative. Typical of this incomprehension has been the inclination of modern biblical critics to view repetitions as narrative failures. Whether you call such repetitions types, narrative analogies, type scenes, midrashic recurrences, or numerous other names, this view of repeated elements has dominated modern readings of Hebraic narratives for at least 200 years. Robert Alter, who introduced a new yet antique understanding of repetitions in the Hebrew Bible in the 1980s, began to reverse this trend. Such repeated elements aren't failures or shortcomings but are themselves artistic clues to narrative meaning that call readers to appreciate the depth of the story understood against the background of allusion and tradition. Richard Hays has brought similar insights to Christian scripture. The Book of Mormon incorporates the same narrative features as are present in other Hebraic narrative. The ancient rabbis highlighted the repeating elements in biblical narrative, noting that "what happens to the fathers, happens to the sons." The story of Moroni's raising the standard of liberty in Alma 46 illustrates the repetitive expectation by seeing the events of the biblical Joseph's life repeated in the lives of these Nephite descendants of Joseph. Such recurrence in narratives can, considering the insights of Alter and Hays, reveal richness and depth in the narrative without detracting from the historical qualities of the text.
***
It's more than a bit tough, but, well, in my judgment it unfortunately needs to be said:
"Neville asks why, so we provide the answers"
***
This item, from Forbes, was passed on to me by somebody and I'm sorry to say that I can't remember who it was, so I can't offer personal thanks.  Anyway, since it concerns what some exceptionally clever critics like to dub Utard, the home state of the "MORmONS," it plainly comes from the general vicinity of the enormous Christopher Hitchens Memorial "How Religion Poisons Everything" File©:
Utah occupied the top spot in Forbes' Best States for Business six times in seven years between 2010 and 2016 (Virginia in 2013 was the lone outlier), but fell to third in 2017 due to rising business costs and a softer economic outlook. The state has a very pro-business climate and companies benefit from energy costs that are 16% below the national average, according to Moody's Analytics. Utah's employment has expanded 3.3% a year over the past five years—second best in the U.S. Utah is well known for its winter activities and tourism has soared since the 2002 Winter Olympics. With two-thirds of Utahns being members of The Church of Jesus Christ of Latter-day Saints, Utah is the most religiously homogeneous state in the U.S.