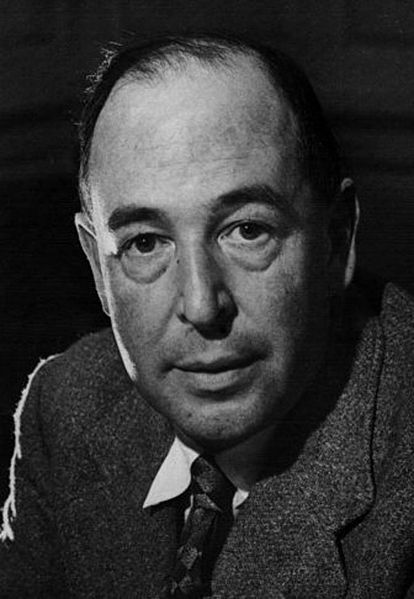 ***
My wife and I went last night to see a showing of The Most Reluctant Convert: The Untold Story of C. S. Lewis. at a theater near the local campus of the University of California at Irvine.  We were expecting to go with a friend who was to be along with us for most of this trip, but she had a family medical development that kept her home.
My wife liked the film; I loved it.
My wife, a theater major, thought that that the movie was too much like a stage play and didn't feel emotionally involved in or moved by the film.  It is, without doubt, very "verbal."  Almost a kind of lecture.  Full of overt argument and explicit reflection.  Some may not like that.  I adored it.
I'm such a C. S. Lewis fanatic — I began reading him as a teenager and have read most everything he ever published, including two episodes during the past fifteen or so in which I systematically read through his works yet again — that, at point after point, I found myself supplying the words of the film in advance.  (Many of them come, sometimes in different contexts in the movie, from his writings.)  Time after time after time, I would say to myself, inwardly, "Okay, now they need to do this" or "Now they need to show that."  And then they did.
Our little central team that did the Witnesses film have been considering a Next Project to undertake after we're done with Witnesses.  One possibility that we've discussed has been a film about the conversion story of C. S. Lewis.  In watching this one, however, I saw them checking off just about every box that I had in mind, or would have had in mind, for such a film.  And, in my opinion, they did it quite well.  That's alright, though:  We had already chosen a new leading candidate for our Next Project.
To me, The Most Reluctant Convert is a powerful film, and I'm pleased to see that it will apparently still be screening in at least some theaters, including theaters in Utah.  I encourage any who are even remotely interested to go to see it.  It's quite different from the 1993 movie Shadowlands, in which Lewis is played by Sir Anthony Hopkins.  The focus of that very worthwhile film is on the other end, the latter part, of Lewis's life.  Those who are well acquainted with Lewis's work will be able to flesh out and see the context and the broader significance of of episodes in both movies, which can only touch on such things.  For instance, Lewis's fiercely rational tutor William T. Kirkpatrick, aka "The Great Knock," is said in the film to have had an enormous influence on Lewis, but that influence is only stated but scarcely illustrated; you can get a sense of the impact that Kirkpatrick had on Lewis by looking at Andrew MacPhee, a character in That Hideous Strength who is manifestly based upon Lewis's own beloved atheistic teacher.
One of my wishes for the general membership of the Church of Jesus Christ of Latter-day Saints would be greater acquaintance with the writing of C. S. Lewis.
***
Here's an important point, I think, from The Most Reluctant Convert:
The film shows Lewis picking up a copy of George MacDonald's Phantastes at a small English train station, and describes the impact that that book had on him.  The book "baptized" his imagination, he says, but the rest of him required a bit longer.  It shows him engaged in crucial arguments — with such people as Owen Barfield, J. R. R. Tolkien (yes, that Tolkien), and Hugo Dyson — that gradually shifted him from atheism to deism or at least some vaguely theistic stance.
"You must picture me alone in that room at Magdalen [College, Oxford], night after night, feeling, whenever my mind lifted even for a second from my work, the steady, unrelenting approach of Him whom I so earnestly desired not to meet. That which I greatly feared had at last come upon me. In the Trinity Term of 1929 I gave in, and admitted that God was God, and knelt and prayed: perhaps, that night, the most dejected and reluctant convert in all England."
But his transition from abstract theist to Christian theist is merely described.  And very briefly.  He undertook a motorcycle ride with his older brother, Warnie, on 22 September 1931 and, although he began the trip as a non-believer in the Lordship of Jesus Christ, he somehow ended it as a believer:
"When we set out I did not believe that Jesus is the Son of God and when we reached the zoo I did."
I take it from this description, which I remember very distinctly from my readings in his work, that his actual acceptance of Christ was not — or was not directly — the result of argument.  Rather, it was the work of the Spirit.
This is entirely consistent with my view that, while argument can accomplish a great deal, it can only do so much.  It is essential, but real faith does not come from, and cannot securely rest upon, rational argument or impressive evidences.
For decades, a remark by Austin Farrer about C. S. Lewis — a passage often cited by the late Elder Neal A. Maxwell of the Quorum of the Twelve Apostles — functioned as something of an unofficial motto for Brigham Young University's Foundation for Ancient Research and Mormon Studies, more commonly known as FARMS, and its successor organization, the Neal A. Maxwell Institute for Religious Scholarship.  "Though argument does not create conviction," Farrer wrote, "the lack of it destroys belief. What seems to be proved may not be embraced; but what no one shows the ability to defend is quickly abandoned. Rational argument does not create belief, but it maintains a climate in which belief may flourish" (see Farrer, "Grete Clerk," in Light on C. S. Lewis, compiled by Jocelyn Gibb [Harcourt and Brace, 1965]).
Please go to see The Most Reluctant Convert.
Posted from Newport Beach, California