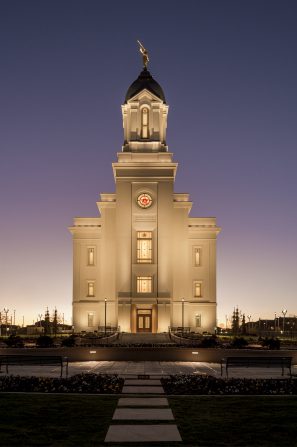 ***
We had dinner with a long-time friend of mine — he was at our wedding in the Salt Lake Temple many years ago — tonight in Cedar City, Utah.  We ate, by his choice, at Centro Woodfired Pizzeria.  We've eaten there several times before.  It's very good.  (I simply like to give compliments where compliments are due.)
***
Some notes from John W. Welch, ed., Reexploring the Book of Mormon (Salt Lake City and Provo: Deseret Book and Foundation for Ancient Research and Mormon Studies, 1992):
Neither modern speakers of English nor the King James translation of the Bible make much distinction between thieves and robbers.  Anciently, though, and particularly in Hebrew law, the distinction was a strong one:  Thieves were locals who robbed from their neighbors.  They were dealt with civilly, usually by a court drawn from their townsmen.  Robbers, by contrast, were outsiders.  They were handled militarily, and could be summarily executed.  The Book of Mormon conforms to precisely that ancient Hebrew distinction.  (248-249)
The execution of the captured Gadianton robber chief Zemnarihah (3 Nephi 4:28) fits its claimed ancient background in several striking ways.  First, ancient Jewish law required the felling of a tree that had been used for an execution, just as the tree was felled from which Zemnarihah was hanged.  Second, trees used for executions were chopped down and buried so that they would not be sad memorials or reminders of the execution's victim –and the Nephites explicitly remembered Zemnarihah and his tree in that very way.  Third, hanging was, in fact, a genuinely ancient Hebrew form of execution.  Fourth, executions were often carried out — as Zemharihah's was — in a way or place peculiarly appropriate to the offense being punished.  Fifth and last, there seems, in Zemnarihah's case, to be an echo of the ancient Hebrew practice of "heralding" a notorious execution.  (250-252)
***
I'm very much looking forward to this series, from two of the more interesting faithful Latter-day Saint thinkers around:
"Towards a Latter-day Saint Perspective in Psychology: Most students of psychology embrace the prevailing assumptions of the field as a starting point towards examining other things in their lives, such as faith. What if we did the opposite?"
This is the first installment in a serialization of a book by Jeffrey Thayne and Edwin Gantt, putting forth a vision of a psychology that takes seriously the restored gospel of Jesus Christ.
Similar foundational thinking needs to be done by Latter-day Saints in many other fields, well beyond the behavioral sciences.
Posted from St. George, Utah