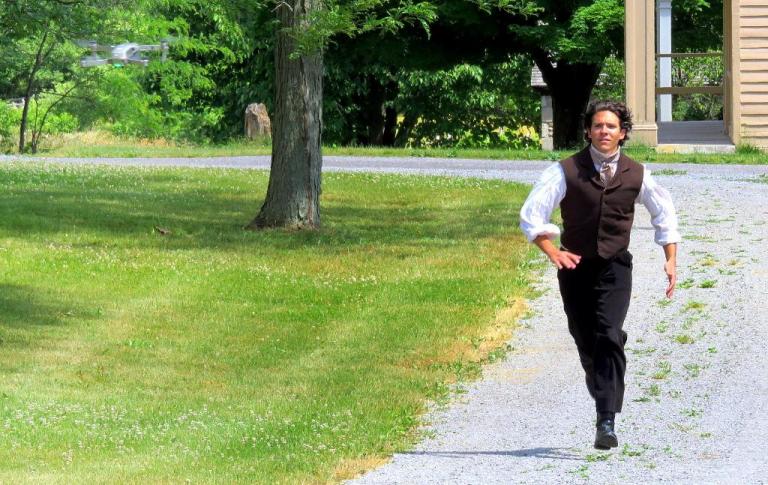 ***
I want to call your attention here to the newly revamped website for our forthcoming two-part docudrama, which will be available on DVD just one month from now, on 24 May 2022:
Undaunted: Witnesses of the Book of Mormon
On the website, you will be able to watch the one-minute trailer for the docudrama.  You will also be able to watch our short-feature videos — our "reels," as we're calling them — as they appear each week.  Our first, which is focused on Oliver Cowdery, is already up on the site and is available for your viewing at no charge.  (There will be no charge for any of the "reels."  We encourage you to share them as widely as you can.)
***
In a post that I published here last week ("Light in the Public Square"), I suggested that Latter-day Saints ought to regard the upcoming FX/Hulu miniseries Under the Banner of Heaven as furnishing us an opportunity to engage in conversations with non-members of the Church about our actual history and our real doctrines.  I suggested that faithful Latter-day Saints ought, if they can, to be prepared for such conversations, which might occur at unpredictable moments over the water cooler, on the sidelines at a ballgame, at the office, with a patient or a client, with a curious neighbor, with a perplexed relative, or in any of a number of other situations.
Here's a trio of items that I think can be quite helpful.  No doubt there are many others, but these offer some good information:
"13 Things You Need to Know about FX's 'Under the Banner of Heaven': 'Under the Banner of Heaven' is a true crime thriller based on a Jon Krakauer book with a controversial history."
"Under the Banner of Old Tropes: With the upcoming FX/Hulu series portraying The Church of Jesus Christ of Latter-day Saints as a dangerous breeding ground for violence, it's valuable to reflect on the long history of similar efforts"
""Under the Banner of Heaven" Redux"
Don't be shy.  If an opportunity presents itself, join in and contribute to a conversation.  If you hear the Church being run down or see it being attacked or disparaged, step in to correct the record.  Not with railing or with anger, but with calm reason and good information.  If things turn really ugly, of course, turn away.  Those who want to be ugly will be ugly.  If we turn the other cheek, though, perhaps they'll eventually regret the ugliness.  And that, too, can provide a valuable teaching moment.