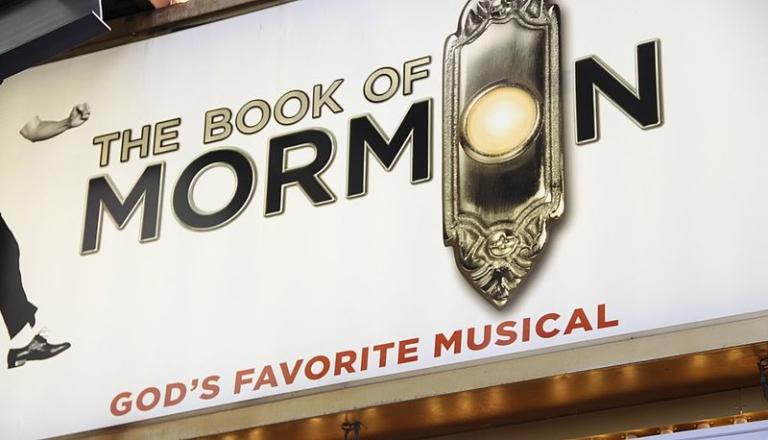 ***
I've lately suggested a way to approach the forthcoming FX/Hulu miniseries Under the Banner of Heaven and some resources for strengthening that approach.  (See here, for example.)  Now here's another valuable article — from the estimable Hal Boyd — that some will find helpful:
"Perspective: Under the Banner of Hollywood: Too much real-life anger comes out of Tinseltown. It's time for Dustin Lance Black and company to let go of the angst toward Latter-day Saints"
And some may, in fact, profit from this piece, too:
"Faithful Mormons won't be happy with Hulu's 'Under the Banner of Heaven': Despite excellent performances and production values, Hulu's 'Banner' left me with the same wary bewilderment I felt after reading Jon Krakauer's book."
I've been somewhat busy and under the gun for the past while, but I still find occasional time for rummaging in the infinitely capacious Christopher Hitchens Memorial "How Religion Poisons Everything" File™.  Here are a couple of my most recent finds, both of them unspeakably appalling:
"Latter-day Saint Ukrainian refugees find rest in Christ, kindness of others"
"How Muslim Americans meet their charitable obligations: 3 findings from new research"
***
"War in Ukraine is testing some American evangelicals' support for Putin as a leader of conservative values"
Good grief.  I confess that I am, and long have been (long before his brutal and unprovoked assault on Ukraine), speechless with astonishment that anybody has ever thought of Vladimir Putin — Vladimir Putin! — as "a leader of conservative values."  What would Ronald Reagan have thought of that?  What would Barry Goldwater or Milton Friedman or William F. Buckley or Russell Kirk have thought of that?  What would Edmund Burke have thought?  How about T. S. Eliot?  Absolutely mind-boggling.  When I listen to some purported conservatives praising or defending Putin, I feel as if I've been awakened in the midst of an episode of the Twilight Zone.  Although I'm not exactly his number one fan, I'm deeply grateful for Emmanuel Macron's victory over the Putinophile Marine Le Pen.  Macron landed a campaign body blow on her, a lethally damaging one in my judgment, when he noted her dependence on the murderer of Bucha and Mariupol:  "'Russia is your banker!' Macron tells Le Pen during feisty France election debate."  She deserved it, in spades.  By the way, did anybody happen to catch CNN's occasionally hilarious but ultimately sad special on Navalny last night?  No sane person, watching that, could possibly continue to think of Vladimir Putin as as "a leader of conservative values."
But hey!  Mr. Putin attended Easter mass recently!  And, while there, he crossed himself!
"Russia's Putin attends midnight Orthodox Easter mass in Moscow"
Incidentally, Patriarch Kirill is said to have been a KGB agent in his earlier days, and a 2009 article in Forbes cited a 2006 report that the Russian clerics personal wealth stood, at that time, at a modest $4 billion dollars:
"Putin Runs The Russian State — And The Russian Church Too"
***
As I noted sadly in a recent blog entry here, Laura Harris Hales, herself an author and a friend as well as the wife of our friend Dr. Brian Hales, passed away on 13 April, slightly less than two weeks ago.  The New York Times has now published an article about her that is well worth reading:
"Laura Hales, Who Examined Her Church's Tough Issues, Dies at 54: Her writings and her podcast on subjects like polygamy explored the history and doctrine of the Church of Jesus Christ of Latter-day Saints."
And here is the obituary for my friend and former dean, Todd Britsch:
"Obituary for Todd Adam Britsch"
I regret very much that I won't be able to attend Todd's funeral this coming Saturday.
***
An autobiographical reminiscence:
Living, as they do, in a very stable, highly educated, extremely prosperous, and largely crime-free country that hasn't been involved in a war for roughly two centuries and whose landscape ranges from beautiful to spectacularly beautiful, it's not surprising that the Swiss are comfortable.  (Some would say that they tend to be a bit complacent.)  They're not necessarily seeking to make big changes.
Nor, on the whole, are they religiously anguished nor energetically searching for new spiritual paths.
So serving as a missionary in German-speaking Switzerland, while it had its substantial personal rewards and while I am passionately in love with the country, posed some challenges.  On the whole, people just weren't interested.  We rarely got in doors, rarely taught lessons, and only very rarely got beyond first or second lessons.
I would have to catch myself from time to time, realizing that I hadn't seriously thought in weeks of seeing a convert baptism.  My job was simply to get up every morning, get out on the doors by 9 AM, ring doorbells all day, have the doors shut in my face, and repeat the same general plan the next day, as well.  Rinse and repeat.
About midway through my mission, we were given a new edition of the general Church missionary handbook.  One line in it provoked laughter and jokes among the missionaries.  As I recall, it read almost exactly as follows, stating a goal for us:  "Find a golden family each week; baptize a golden family each month."
That might have fit Mexico or Brazil at the time, but, in Switzerland, finding a single "golden" individual over the course of two years would have been a satisfying and not necessarily likely achievement.
One day, while I was serving in the mission home in Zürich, my mission president called me to his office.  He had just received some sort of letter or newsletter from his home neighborhood in Salt Lake City.  "Brother Peterson," he said to me rather wistfully, "do you realize that the Ensign Stake mission out-baptized us last year?"  (That, of course, would have been a local, part-time missionary effort in the very headquarters city of the Church of Jesus Christ of Latter-day Saint, as opposed to our admittedly relatively small force of full-time missionaries in Germanic Switzerland.)
That's why, one day, I was so deeply surprised to see a woman answer our ringing of her doorbell . . . and have a powerful internal voice tell me, not precisely in words but still very clearly, "She's going to be baptized."
And, in fact, she let us in the door.  We introduced ourselves, set up an appointment, returned, and taught her a lesson.  Perhaps — I can't quite recall — we even returned later to teach her a second lesson.
And then she told us that she wasn't interested.
I was puzzled by that, since the impression had been so distinct and so unexpected.
Come summer, my companion and I were transferred from the area, which was (and is) a major tourist destination.  That was that.
In the fall, a new missionary pair were assigned to the area.  Looking through our record books, they saw the woman's name and address and decided to look her up.
She consented to be taught further lessons, and was eventually baptized.  Roughly a year after my first contact with her.
I've thought about this experience many times since.  It seems pretty clear to me that we can receive genuine inspiration and still not know or understand the details, that we can even have true intuitions about the future and yet incorrectly visualize how those intuitions will be fulfilled.  (The latter has happened to me on several occasions.)  As the apostle Paul expressed it in 1 Corinthians 13, in this life "we see through a glass, darkly."
Posted from New York City