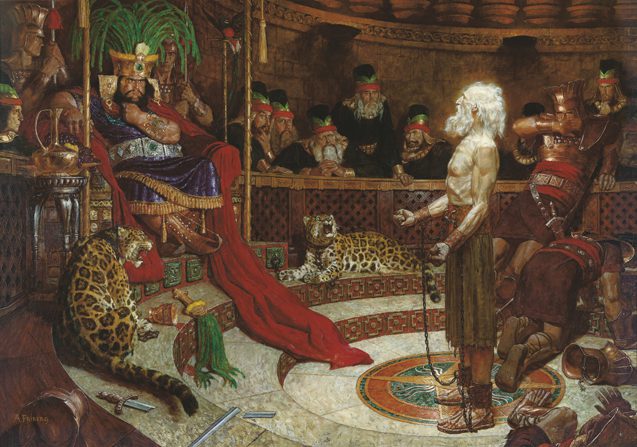 ***
It's Friday, so, with wearisome predictability, another new article has appeared in the online Interpreter: A Journal of Latter-day Saint Faith and Scholarship.  Like all such articles, it is offered to you at no charge (though we certainly hope that you'll consider offering a little something to support our ongoing efforts):
"Putting Down the Priests: A Note on Royal Evaluations, (wĕ)hišbît, and Priestly Purges in 2 Kings 23:5 and Mosiah 11:5," written by Matthew L. Bowen:
Abstract: The historian who wrote 2 Kings 23:5 and Mormon, who wrote Mosiah 11:5, used identical expressions to describe King Josiah's and King Noah's purges of the priests previously ordained and installed by their fathers. These purges came to define their respective kingships. The biblical writer used this language to positively evaluate Josiah's kingship ("And he put down [w<ĕhišbît] the idolatrous priests whom the kings of Judah had ordained"), whereas Mormon levies a negative evaluation against Noah ("For he put down [cf. Hebrew (wĕ)hišbît] all the priests that had been consecrated by his father"). Mormon employs additional "Deuteronomistic" language in evaluating Mosiah, Noah, and other dynastic Book of Mormon leaders, suggesting that the evident contrast between King Noah and King Josiah is deliberately made.
***
We had an enjoyable time last night at the Museum of Church History and Art in Salt Lake City.  We were there to attend the launching event and reception for the third volume of Saints.  Elder LeGrand R. Curtis Jr. of the Seventy — who also serves as the Church historian and recorder and as the executive director of the Church History Department was one of the two speakers, highlighting some of the principal themes and engaging stories from the volume.  (Unfortunately, for some stupid reason of momentary inattention I didn't catch the name of the other speaker, one of the women involved in the project.  She went into a little more detail regarding a German sister's difficult experiences in the lead-up to the Second World War, during the war, and thereafter.  Quite a powerful story.)
"Volume 3 of Saints Is Now Available: The book — available in 14 languages — is the newest chapter of Church's official history"
I also bought a print of the cover art for the volume, which, as I explained in yesterday's blog entry, has particular personal significance for me.
***
I want to be sure that I serve all of the segments of my readership.  And I know that, for some of them, the absence of a good "Friday the 13th" movie in their local theaters leaves them craving terror and the Russian "special military operation" in Ukraine leaves them desperately needing a real outrage, a real occasion for moral indignation.  Well, I'm here to help.  Here are some items that I've recently found in the Christopher Hitchens Memorial "How Religion Poisons Everything" File© that I hope will tide some of our needy friends over into at least the next week:
"The Tabernacle Choir and Azamara Collaborate to Support Global Relief Efforts: Baltic cruises will benefit CARE, International Rescue Committee and American Red Cross"
"Painting a Methodist Church, Feeding the Hungry and Helping Abuse Survivors: Service from Latter-day Saints Around the World: Featuring stories from the Philippines, Hong Kong and elsewhere"
"How Youth and Young Adults Are Using JustServe: Volunteers find joy in service and leadership skills while drawing closer to Christ"
"JustServe Project in Idaho Falls Showed How the Savior Ministers to the One: Volunteers hand crafted 5,050 Valentines that were delivered to seniors, first responders, hospitals and hospice care workers"
"How the Church Is Helping Malnourished Children and Women in Nigeria"
"Church helps give water tanks to residents affected by Australia's 'Black Summer'"
Finally, while this is not a pure vein of theistic horror, I judge that its admittedly brief mention of Latter-day Saint work with the American Red Cross in Iowa authenticates it as having genuinely emerged out of the Hitchens File©:
"President Camille Johnson Addresses Religious Freedom Symposium in Iowa: Primary general president also visits state government leaders and Red Cross"
And, very closely related:
"'It will take all of us': How religious charities and volunteers are in a unique position to help relieve suffering in communities, globally"
***
I liked this article very much, and I commend it to your attention:
"Perspective: I'm a devout Latter-day Saint gay man. I'm married to a woman. This is my story: The creator of the 'Sit Down with Sky and Preston' podcast talks about why he stands up for his faith and his family"
I don't know Skyler Sorenson, but I wish him the all the best.  He seems to me worthy of honor and admiration.
***
I'm saddened to note here that my former dean, Todd A. Britsch, passed away yesterday morning after a brief bout with cancer.  Like the dean who hired me, the late Richard Cracroft, he had served a mission in Switzerland and Austria — in fact, Richard later returned to preside over the Swiss Mission — which provided a nice area of commonality between us from the very beginning of his deanship.  In more recent years, Todd was also a valued and contributing member of our monthly reading group, affectionately known as the Gadianton Polysophical Marching and Chowder Society.  We will miss him very much.  When he announced his terminal illness to us all, I was astonished at the matter-of-fact, even cheery, manner of his reaction.  He seemed remarkably unconcerned.  Certainly he seemed completely unafraid.  The last time that we heard from him was, I think only a few weeks ago during one of the meetings of our discussion group, which have been mostly virtual since the advent of COVID.  He looked fine.  There was, to me, an aura of unreality about the fact that he was fatally ill.  Plainly, though, it was very real.  And now he's gone.  I hope that the family won't mind my passing on this brief note from his brother Lanny Britsch, who is also a member of our little reading group.  It begins with a comment quoted from Lanny's son, Todd's nephew:  "'The world has lost one of the great minds.'  Not only that, we have lost a great person, one who was kind, loving, and good.  His reward will be celestial."