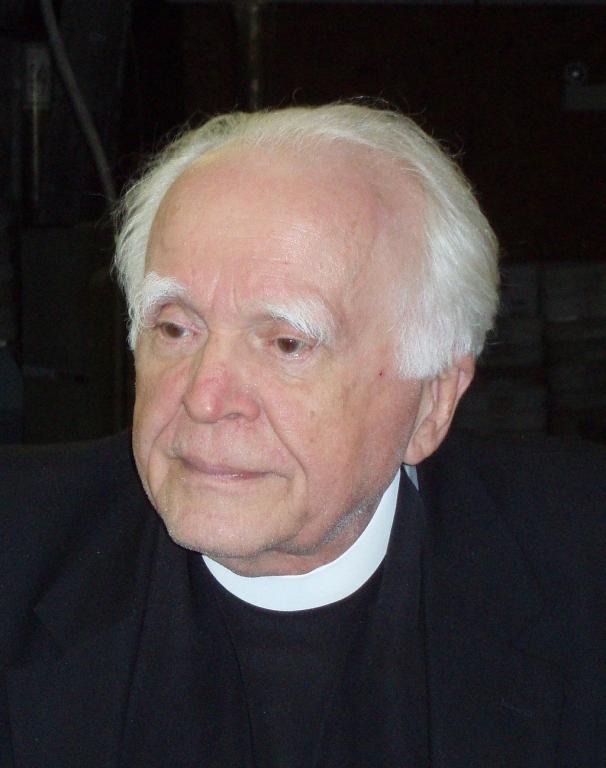 ***
My blog enjoys the attention and ministrations of a resident devotee of scientistic atheism.  (I'm not sure exactly what to call him in that regard.  He's definitely not a scientist, as he himself will freely admit — well, not freely, actually; the sequences of neurochemical brain processes that result in that "admission" or emission were set in motion approximately 13.7 billion years ago with the Big Bang, and, even allowing for quantum indeterminacy, were perhaps inevitable even then — but it seems that the term scientologist is already taken.  So I typically stay with dogmatic ideologue as the most appropriate descriptor.
Anyhow, one of the sequences of phonemes that frequently result from the involuntary neurochemical events that occur within his skull typically runs approximately as follows:  "Your belief in God makes a mockery of the methods and accomplishments of the science that built the world you're living in."
I believe that this emission is an example of what naïve sentimentalists, with their tendency to anthropomorphize random products of biochemical evolution, call "thought."
It's not a very good one, though.
Along with others, I've regularly asked this particular meat-unit — "meat-unit" is a term that he has sometimes applied to his fellow humans and, given his worldview, it seems quite appropriate (and rather appropriate to apply to him —  exactly which element of the scientific method theists are obliged to mock or reject.  I've routinely sought to know precisely which accomplishment of science this particular carbon-based life form imagines that I'm compelled to disdain or to disavow.
But it never answers.
Because there are plenty of theists who are fully and seriously involved in the sciences — much more so than this specific cell colony itself is involved.  And there is, to the best of my knowledge, nobody who comments on my blog who hates, despises, rejects, fears, mocks, or laments science.  Certainly I don't.
***
John was silent for a few minutes.
Then he began again: "But how do you know there is no Landlord?"
"Christopher Columbus, Galileo, the earth is round, invention of printing, gunpowder!" exclaimed Mr. Enlightenment in such a loud voice that the pony shied.
"I beg your pardon," said John.
"Eh?" said Mr. Enlightenment.
"I didn't quite understand," said John.
"Why, it's as plain as a pikestaff," said the other. "Your people in Puritania believe in the Landlord because they have not had the benefits of a scientific training. For example, I dare say it would be news to you to hear that the earth was round — round as an orange, my lad!"
"Well, I don't know that it would," said John, feeling a little disappointed. "My father always said it was round."
"No, no, my dear boy," said Mr. Enlightenment, "you must have misunderstood him. It is well known that everyone in Puritania thinks the earth flat. It is not likely that I should be mistaken on such a point. Indeed, it is out of the question."
C. S. Lewis, The Pilgrim's Regress: An Allegorical Apology for Christianity, Reason, and Romanticism [1933] (Grand Rapids: Eerdmans, 1992), 20-21.
***
I've long had it in my mind to read the works of the eminent Hungarian-American historian and philosopher of science Stanley Jaki (1924-2009), a priest who held doctorates in both physics and theology.  What little I've read from him has been very good.  So I looked for a bibliography of his writings, and this — merely a partial list, apparently — is what I found.  I am, to put it mildly, just a bit intimidated:
(1966) The Relevance of Physics (Chicago: University of Chicago Press)
(1969) Brain, Mind and Computers (New York: Herder and Herder)
(1969) The Paradox of Olbers' Paradox: A Case History of Scientific Thought (New York: Herder and Herder)
(1972) The Milky Way: An Elusive Road for Science (New York: Science History Publications; Newton Abbott, England: David & Charles)
(1974) Science and Creation: From Eternal Cycles to an Oscillating Universe (Edinburgh: Scottish Academic Press)
(1978) Planets and Planetarians: A History of Theories of the Origin of Planetary Systems (Edinburgh: Scottish Academic Press)
(1978) The Road of Science and the Ways to God: The Gifford Lectures 1975 and 1976 (Chicago: University of Chicago Press; Edinburgh: Scottish Academic Press)
(1978) The Origin of Science and the Science of its Origin (Edinburgh: Scottish Academic Press)
(1980) Cosmos and Creator (Edinburgh: Scottish Academic Press)
(1983) Angels, Apes and Men (La Salle, IL: Sherwood Sugden and Company)
(1984) Uneasy Genius: The Life and Work of Pierre Duhem (Dordrecht: Martinus Nijhoff)
(1986) Lord Gifford and His Lectures: A Centenary Retrospect (Edinburgh: Scottish Academic Press)
(1986) Chesterton: A Seer of Science (Urbana: University of Illinois Press)
(1986) Chance or Reality and Other Essays (Lanham, MD and London: University Press of America; Bryn Mawr: PA: The Intercollegiate Studies Institute.)
(1988) The Savior of Science (Washington, DC: Regnery Gateway)
(1988) The Absolute Beneath the Relative and Other Essays (Lanham, MD and London: University Press of America; Bryn Mawr: PA: The Intercollegiate Studies Institute)
(1988) The Physicist As Artist: The Landscapes of Pierre Duhem (Edinburgh: Scottish Academic Press)
(1989) God and the Cosmologists (Washington, DC: Regnery Gateway; Edinburgh: Scottish Academic Press)
(1990) The Purpose of It All (Washington, DC: Regnery Gateway; Edinburgh: Scottish Academic Press)
(1990) The Only Chaos and Other Essays (Lanham, MD and London: University Press of America; Bryn Mawr: PA: The Intercollegiate Studies Institute)
(1991) Pierre Duhem: Scientist and Catholic (Front Royal, VA: Christendom Press)
(1992) Reluctant Heroine: The Life and Work of Hélène Duhem (Edinburgh: Scottish Academic Press)
(1992) Genesis 1 through the Ages (London: Thomas More Press)
(1992) Universe and Creed (Milwaukee: WI: Marquette University Press)
(1993) Is There a Universe? (Liverpool: Liverpool University Press; New York: Wethersfield Institute)
(1994) Patterns and Principles and Other Essays (Bryn Mawr, PA: The Intercollegiate Studies, Inc.)
(1996) Bible and Science (Front Royal, VA: Christendom Press)
(1998) The Virgin Birth and the Birth of Science (Fraser, MI: Real View Books)
(1999) Means to Message: A Treatise on Truth (Grand Rapids, MI: William B. Eerdmans)
(2000) The Limits of a Limitless Science and Other Essays (Bryn Mawr, PA: The Intercollegiate Studies Institute)
(2000) Christ and Science (Royal Oak, MI: Real View Books)
(2000) Giordano Bruno: A Martyr of Science? (Pinckney, MI: Real View Books)
(2000) Maybe Alone in the Universe, after All (Pinckney, MI: Real View Books)
(2000) Advent and Science (Pinckney, MI: Real View Books)
(2001) Galileo Lessons (Pinckney, MI: Real View Books)
(2001) Jesus, Islam, Science (Pinckney, MI: Real View Books)
(2002) A Mind's Matter: An Intellectual Autobiography (Grand Rapids, MI: William B. Eerdmans)
(2003) Numbers Decide and Other Essays (Pinckney, MI: Real View Books)
(2004) Questions on Science and Religion (Pinckney, MI: Real View Books)
(2005) The Drama of Quantities (Pinckney, MI: Real View Books)
(2006) A Late Awakening and Other Essays (Pinckney, MI: Real View Books)
(2008) Impassable Divide (Pinckney, MI: Real View Books)
Posted from New York City
*