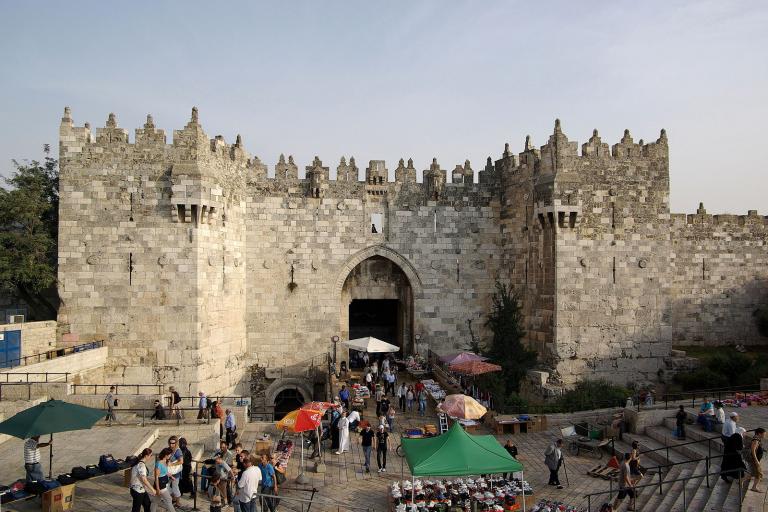 Some time ago, I read John L. Esposito and Dalia Mogahed, Who Speaks for Islam? What a Billion Muslims Really Think (New York: Gallup Press, 2007).  I'm now organizing for my use in a writing project some of the passages that I marked during that reading, and I intend to share at least a portion of those here.
Very plainly, Muslims and Islam have a public relations problem.  That's obvious.  And it's obvious why, too.  There is simply no denying that the Islamic world is profoundly dysfunctional in many ways and that its dysfunctions have done grave damage not only within it but well beyond it.  However, it's important that we accurately understand what's going on among Muslims.  Gross distortions and misperceptions won't help.  In this passage, Esposito and Mogahed describe the massive survey that undergirds their important book:
The religion of Islam and the mainstream Muslim majority have been conflated with the beliefs and actions of an extremist minority.  For example, a 2006 USA Today/Gallup poll . . . found 44% of Americans saying that Muslims are too extreme in their religious beliefs.  Nearly one-quarter of Americans, 22%, say they would not want a Muslim as a neighbor; less than half believe U.S. Muslims are loyal to the United States. . . .
The vital missing piece among the many voices weighing in on this question is the actual views of everyday Muslims.  With all that is at stake for the West and Muslim societies — indeed for the world's future — it is time to democratize the debate.
Who speaks for Islam? What a Billion Muslims Really Think is about this silenced majority.  This book is the product of a mammoth, multiyear Gallup research study.  Between 2001 and 2007, Gallup conducted tens of thousands of hour-long, face-to-face interviews with residents of more than 35 nations that are predominantly Muslim or have substantial Muslim populations.  The sample represents residents young and old, educated and illiterate, female and male, and from urban and rural settings.  With the random sampling method that Gallup used, results are statistically valid with a plus or minus 3-point margin of error.  In totality, we surveyed a sample representing more than 90% of the world's 1.3 billion Muslims, making this the largest, most comprehensive study of contemporary Muslims ever done.  (x-xi)
And here are some further passages that caught my attention in the book:
In a December 2005 Gallup Poll of American households, when Americans were asked what they most admire about Muslim societies, the answer "nothing" was the most frequent response.  The second most frequent response?  "I don't know."  Combined, these two responses represented the majority (57%) of Americans surveyed.  (1)
When we asked respondents in 10 predominantly Muslim countries how they view a number of nations, the attributes they most associate with the United States are: ruthless (68%), scientifically and technologically advanced (68%), aggressive (66%), conceited (65%), and morally decadent (64%).  (84)
When Gallup asked the open-ended question:  "In your own words, what do you resent most about the West?" the most frequent response across all [predominantly Muslim] countries among moderates and radicals is "sexual and cultural promiscuity," followed by "ethical and moral corruption" and "hatred of Muslims."  (88)
Reflecting the importance of Islam, the most frequent response given by both groups [radicals and moderates] to the questions about what the West can do to improve relations is: more respect, consideration, and understanding of Islam as a religion; not underestimating the status of Arab/Muslim countries; being fair and less prejudiced.  (91)
A recent study shows that only 46% of Americans think that "bombing and other attacks intentionally aimed at civilians" are "never justified," while 24% believe these attacks are "often or sometimes justified."
Contrast this with data taken the same year from some of the largest majority Muslim nations, in which 74% of respondents in Indonesia agree that terrorist acts are "never justified"; in Pakistan, that figure is 86%; in Bangladesh, 81%; and in Iran, 80%.
Similarly, 6% of the American public thinks that attacks in which civilians are targets are "completely justified."  As points of comparison, in both Lebanon and Iran, this figure is 2%, and in Saudi Arabia, it's 4%.  In Europe, Muslims in Paris and London are no more likely than their counterparts in the general public to believe attacks on civilians are justified and are as likely to reject violence, even for a "noble cause."  (95)
Diagnosing terrorism as a symptom and Islam as the problem, though popular in some circles, is flawed and has serious risks with dangerous repercussions.  It confirms radical beliefs and fears, alienates the moderate Muslim majority, and reinforces a belief that the war against global terrorism is really war against Islam.  Whether one is radical or moderate, this negative attitude is a widespread perception.
In an International Herald Tribune op-ed piece, Fawaz Gerges recounted an interview he had with an Islamic leader in Egypt, Abed al-Rahim Barakat, who echoed the pervasive perception among Muslims that the U.S. wars in Afghanistan and Iraq are wars against Islam.  "President Bush himself used the word 'crusade' to describe his war on terror," Barakat told Gerges.  When Gerges responded, "It was a slip of tongue," Barakat insisted, "No, it was a Freudian slip.  He revealed what he feels deep inside."  (96)
a full third of professional and technical workers in Egypt are women, on par with Turkey and South Korea (102)
The valedictorians of Cairo's elite medical school are famously known to almost always be female.
These cases are hardly unique.  Nationally representative self-reported data show percentages of women in Iran (52%), Egypt (34%), Saudi Arabia (32%), and Lebanon (37%) with postsecondary educations.  In the United Arab Emirates and Iran, women make up the majority of university students.  However, in Muslim countries — as well as in non-Muslim countries — Gallup finds a wide range of female education with percentages of women pursuing postsecondary educations dipping as low as 8% and 13% in Morocco and Pakistan, respectively, which is comparable with 4% in Brazil, or 11% in the Czech Republic.  (103)
According to the UNESCO 2005 Gender and Development report, the ratio of women to men enrolled in secondary education in 2001-2002 was 100% or higher in Jordan, Algeria, Lebanon, Kuwait, Libya, the United Arab Emirates, Indonesia, Malaysia, and Bangladesh.  This compares with only 77% in Turkey, a staunchly secular nation [at the time of writing] often assumed in the West to be ahead of its neighbors in the arena of gender development, or 74% in India.  The gender gap in these nations is higher than in Saudi Arabia, which boasts an 89% ratio of women to men enrolled in secondary education, according to the U.N. report.
Despite these hopeful statistics, women's basic education is still lagging in some countries.  For example, in Yemen, women's literacy is only 28% versus 70% among men; in Pakistan, it is 28% versus 53% for men.  These sad findings, however, are not unique to Islamic nations nor do they represent the entire Muslim world; women's literacy rates in Iran and Saudi Arabia are 70% and as high as 85% in Jordan and Malaysia.  (104-105)
Posted from Jerusalem, Israel