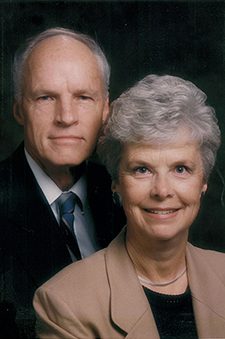 Ann Madsen, widow of the late Truman G. Madsen, passed away on 26 October 2022 at the age of ninety.  Her funeral service will be held this coming Saturday.  As I've recently had occasion to note, Truman Madsen had a crucial influence on me at a time when I was choosing the general direction of my life, and much of what I've done since then — much of the good, anyway, though none of the bad — bears the marks of his influence.
I can't remember when I first met his wife Ann.  She and I spent considerable time together when I was teaching at BYU's Jerusalem Center for Near Eastern Studies while Truman was the director there, but we had known each other for quite a while prior to that.
I also served with Ann for nearly a decade on the Gospel Doctrine writing committee of the Church.  That committee met twice each month on the BYU campus, on Sunday mornings, to critique preliminary drafts of lessons that each of us had been assigned and that had then been distributed in advance.  By far most of our actual work—the work of  actually creating lessons, reviewing the lessons created by others, and revising our own proposed lessons in view of the committee's critiques—was done individually, between our meetings.
All of us took turns bringing breakfast in for the group, and we would eat breakfast together as we discussed our work.  These were fun and enjoyable times.  There was a lot of joking and good camaraderie.  I sometimes referred to our committee as "The Breakfast Club."
Ann was a valuable member of the committee.  Her comments were typically insightful and reflected her concern for ordinary members of the Church and how we might be able to help them.  Even when she was critical, even when she was suggesting the need for a change, she was kindly and charitable.
But she could be direct.
Once, a messenger from the Curriculum Committee up in Salt Lake City arrived at one of our early morning meetings.  He brought with him a short video of a model Sunday School class taught in the way that his committee favored—which, to my view, was heavy on expressing teacher and class member "feelings" but notably short on content, added knowledge, and, for that matter, the use of actual scriptural texts.
At the conclusion of the video, the messenger from the Church Office Building turned to us with a beaming and satisfied smile on his face.  "Well," he said.  "What did you think?"  After an awkward and embarrassed silence, Ann was the first to speak up:  "I hated it," she said.  And then, feeling empowered by her candor, we all joined in to tell how much we had disliked it and why.  The committee in Salt Lake was obliged to return to the drawing boards.
Something else that was always evident about Ann was her great admiration for and devotion to her husband, Truman.  More than once during our committee meetings, an anecdote about him came up.  Once, in fact, Ann shared a photo of Truman, from an article about him.  "Isn't he handsome?" she would say, quite innocently and ingenuously, completely without any sense of boastfulness, with an air of genuinely awed wonderment.  "Isn't he brilliant?"  I remember mentioning this once to my wife.  "Don't get your hopes up," she responded.
I posted the comments above, minus a few slight modifications, on Ann's obituary page.  Since then, though, I've recalled something else that I think worth mentioning here:
Once, many years ago, I was over in the old Joseph Smith Building on the BYU campus for some sort of meeting.  When that meeting finished, I was trying to decide whether I should walk back to my office in another building, since I had yet another (unrelated) meeting in the Joseph Smith Building less than an hour thereafter.  Suddenly, I ran into Ann in the hallway.  She was a bit surprised to see me in her building.  She was off to teach a class, and she offered to let me sit in her office while I waited for the next meeting to start.  That was good, as I had work with me that I could do while biding my time.
I sat down at her desk, in her chair, as she had invited me to do.  From that vantage point, I noticed something that nobody else in the office would be able to see:  Taped to one of her filing cabinets so that she could easily see and read it, she had a typed-out list of all of the speakers at the most recent installment of the General Conference of the Church.  And, next to each name, she had a specific resolution of something that she personally intended to do in response to that speaker's remarks.  I was both inspired and a little shamed by what I saw.  Plainly, she was very serious about General Conference in a way that rather put me in the shadow.  Since that time, I've made sporadic and not very impressive efforts to follow her example.  My results have been mixed, but I still remember the standard that she set for me.
What a wonderful reunion Truman and Ann Madsen will already have had by this time!  What glorious news the Restored Gospel offers us!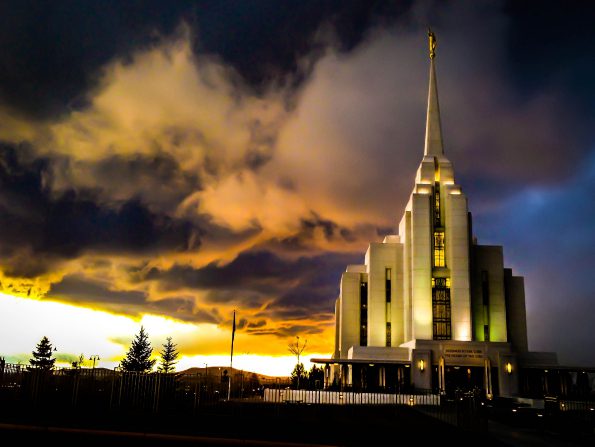 Here are two passages from a devotional address titled "Foundations of Temple Worship" that Truman Madsen delivered at the Idaho campus of Brigham Young University in October 2004:
President McKay asked for a million dollars from the local saints, and had pledge cards before the meeting was over for that amount, plus. Then he spoke about the temple. I'll spare you the details except for the core statement that I have cherished, and which bent, as it were, the twig in me, which has grown and grown ever since.
He said, "Brothers and sisters, I believe there are few, even temple workers, who comprehend the full meaning and power of the temple endowment. Seen for what it is, it is the step-by-step ascent into the eternal presence. If our young people could only glimpse it, it would be the most powerful spiritual motivation of their lives." I resolved that day, because of what happened in my heart, always to raise my voice in testifying of the temple and never of criticizing it, to carry out as best I could my dream of finding a queen who would share in me the total conviction that the temple is ours, made for us and prepared for us, and that out of that could come a family who would love the Lord Jesus Christ as nothing else in the universe.
The fulness of truth, and the fulness of the Holy Ghost, and the fulness of the priesthood, and the fulness of the glory of the Father are all phrases that are ocurrent in connection with the temple, and cannot be received anywhere else, nowhere else on the planet. You cannot receive the fulness that the Lord has for you without coming through the temple and having the temple come through you.