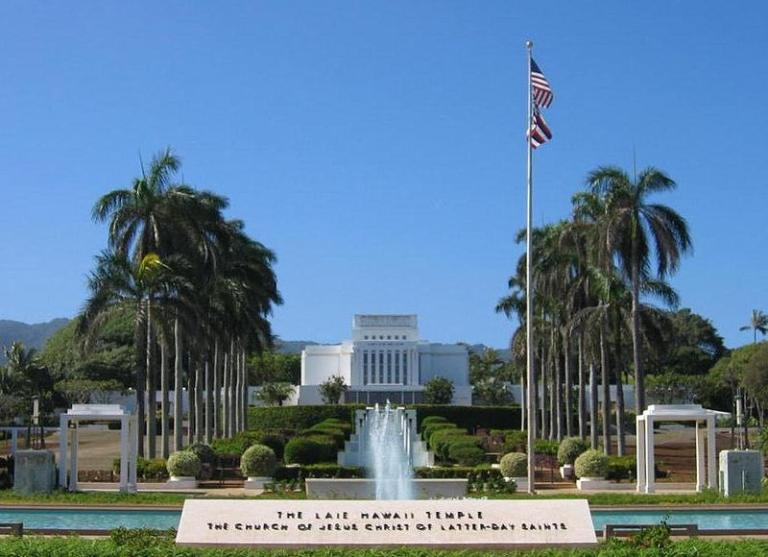 Two new items went up today on the website of the Interpreter Foundation:
Come, Follow Me — New Testament Study and Teaching Helps: Lesson 7, February 6 — 12: John 2–4 — "Ye Must Be Born Again"
Once again, Jonn Claybaugh generously supplies a set of helpful notes for teachers and students of the Church's "Come, Follow Me" curriculum.
The New Testament in Context Lesson 7: "Ye Must Be Born Again"
In the 15 January 2023 Come, Follow Me segment of the Interpreter Radio Show, Foundation volunteers Bruce Webster, Kris Frederickson, and Martin Tanner discuss New Testament lesson 7, covering John 2–4: "Ye Must Be Born Again."
The other segments of the 15 January 2023 radio show can be accessed at https://interpreterfoundation.org/interpreter-radio-show-january-15-2023.
You can listen to the Interpreter Radio Show live each and every Sunday evening from 7 to 9 PM (MDT), on K-TALK, AM 1640.  Or, if you prefer or if K-TALK doesn't reach your area, you can listen live on the Internet at ktalkmedia.com.  It's the same program in either case.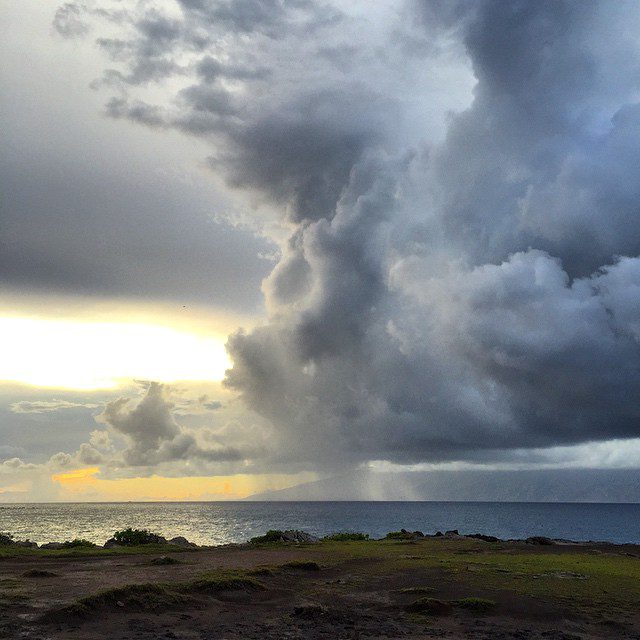 Strolling just above the surf at Ironwood Cliffs on the Kapalua Bay Trail, it's interesting to see evidences of the forces that made the island of Maui and that are now very slowly unmaking it.  Beyond, across the strait known as "Lahaina Roads," is the island of Moloka'i.  Whales are clearly visible there at this season.  Both Maui and Moloka'i — as well as the nearby islands of Lānaʻi and Kahoʻolawe and the now submerged shield volcano west of Moloka'i called Penguin Bank — are parts of a much larger geological unit called "Greater Maui" or "Maui Nui."
Just below us on the trail, though, it was easy to see the lava produced many years ago by the oldest of Maui's two main peaks, the much eroded West Maui Volcano.  And it is being battered by surf.  No longer being created, it's being worn away.  As the tectonic plate on which the Hawaiian Islands sit, the Pacific Plate, moves to the northwest — at an annual rate of about 2.75 inches or seven centimeters — they leave behind them the stationary "hot spot" that formed them.  Kauai and O'ahu and the other islands age and begin very slowly to decay under the onslaught of rain and wind and, far and away most important, under the pounding of the Pacific Ocean.  Necker Island, located about 430 miles northwest of Honolulu, rose at one point about 3300 feet above the ocean and was roughly the size of today's O'ahu.  Today, it's little more than a rocky ridge.  Its highest point is roughly 277 feet above sea level, its length is 0.8 miles, and its width at its very widest point is well under seven hundred feet.
Maui's eastern volcano, Haleakalā, is dormant.  However, it still rises to more than ten thousand feet, and it's still thought capable of erupting; its last recorded eruption occurred in 1790, which is, geologically speaking, the blink of an eye.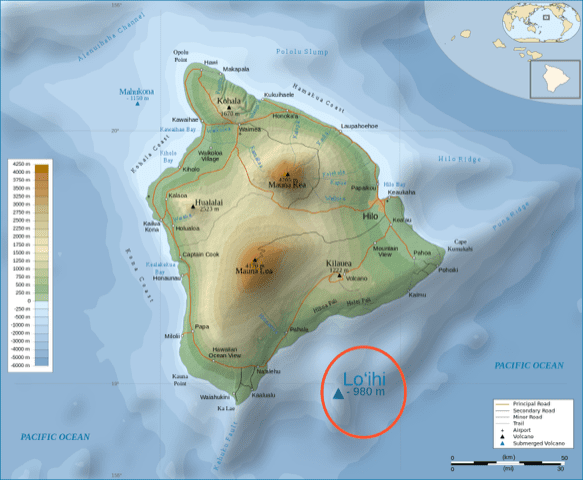 But the real geological life in Hawaii today continues in and near the southeastern-most of the islands, the so-called "Big Island," itself named Hawaii.  Anybody who has been paying attention to the news of late will be aware of the fact that Mauna Loa erupted in November and December of 2022, and that Kilauea is erupting as I write.  Further, underwater and offshore to the south southeast of the Big Island is the active volcanic seamount formerly known as "Lōʻihi."  In 2021, in its wisdom, the U.S. Geological Survey adopted for it, instead, the more ambitiously Hawaiian name of "glowing child of Kanaloa," or Kamaʻehuakanaloa.  (Kanaloa is the Hawaiian god of the ocean.)  Somewhere between ten thousand years from now and a hundred thousand years from now, Kamaʻehuakanaloa will emerge above the surface of the Pacific Ocean.  That's probably sufficient time for real estate salespeople and condo developers to devise a way of dealing with its somewhat unwieldy new name.
I suppose that my overall meditation is this:  In my ever-advancing old age, as people who meant a great deal to me and whom I love have passed on, the sentiment expressed in the hymn has come to mean more and more to me:
Abide with me; fast falls the eventide;
The darkness deepens; Lord with me abide.
When other helpers fail and comforts flee,
Help of the helpless, O abide with me.

Swift to its close ebbs out life's little day;
Earth's joys grow dim; its glories pass away;
Change and decay in all around I see;
O Thou who changest not, abide with me.
If there is anything at all that might be termed something like a terrestrial paradise, I suppose that the Hawaiian Islands might come close.  They are beautiful.  Their climate is delightful.  Their breezes are (mostly) gentle.  They are, today, fertile and rich with life.  But they are unstable.  Biology and geology have taught us that there is nothing immutable here on earth.
The Hawaiian paradise began as barren volcanic rock emerging from the sea.  It will end as barren volcanic rock crumbling into the sea.  In the meantime, human corruption exists here just as it exists everywhere else.  (Ever seen Hawaii Five-O?). And sickness and death are here, as well.  An old cemetery abuts the road just a couple of miles from where I'm sitting right now.
There is no earthly paradise.  Not yet, anyway.
And there is no natural paradise in outer space.  Pre-Copernican astronomy assured us that, in the superlunary world, beyond the sphere of the moon, all was changeless perfection.  Orbits were perfect circles, the crystalline spheres were made of a perfectly transparent celestial element, a quintessence unlike the four changeable elements familiar to us here below.  But Galileo and comets and sunspots changed all that.
Our hope for paradise must be fulfilled elsewhere, or not at all.  As the author of the epistle to the Hebrews put it in chapter eleven, speaking of the ancient saints:
13 These all died in faith, not having received the promises, but having seen them afar off, and were persuaded of them, and embraced them, and confessed that they were strangers and pilgrims on the earth.

14 For they that say such things declare plainly that they seek a country.

15 And truly, if they had been mindful of that country from whence they came out, they might have had opportunity to have returned.

16 But now they desire a better country, that is, an heavenly: wherefore God is not ashamed to be called their God: for he hath prepared for them a city.

 
Posted from Ka'anapali, Maui, Hawai'i