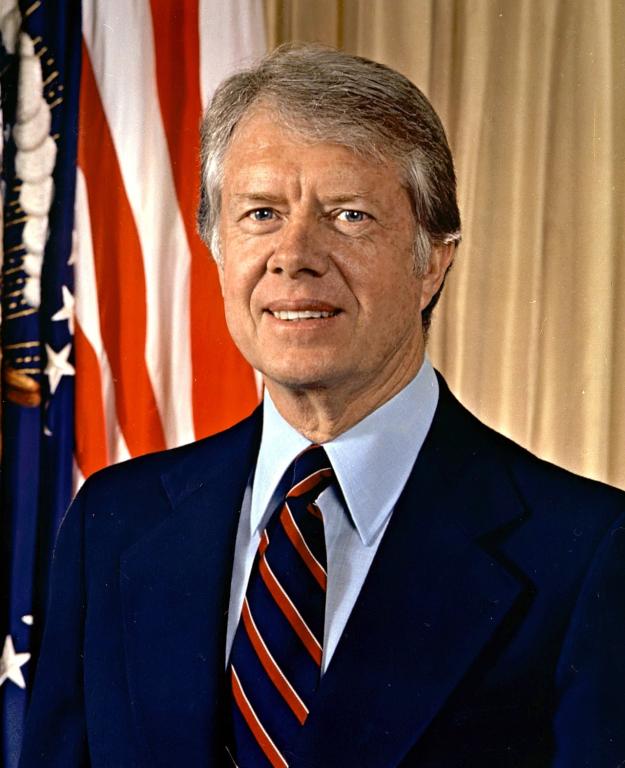 Jimmy Carter, who served as the 39th president of the United States, has entered hospice care.  As I understand the definition and requirements of hospice care, this means that he has, at most, six months left to live, and possibly significantly less time than that.
I never voted for Mr. Carter.  I did not and do not consider him an effective president.  I think that he was probably, at least a bit, in over his head.  (An anecdote that I once heard from a White House insider related that, while president, he devoted attention to working out the schedule for staff play on the White House tennis court – perhaps not the best use of time for the leader of the free world.)  My opinion of him appears to have been shared by many if not most foreign leaders, most notably perhaps by the Soviets and the rulers of the Islamic Republic of Iran, who treated him with conspicuous contempt.
On the night that he defeated President Gerald R. Ford in the 1976 presidential election, several of us — all politically conservative Brigham Young University undergraduates at the time — gathered to watch the vote come in on television.  When the election was called for Mr. Carter, one of my friends, a very straight-arrow Latter-day Saint, said "Let's all go out and get drunk."  We didn't do it, of course, but we weren't exactly ecstatic about his election.
On one occasion, I actually participated in a tiny demonstration against Mr. Carter — something that I've remembered ever since with mortification and regret.  Here's the story:
At, I think, the Democratic national convention that nominated him, some delegates on the convention floor were shown brandishing placards bearing Mr. Carter's photograph accompanied by the slogan "JC can save America!"

Some time thereafter, Mr. Carter came to Salt Lake City on a campaign stop.  Among other things, he stopped in at the headquarters of the Church of Jesus Christ of Latter-day Saints for the de rigueur candidate visit with the Church's First Presidency.  Knowing that he was coming, a friend of mine (the very same one who had suggested that we go out and get drunk on election night) proposed going up to Salt Lake City to confront Mr. Carter about that "JC can save America!" convention placard.

I wasn't overly enthusiastic, but I agreed to go up with him and with another friend who had been there with us watching the election results.  Our friend the organizer had produced three replicas of the placard for us to hold up.  We stood across the street from the north side of the Church's high-rise office building.  That's where the First Presidency had its offices at the time, during a period in which, if I'm not misremembering, the older, grey granite Church Administration Building was under renovation.  (It was also in the high-rise office building where, shortly after Mr. Carter's election, some friends and I took the conservative writer William F. Buckley Jr., at the Church's request, to visit with the First Presidency — which, at the time, consisted of President Spencer W. Kimball and his counselors N. Eldon Tanner and Marion G. Romney.)

When Mr. Carter emerged from the building after his meeting with the First Presidency, my two friends and I waved our placards and yelled something like "What do you think of this?"  He walked around to the door of his black limousine that was nearest us and then paused, looking at us and our signs.  "I didn't like that, either!" he shouted over to us, and then he got into the car.
I didn't feel good about the confrontation, slight and brief as it was.  I never really imagined that Jimmy Carter, a seriously devout evangelical Protestant Christian, had endorsed the offensive placard, let alone that he had been behind it.  I don't like confrontation and, anyway, our deployment of the placard against him seemed to me more than slightly demagogic and disingenuous.
So far as I can recall, I've never participated in a political demonstration since then and, if all goes well, I never will.  I don't like slogan-thought.  I don't like sensationalism, or the deployment of decontextualized and misrepresentative quotations designed to inflame.  I don't like demonizing people simply for holding different opinions than mine.  I vastly prefer civil debate and reasoned discussion.
In any case, back to Jimmy Carter:  He has been out of office for forty-three years now, the better part of half a century.  He's had a very long ex-presidency and, at ninety-eight, he is now the longest-living of all American presidents.  And, although I haven't agreed with everything he's done, it's been a very good ex-presidency, too.  Some of our recent ex-presidents have gone on to live, at taxpayer expense, in almost imperial splendor once they've left the White House, in elegant and elite digs.  By contrast, Jimmy Carter returned to his people and his roots in Plains, Georgia.  And he's devoted himself to humanitarian efforts and to peacemaking (in the latter case, signalized by a Nobel Prize).  There are many photographs of President Carter in a carpenter's garb helping to build homes for Habitat for Humanity.  And that's just one of his many hands-on activities.
He's also, for decades, been a Sunday school teacher at Maranatha Baptist Church.  I like that.  I like the return of a president to more or less ordinary life, among more or less ordinary people.  Specifically, I like the implicit acknowledgement, in his being a Sunday school teacher, that there is a Lord who reigns as sovereign even over presidents and celebrities and who is to be served with humble submission.
So I have to say, in closing, that — based on his public record, at least — I honor Jimmy Carter as a good man, a sincere man.  He has had his flaws, of course.  (Out of all of humankind, only the Savior has been wholly without flaws, perhaps along with one or two of my fiercest critics.)  Many of Mr. Carter's political and economic views were, from my perspective, quite wrong-headed.  Some writers have even accused him of being, occasionally, petty and vindictive.  Whether such accusations are true or not, I'm in no position to say.  Mr. Carter and I exchanged shouts on that one occasion in Salt Lake City; I was in the audience for one of his public speeches; and, once, he spoke to a group of about twenty or thirty of us at the Carter Center in Atlanta.  We're not exactly intimate friends.
But I'm grateful for his service, and not only during his presidency.  And I hope that, on a day that appears to be not far off for him, he will be warmly received into the eternal worlds as a man who sought to do right and who, in fact, did much good.  God bless Jimmy Carter.
Posted from Hurricane, Utah
–