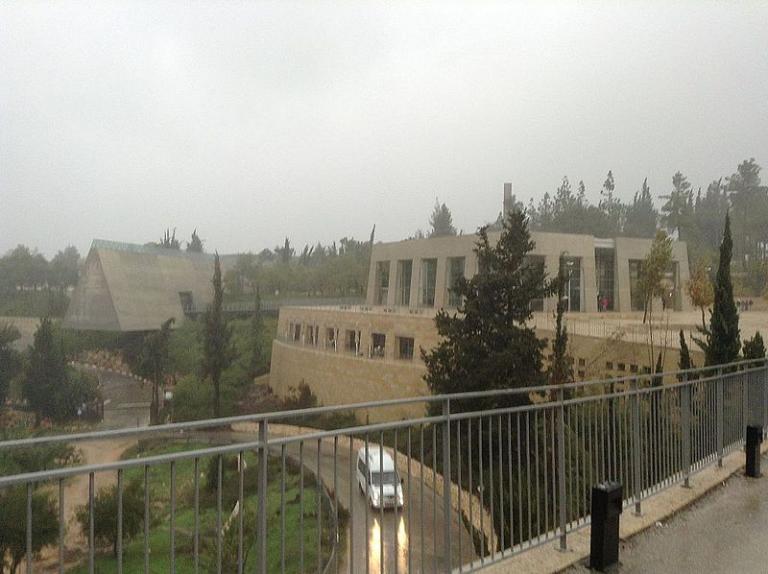 We allowed our group a short day today, granting them time on their own to wander during the afternoon in the Old City and/or to do the "ramparts walk" partially around it.  For the early evening, we secured ten tickets for them for the "Great Bridge Route" near the Western Wall.  That covered our little family group, but it left my wife and me out.  We couldn't get enough tickets that we ourselves could do the tour as well; I hope that they noticed and appreciated our self-sacrificing martyrdom.
For the morning and the very early afternoon, though, we took them first to Ein Kerem and then, thereafter, to the nearby Israeli museum of the Holocaust, Yad Vashem.  One of our major considerations was, simply, that weather forecasts (accurately) predicted heavy rain in the morning that would taper off in the afternoon; Yad Vashem is almost entirely indoors.
Ein Kerem was an Arab village until 1948.  Its inhabitants were driven out (and eventually into refugee camps) in the course of the 1948 War of Israeli Independence, as it is often called (particularly by Israelis), and it is now a rather fashionable and quite attractive hillside Jewish suburb of Jerusalem ornamented with boutique shops and art galleries.  (The enormous and superb Hadassah University Medical Center — the synagogue of which features famous windows by Marc Chagall — dominates one of the adjacent hills.)  But the shops and the galleries weren't the major reason that we went there.  Ein Kerem is also the traditional site of the birthplace and home of John the Baptist, and the place to which the Virgin Mary is said to have come to visit with her kinswoman, Elizabeth, John's mother.  We likewise visited the Fountain of the Virgin, also known as Mary's Spring, which has been revered since the fourteenth century as a place from which Mary drew water.  (An abandoned mosque marks the spot still today.). And our group went to the Church of the Visitation, up on the hillside.
From Ein Kerem, we drove the very short distance to Yad Vashem, Israel's museum of what is called, in Hebrew and increasingly in English, the Shoah.
We once commonly brought our groups to Yad Vashem.  But some in the groups complained that they didn't like it — which I can understand absolutely well — and that they had come to Israel in order to learn and think about the Savior, and so the sponsoring company stopped including it in our itinerary.  My own feeling, though, is that understanding the Holocaust is absolutely essential to grasping Israel and Zionism.  Theodor Herzl, the founder of modern Zionism, was moved to take up the cause of a Jewish return to the Holy Land by the hatred for Jews that he saw in France during the affaire Dreyfus.  He concluded that Jews would never be fully assimilated or accepted or at home in Europe, and that they should therefore seek out a homeland of their own; I doubt, though, that even Herzl could have imagined the horror of the Third Reich's "Final Solution" to "the Jewish Problem."  (Really, who could have?)  Moreover, the Holocaust illustrates about as powerfully as anything I can imagine our desperate need for a Savior, for atonement, and for the hope of a glorious resurrection.
In a statement that I've quoted in funeral remarks and elsewhere more than once, the Prophet Joseph Smith testified that
All your losses will be made up to you in the resurrection, provided you continue faithful. By the vision of the Almighty, I have seen it.
For me, Yad Vashem sears the yearning for such a compensation deeply into the soul.  Without Christ, there is no hope that such things will ever be made right, that good will ever triumph over bad, that evil and cruelty and hate will not, after all, have had the last word.
Even with such hope, though, it's impossible to emerge from Yad Vashem without feeling sobered and subdued.  For me, too, speaking personally, there is always the obligation that I feel to my father.  As I've mentioned here several times before, my father was a noncommissioned officer in the Eleventh Armored Division of General George Patton's Third Army, and he was directly involved in the liberation of the Nazi concentration camp at Mauthausen, which was located near Linz, in Austria.  He was very much affected by what he saw and experienced, there and he admonished me more than once to remember what he had to say about it — and to make sure that others don't deny it or downplay it in my presence without contradiction.  I have genuinely seen it as an obligation laid upon me to remember, and to help others to remember.  So I'm pleased, in a sense, that we went to Yad Vashem today, just as I was pleased to include Mauthausen in the itinerary of the tour that I led to the Oberammergau Passion Play and to Martin Luther's Wittenberg last summer, along with an optional front-end visit to the former concentration camp at Dachau, near Munich.  Are these things "enjoyable"?  No.  Of course not.  But I feel that I've done something right when I visit them.
Primo Levi (1919-1987) was an Italian chemist and eventually a writer — and also, crucially, a Jew who survived the Nazi concentration camp at Auschwitz. I share below a poem of his entitled "Shema" ("Hear").  It is named after the imperative Hebrew verb that opens the famous phrase from Deuteronomy 6;4:  "Hear O Israel, the Lord is our God, the Lord is one;" or "Hear, O Israel: YHWH is our God, YHWH is one" (שְׁמַע יִשְׂרָאֵל יְהוָה אֱלֹהֵינוּ יְהוָה אֶחָֽד), which is recited twice each day by devout Jews as part of both their morning service and their evening service:
Shema

You who live secure
In your warm houses
Who return at evening to find
Hot food and friendly faces:

Consider whether this is a man,
Who labours in the mud
Who knows no peace
Who fights for a crust of bread
Who dies at a yes or a no.
Consider whether this is a woman,
Without hair or name
With no more strength to remember
Eyes empty and womb cold
As a frog in winter.

Consider that this has been:
I commend these words to you.
Engrave them on your hearts
When you are in your house, when you walk on your way,
When you go to bed, when you rise.
Repeat them to your children.
Or may your house crumble,
Disease render you powerless,
Your offspring avert their faces from you.
His poem reminds me of my father's admonition to remember and to remind.  I choose to obey.
Posted from Jerusalem, Israel