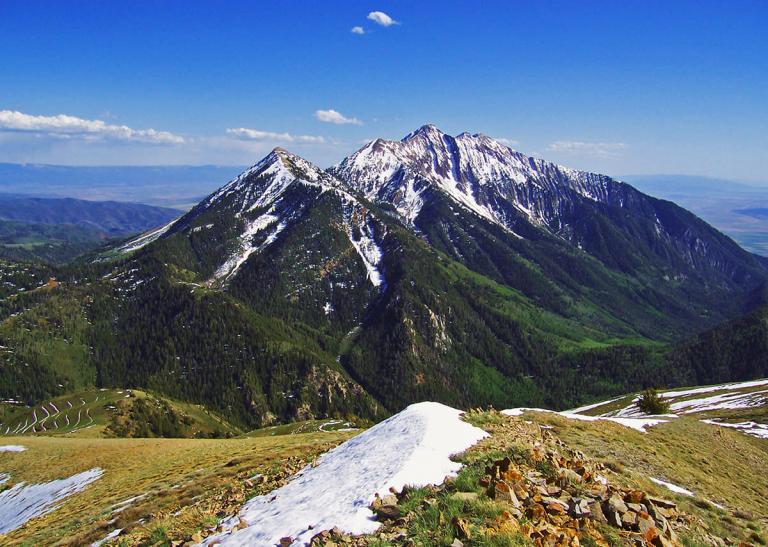 My wife and I took Lou Midgley out to lunch today.  He is one of our very favorite people, and it was a vintage visit with the irrepressible Lou:  I don't think that he had been thirty seconds in our car before he was well into a discussion on David Hume, Hume's famous skepticism, and Hume's Dialogues Concerning Natural Religion.  Great stuff.  Over a seafood lunch, we also discussed the Second World War, the atrocities committed by the Third Reich — Lou has just finished reading (and highly recommends) Jonathan Freedland's The Escape Artist: The Man Who Broke Out of Auschwitz to Warn the World — the history and prospects of Brigham Young University, and, of course, New Zealand (for which he has had a life-long passion extending back to even before his first mission there).  Lou is ninety-two years old now, and he walks a bit more slowly than he once did (with the help of a beautiful Maori-style cane that was made for him out of native New Zealand wood and presented to him as an honoring gift), but he is every bit as intellectually effervescent as ever he was.  It's a privilege to have known him as well as I do for as long as I have.
Some of you, I'm confident, will find this of interest:  "AI Temples: What Do They Look Like?  This book did not change the way I see the temple. But the insights in the essays definitely did."
The Latter-day Saint pioneers entering the Great Basin in the mid-ninetenth-century — the "camp of Israel," initially, led by an "American Moses" — were steeped in the Bible, and particularly in the Old Testament, and they were not slow to recognize parallels between their new physical surroundings and the land of the Bible.  This led to a slew of biblical toponyms, including Zion (and, within Zion, the Great White Throne and the Three Patriarchs), Enoch, Juab (for Joab), Mount Nebo, Ephraim, Salem, Moab, and a stream linking a dead salty sea to a freshwater lake that they naturally called the Jordan River.  Their church itself was studded with priesthoods (of both Aaron and Melchizedek), patriarchs, prophets, elders, priests, temples, altars, tabernacles, stakes of Zion, references to "the sons of Moses and of Abraham," the blessings of "Abraham, Isaac, and Jacob," and the like.
In that light, recent recognition of additional similarities between the land of the Bible and the Zion of the Latter-day Saints may take on an interesting new hue:
"Israel went from water scarcity to surplus. Can it help Utah and the Great Salt Lake?"
"Strawberries in the desert: From drip irrigation to vertical gardens, Utah officials learn how Israel does more with less water"
I'm happy to see this linkage between two places that mean very much to me and to others of my faith, and hope that it will be (both literally and metaphorically) fruitful.  In fact, in a minor way, I muse that it might be a harbinger of far more significant things to come:
1 The word that Isaiah the son of Amoz saw concerning Judah and Jerusalem.

2 And it shall come to pass in the last days, that the mountain of the Lord's house shall be established in the top of the mountains, and shall be exalted above the hills; and all nations shall flow unto it.

3 And many people shall go and say, Come ye, and let us go up to the mountain of the Lord, to the house of the God of Jacob; and he will teach us of his ways, and we will walk in his paths: for out of Zion shall go forth the law, and the word of the Lord from Jerusalem.

4 And he shall judge among the nations, and shall rebuke many people: and they shall beat their swords into plowshares, and their spears into pruninghooks: nation shall not lift up sword against nation, neither shall they learn war any more.  (Isaiah 2:1-4)
Thus the prophet Isaiah.  And thus, almost identically, the prophet Micah:
1 But in the last days it shall come to pass, that the mountain of the house of the Lord shall be established in the top of the mountains, and it shall be exalted above the hills; and people shall flow unto it.

2 And many nations shall come, and say, Come, and let us go up to the mountain of the Lord, and to the house of the God of Jacob; and he will teach us of his ways, and we will walk in his paths: for the law shall go forth of Zion, and the word of the Lord from Jerusalem.

3 And he shall judge among many people, and rebuke strong nations afar off; and they shall beat their swords into plowshares, and their spears into pruninghooks: nation shall not lift up a sword against nation, neither shall they learn war any more.

4 But they shall sit every man under his vine and under his fig tree; and none shall make them afraid: for the mouth of the Lord of hosts hath spoken it.

5 For all people will walk every one in the name of his god, and we will walk in the name of the Lord our God for ever and ever.  (Micah 4:1-5)
It might be appropriate here to close with a couple of items about Utah, the home base of the Church of Jesus Christ of Latter-day Saints, and the effect on society of the Church's teachings.  Both of these items were located in or near the Christopher Hitchens Memorial "How Religion Poisons Everything" File™, which is (as devoted disciples of the late Mr. Hitchens all recognize) inexhaustibly rich:
"The Wealth of Strong Families, Communities, and Congregations: Utah as a Case Study in Social Capital"
"The perils of cohabitation and why timing is linked to later divorce: University of Denver researchers say living together before marriage now 'part of dating culture'"