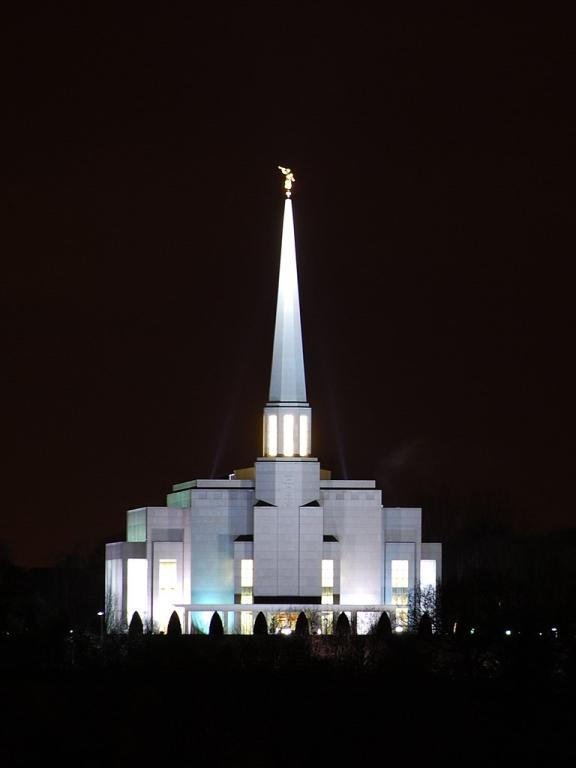 Charles W. Penrose (1832–1925) was born into a relatively prosperous family in London, England.  When, at eighteen years of age, he was baptized a member of the Church of Jesus Christ of Latter-day Saints in 1850, his mother — who was by then a widow — disowned him and, albeit sorrowfully, he left her behind along with his three sisters.  Approximately a year after his baptism, Penrose was called to serve as a missionary for the Church throughout England.
A descendant later wrote of him:
After having been accustomed to the luxuries of life, it indeed took a brave heart and great faith to leave it all and go out as a missionary without purse or scrip to find shelter and food the best he could, depending entirely upon the Lord. During all this time, in fact throughout his life, he had in his heart the deep sorrow of leaving his mother, who was a widow, and his sisters.  [Kate B. Carter, comp., Heart Throbs of the West (Salt Lake City: Daughters of Utah Pioneers, 1948), 3:81.]
Elder Penrose wanted to emigrate to the American Zion in the Great Basin West, but repeated extensions of his mission prevented him from doing so until 1861 — a full decade after his first mission call.  At that point, he and his wife (whom he had converted to the Church) sailed with their three children to North America, subsequently arriving in Utah Territory by ox team.
Charles W. Penrose would eventually fulfill three additional missions in his native England.  In 1904, he was named a member of the Quorum of the Twelve Apostles and then, in 1911, he was called into the First Presidency.  Until his death at age ninety-three, he served as a counselor to Presidents Joseph F. Smith and Heber J. Grant.
Elder Penrose wrote the lyrics to several hymns.  One of them is "O ye mountains high" (set to music by H. S. Thompson), which takes on additional meaning when one realizes that it was written during his first mission, when he was yearning deeply to gather with the Saints in their Great Basin kingdom — as other British converts  were doing all around him.  He had never yet seen America, let alone the settlements of the Saints in the distant West:
O ye mountains high, where the clear blue sky

Arches over the vales of the free,

Where the pure breezes blow and the clear streamlets flow,

How I've longed to your bosom to flee!

O Zion! dear Zion! land of the free,

Now my own mountain home, unto thee I have come;

All my fond hopes are centered in thee.

Tho the great and the wise all thy beauties despise,

To the humble and pure thou art dear;

Tho the haughty may smile and the wicked revile,

Yet we love thy glad tidings to hear.

O Zion! dear Zion! home of the free,

Tho thou wert forced to fly to thy chambers on high,

Yet we'll share joy and sorrow with thee.

In thy mountain retreat, God will strengthen thy feet;

Without fear of thy foes thou shalt tread;

And their silver and gold, as the prophets have told,

Shall be brought to adorn thy fair head.

O Zion! dear Zion! home of the free,

Soon thy towers shall shine with a splendor divine,

And eternal thy glory shall be.

Here our voices we'll raise, and we'll sing to thy praise,

Sacred home of the prophets of God.

Thy deliv'rance is nigh; thy oppressors shall die;

And thy land shall be freedom's abode.

O Zion! dear Zion! land of the free,

In thy temples we'll bend; all thy rights we'll defend;

And our home shall be ever with thee.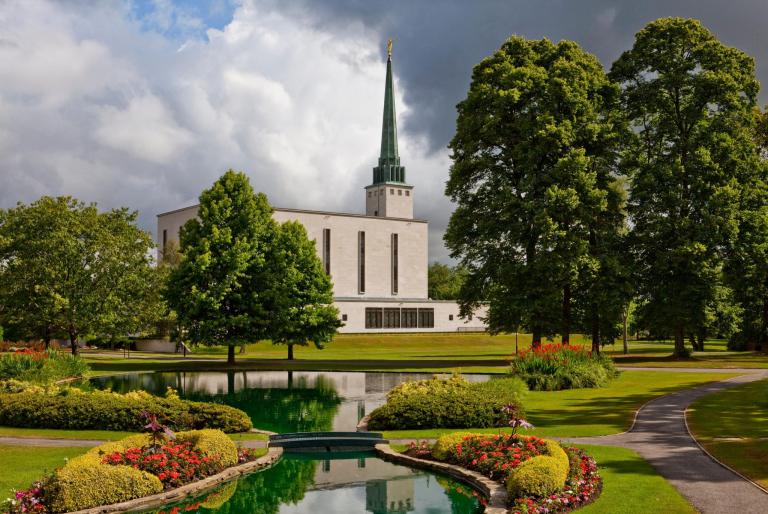 Happily, it is no longer necessary, in order to receive the fulness of the ordinances offered by the Church of Jesus Christ of Latter-day Saints and to enjoy all of its programs, for Church members to gather to North America.  The United Kingdom has wards, stakes, and — crucially — temples.   The London England Temple was dedicated in September of 1958 by President David O. McKay.  (It is actually located in Newchapel, Lingfield, Surrey.)  President Gordon B. Hinckley dedicated the Preston England Temple in June 1998.  (It actually stands in Chorley, near Preston.)  And, in April 2022, President Russell M. Nelson announced the Church's intention to construct a third British temple in or near Birmingham.
Our group attended sacrament services this morning in the Chorley 2nd Ward, which meets in a beautiful stake center that is part of the gorgeously landscaped grounds of the Preston England Temple (which also include a missionary training center).  Then we strolled over to the temple itself, taking photographs and listening to our expert guide, Peter Fagg, tell us more about the history of the Latter-day Saints in the British Isles.  I hope that Heber C. Kimball and other early missionaries were granted at least some glimpse of the London and Preston temples.
However, the music going through my head over the past couple of days in Lancashire, in the Preston area and the Ribble Valley, hasn't only been hymnal.  I've noticed many signs indicating roads to Blackburn, which has had me humming the rather enigmatic Beatles' song "A Day in the Life":
I read the news today—oh, boy:

4,000 holes in Blackburn, Lancashire.

And though the holes were rather small

They had to count them all.

Now they know how many holes it takes to fill the Albert Hall.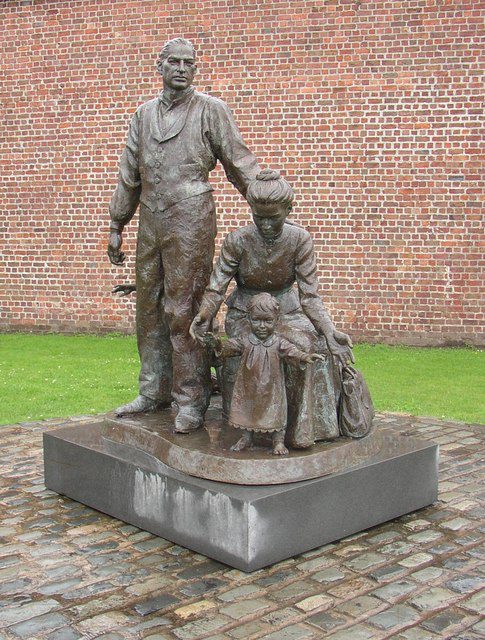 Leaving the temple grounds today, we drove to Liverpool, where we saw sights and sites related to the early history of the Church here in the British Isles and to the scores of thousands of Latter-day Saints who emigrated via the city's massive docks.
Posted from Stoke-on-Trent, Staffordshire, England