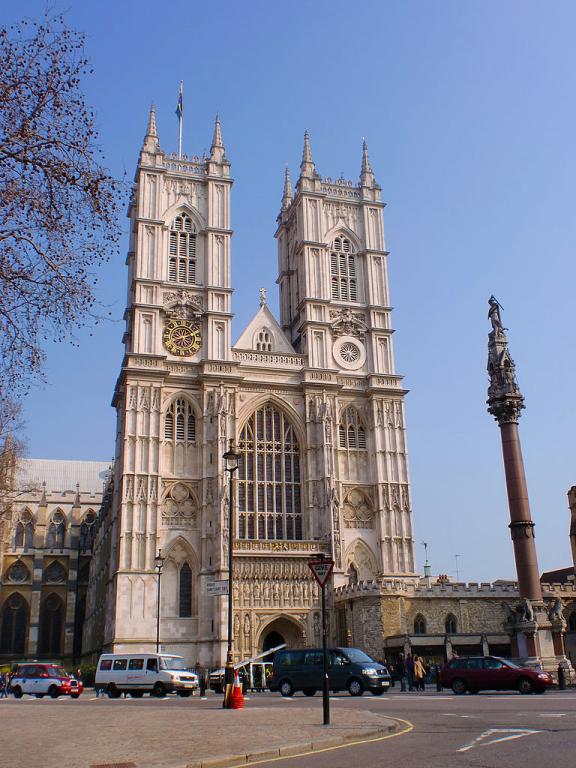 Well, our tour is at an end, and some of our number have already headed off.  All good things must pass.  (In this world, anyway.)
We did just two stops today, but they were both fairly lengthy, and both focused on extraordinarily important religious sites.  (In response to no discernible demand from the general public, I'll probably post a narrative summary of the overall tour in a day or two or three.  After all, this blog serves as a kind of journal for me.)
First, we were dropped off at Westminster Abbey, which I've always enjoyed.  They've been working for years on cleaning its exterior, and it really shines these days.  It looks better now than I've seen it before — white or cream-colored, instead of the sooty black to which I've been accustomed by photographs and numerous previous visits.  We walked over to Westminster Park and took a look at Westminster Palace, the seat of Parliament.  Elizabeth Tower — the familiar tower of the houses of Parliament that houses Big Ben — was covered, as I recall, with plastic and scaffolding when we were last here.  Now, it too looks clean.
Then, of course, we entered into the Abbey itself.  I love the building, but what always blows me away is the people who are buried there.  More than 3,3oo of them.  Which is why William Morris termed the Abbey a "national Valhalla."  I'll start with a few of the royals:
Quite a list.  Though they are often most familiar to me, at least, as characters in Shakespeare's historical plays.
And there many stunning non-royal political names, as well:
But I'm really in awe of the intellectual and cultural history that is represented by the burials in Westminster Abbey:
It is an absolute pantheon of great names.  And I haven't even mentioned the people who are honored by memorials in the Abbey but who are not buried there — people such as Charles Wesley, John Wesley, William Shakespeare, Siegfried Sasson, Sir Adrian Boult, W. H. Auden, Jane Austen, Rupert Brooke, Robert Graves, Paul Dirac, Winston Churchill, Sir John Gielgud, Wilfred Owen, and C. S. Lewis.
What a glorious history is suggested by such names!  Is it any wonder that I'm an Anglophile?
Incidentally, while browsing in a book in the Westminster Abbey gift shop (which, by the way, I now regret not having purchased), I ran across a brief portrayal of Ernest Rutherford, who is generally ranked among the greatest scientists of all time and whose ashes are buried in the Abbey.  He was amused to have received the 1908 Nobel Prize for Chemistry, since he considered himself a physicist.  And, indeed, he was a pioneer in both atomic and nuclear physics — sometimes, according to Wikipedia, actually being considered "the father of nuclear physics."  (My emphasis.)  He had, he commented, seen many rapid transformations in the world of radioactive particles, but none so rapid as his own transformation, by the Nobel Prize committee, from physicist into chemist.
Our second stop was at St. Paul's Cathedral, the masterpiece (and the burial place) of Sir Christopher Wren.  I'll probably have something to say about that remarkable place tomorrow or the next day.
I was happy to see both St. Paul's and Westminster Abbey still intact.  Relatively recently, I re-watched London Has Fallen while I was doing some relatively mindless filing.  I don't want to spoil the plot, but, well, I saw actual footage of a brutal terrorist attack that opened on the very steps of St. Paul's and that, among other things, involved the destruction of at least one of the towers of the Abbey.  So I was happy to see not only the pristine condition of the Abbey but the absolutely perfect restoration of both Westminster and St. Paul's.  It's almost as if the terrorist attacks never even occurred at all.
Posted from London, England