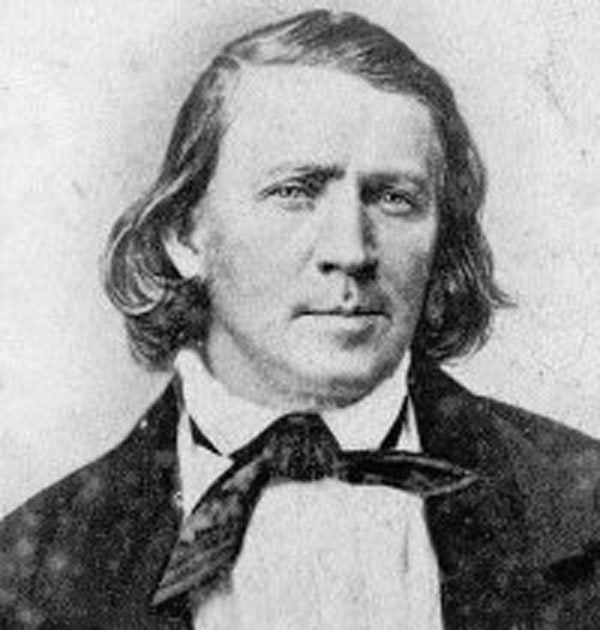 The latest iteration of the script for our next theatrical film, Six Days in August, arrived earlier today.  The film will focus on the succession of the Twelve to leadership of the Church after the assassination of Joseph and Hyrum Smith on 27 June 1844.  My wife and I look forward very much to reading it through.  We're on track, I think, to commence initial filming sometime in August.
Which sets me to thinking about the relationship between Joseph Smith and his successor, Brigham Young.  Here are some quotations expressing Brigham's attitude toward the founding prophet of the dispensation:
I feel like shouting Hallelujah, all the time, when I think that I ever knew Joseph Smith, the Prophet whom the Lord raised up and ordained, and to whom he gave keys and power to build up the Kingdom of God on earth and sustain it (Discourses of Brigham Young [DBY], 456).

I can truly say, that I invariably found him to be all that any people could require a true prophet to be, and that a better man could not be, though he had his weaknesses; and what man has ever lived upon this earth who had none? (Brigham Young to David P. Smith, 1 June 1853, Brigham Young Papers [BYP], 1832-1878. Historical Department Archives. The Church of Jesus Christ of Latter-day Saints.)
President Young's lifelong veneration for Joseph Smith and his work was confirmed on his own deathbed.  Brigham's final words seem to express anticipation, if not recognition: "Joseph, Joseph, Joseph" (Susa Young Gates, with Leah D. Widtsoe, The Life Story of Brigham Young [LSBY, 1930], 362).
I felt in those days [before joining the Church], that if I could see the face of a prophet, such as had lived on the earth in former times, a man that had revelations, to whom the heavens were opened, who knew God and his character, I would freely circumscribe the earth on my hands and knees; I thought that there was no hardship but what I would undergo, if I could see one person that knew what God is and where he is, what was his character, and what eternity was (Deseret News Weekly, 8 October 1856, 3).

What is the nature and beauty of Joseph's mission? . . .  When I first heard him preach, he brought heaven and earth together (DBY, 458).

Joseph Smith has laid the foundation of the Kingdom of God in the last days; others will rear the superstructure (DBY, 458).

I never saw any one, until I met Joseph Smith, who could tell me anything about the character, personality and dwelling-place of God, or anything satisfactory about angels, or the relationship of man to his Maker. Yet I was as diligent as any man need to be to try and find out these things (DBY, 458).

He took heaven, figuratively speaking, and brought it down to earth; and he took the earth, brought it up, and opened up, in plainness and simplicity, the things of God; and that is the beauty of his mission. I had a testimony, long before that, that he was a Prophet of the Lord, and that was consoling. Did not Joseph do the same to your understandings? Would he not take the Scriptures and make them so plain and simple that everybody could understand? Every person says, "Yes, it is admirable; it unites the heavens and the earth together," and as for time, it is nothing, only to teach us how to live in eternity (DBY, 458–59).

I honor and revere the name of Joseph Smith. I delight to hear it; I love it. I love his doctrine (DBY, 458).

What I have received from the Lord, I have received by Joseph Smith; he was the instrument made use of. If I drop him, I must drop these principles; they have not been revealed, declared, or explained by any other man since the days of the Apostles. If I lay down the Book of Mormon, I shall have to deny that Joseph is a Prophet; and if I lay down the doctrine and cease to preach the gathering of Israel and the building up of Zion, I must lay down the Bible; and, consequently, I might as well go home as undertake to preach without these three items (DBY, 458).

The excellency of the glory of the character of Brother Joseph Smith was that he could reduce heavenly things to the understanding of the finite. When he preached to the people—revealed the things of God, the will of God, the plan of salvation, the purposes of Jehovah, the relation in which we stand to him and all the heavenly beings, he reduced his teachings to the capacity of every man, woman, and child, making them as plain as a well-defined pathway. This should have convinced every person that ever heard of him of his divine authority and power, for no other man was able to teach as he could, and no person can reveal the things of God, but by the revelations of Jesus Christ (DBY, 463).

No man was to be found who could teach repentance and baptism for the remission of sins, with authority to administer in the ordinances, until God commissioned Joseph Smith, and sent him forth with his commandment to the people. Previous to that time, I searched everything pertaining to the churches; I searched high and low to find whether there was any such thing as pure religion upon the earth; I searched for a man that could tell me something of God, of heaven, of angels and of eternal life. I believed in God the Father, and in Jesus Christ, but I could not believe that the Church of Christ was upon the earth (DBY, 463).

I might have continued to study the Bible and all the books that have been written, and without revelation from God I would have been like the sounding brass or tinkling cymbal, having no knowledge of God, of true religion, of the redemption of the living or of the dead; I would have lived and died in ignorance; and this was the condition of all the inhabitants of the earth (DBY, 463).