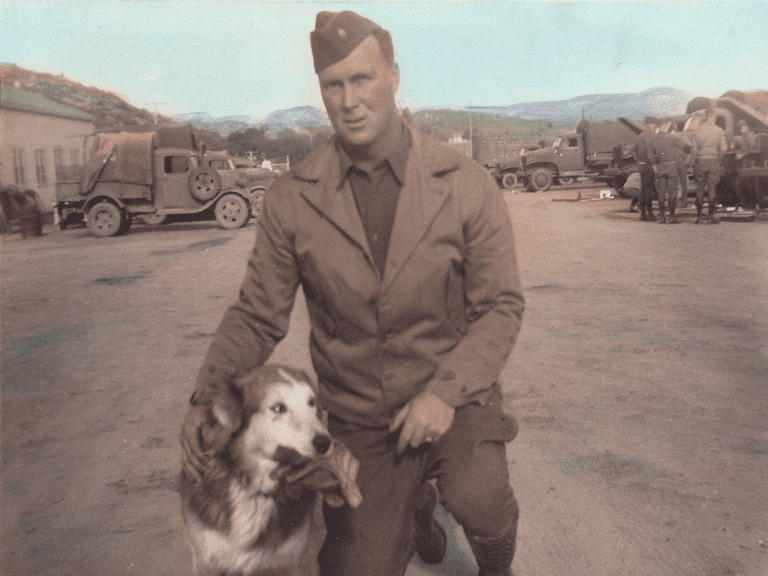 My father was born 110 years ago today, in a largely Scandinavian area of rural North Dakota.  Teddy Roosevelt had first visited the Dakota Territory just thirty years before, in 1883, where he was enthralled by the "western" lifestyle and set out to become a cattle rancher.  North Dakota had attained statehood in 1889, twenty-four years before Dad's birth.
The Lutheran church that my father and his family attended was served by circuit-riding clergymen who still alternately preached their sermons in English and Norwegian.  My paternal grandfather — we're still not quite sure whether he was born in Denmark, or on the Atlantic, or in the United States — died several years before I myself arrived on the scene.  My paternal grandmother, who had left Norway when she was eighteen never to see her parents again, spoke with a thick Norwegian accent to the day of her death in 1958,  I can still recite the Norwegian prayer that she taught her children to say at bedtime, and (for some reason) the unvarying Norwegian announcement of next Sunday's gudstjeneste (worship service) at 2:30 PM that my father always remembered with amusement.
He grew up drinking searingly hot black coffee.  I grew up attending seemingly interminable family reunions devoted to playing Norwegian whist while the players (excepting me) drank gallons of scalding black coffee.  I first began to read the "Lord of the Rings" trilogy while sitting outside during one of those family reunions in San Diego, when I just couldn't stand another card game.
He and his brother, my uncle, started their construction business in the San Gabriel Valley, east of Los Angeles, after returning respectively from the European and Pacific theaters of World War Two.  For two or three decades thereafter, they would meet nearly every weekday morning (after getting the various crews instructed and dispatched, and before heading out to the job sites themselves and to working on bids for future work) with friends from other local businesses, where they told tales and planned and made deals over coffee and breakfast at what was then called the Chico Cafe (or, among them, the "Chico Ritz") on, well, Chico Street.  Tony, the Italian American owner of the cafe, was practically a family member.
I remember one of the friends who was there every day, an Irishman named Pat Carney.  My father got a kick out of Pat, because Pat always asked how you were doing but plainly never listened to the answer.  So, one morning after the perfunctory question, my father replied that his wife had left him and that I was on heroin.  "Oh," Pat replied, absentmindedly.  "That's nice.  Will you have time this week for some golf?"
On another occasion, Dad had done some paving work for Pat, and had used a new anti-weed treatment to try to keep weeds from eventually coming up through cracks in the asphalt.  But it hadn't worked, and Pat was not pleased.  So, after getting an earful from him that morning at breakfast, Dad told him that he had a new weed specialist and that he would have that specialist on the job before noon.  "Good," said Pat.  "See that you do that."
That afternoon, Dad received a phone call.  "There's a damned goat tethered out there on my parking lot, with your company card attached to its collar.  What the hell?"  "That's my weed specialist," Dad replied.  Pat burst into laughter.  "Alright.  Alright.  You got me."  I don't know where my father had found a goat to rent, but he did.
Dad missed his hot black coffee after he joined the Church of Jesus Christ of Latter-day Saints.  Sometimes, for old times' sake, he would just drink hot water.  It was the closest he could come, now that he was a Saint.
But giving up alcohol was never a real problem for him.  He had never been much of a drinker, although (perhaps because) abuse of alcohol was a bit of a recurring problem with a couple of his brothers and at least one of his uncles.  For years, we owned some undeveloped property for investment out in Ontario, California, on which wine grapes grew.  We allowed an Italian American friend to harvest the grapes and make wine from it, and he always brought some of the year's vintage for my father, who couldn't stand it.  Dad always thanked the man profusely and then put it in the cupboard, where it stayed until it was given away to somebody who liked wine.
Twice, I remember, he set himself up under an umbrella by our backyard swimming pool to listen to Sonny Liston take on Floyd Patterson for the world heavyweight boxing championship.  He was really comfortable, sitting back to relax with the radio on and a cold can of beer ready to hand.
In September 1962, at Comiskey Park in Chicago, Liston knocked Patterson out in the first round, after only two minutes and six seconds.  In July 1963, at the Las Vegas Convention Center, Liston again scored a first-round knockout against Floyd Patterson. The official time was 2:10.
Dad was none too pleased.  And not merely because we considered Patterson the good guy in the contest with the ex-con Liston and wanted him to win.  Dad hadn't even taken a sip of his beer.
He had been (I think that I've mentioned this here before) an exceptionally good poker player.  He once even bought some property on the Colorado River with winnings from Las Vegas.  I presume that he was entirely sober during such games, given both his lack of real interest in booze and his pretty consistent success at playing, but my mother loved to tell about how she had saved him from a life in the gutter and put him onto the path of sobriety.  (Actually, I believe that the construction company was up and running before they were married.)  He would stand there, with a beaming smile, listening to her tell about his fortunate rescue.  "I learn something new with each retelling," he would say.
Once, though, while we were out mowing the front lawn and well into the tee-totaling Latter-day Saint phase of his life, he received an official-looking letter from The Reverend Somebody or Other's Christian Temperance Crusade.  (We'd never heard of it, and I doubt that it really existed.)  "You're familiar," the letter read in substance, "with my crusade against demon drink.  And you'll recall Tommy Smith [or whatever the name was] who used to sit on the stage with me, bleary-eyed and drunk, to illustrate the evils of alcohol.  Unfortunately, Tommy died recently from cirrhosis of the liver.  And you've been recommended to me as his replacement."
We laughed and laughed at that one, but we never did figure out which of his friends had sent it.
He was a kind and gentle man, with a really good sense of humor.  I'm thinking about him today.  Truth be told, though, there are few days when I don't think of him.
Posted from Moab, Utah