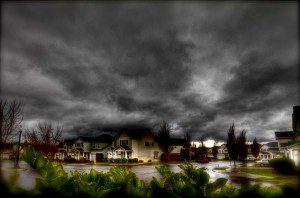 At least, not in the ways we tend to define power.
For us, power means that we get our way, that we can impose our will upon the world around us, that we can conform others into our images in order to achieve unity and security. In our minds, we equate power with control, sovereignty.
So, when the world spins out of control as it did in Oklahoma this week, and at the Boston marathon a month ago, and at Sandy Hook Elementary six months ago, we begin to wonder what happened to this all-powerful God to whom the skies and seas and nations are supposed to bow.
Are the heavens really declaring the majesty of God when an E-5 EF-5 tornado destroys an entire town?
Only the most deranged and pathological of leaders suggested in the tornado's wake that God was in control of the situation or was somehow, ultimately, responsible for the deadly twister. That includes, apparently, folk like John Piper and our own president, who seemed to imply that the tornado was a part of God's plan. I'm sorry, but tornadoes are not part of God's plan. Most of us can admit that without losing our faith, just like we can admit that God isn't really calling the shots when it comes to jet streams, weather patterns and 200-mile-per-hour winds.
Instead of attributing the destruction to God, we tend to reassure ourselves that, in spite of it all, God is with us in the destruction, with us in the suffering, weeping with us. What we imply in this, but don't often say, is that, deep down, we know God is not in control. And secretly, we give thanks for that. Naturally, we then ask where exactly is God in the midst of tragedy and suffering. This existential question doubles as an unconscious and fragile prayer of thanksgiving and relief. While we may feel desolation and alienation from God in the midst of great natural disasters, we also feel grateful — hopeful, even — that God isn't orchestrating all the pain and destruction in the world. It is a relief not to be worshipping a God who sends tornadoes, earthquakes, tsunamis, disease, and pestilence. It is a relief not to pray to a God who indiscriminately kills children with the same heavens which declare God's glory.
God is not in control of the weather. Thanks be to God, God is not in the business of controlling anything.
But if God isn't in control in the midst of such destruction, then who is? Something more sinister? Maybe something more dangerous than a sinister being. Perhaps no one — and nothing — is in control. It is a scary and disorienting thought to begin to consider God isn't our bodyguard protecting us like the divine Secret Service from the suffering and tragedy in our world.
We find this idea jarring because I think we misunderstand what divine power is. God doesn't control the weather, because that isn't the nature of God's power. God's power is something stranger, more paradoxical.
God's power is in the giving up of power, in the act of disarming divine omnipotence in favor of covenant and relationship with creation.
God's power is in the act of becoming empty (kenosis), in becoming one of us.
God's power is in incarnation and immanence, not omnipotence and distant transcendence.
In the gospel of John, Jesus tells us that when we see him, we see God. There's a popular aphorism based on that notion, suggesting the radical nature of the Christian faith is not that Jesus is like God, but that God is like Jesus. And Jesus is in the business of emptying himself of power to the point of utter alienation and forsakenness by God. So what if God is indeed like that, like Jesus?
But, you might argue, there is a story in the gospels about Jesus and his power to control the weather. And it's true. In the gospel of Mark, a terrible storm rises on the sea, threatening to swamp the disciples and the boat they are in. They are terrified, undone at the prospect of capsizing and drowning. They are baling water from the boat, struggling with wind-whipped sails, hanging on for their lives.
Jesus, meanwhile, is sleeping.
"Don't you care that we are perishing?" they finally shout at him to wake him.
Jesus rebukes the wind and commands it to quiet down. "Peace! Be still," he says, and it is a rebuke directed as much at the disciples as it is at the wind.
The disciples marvel at his power, asking, "Who is this, then, that even the wind and the sea obey him?"
We are like the disciples. We want God to calm the wind and seas. We want to shout at God, "What's the matter with you? Don't you see we are perishing? Don't you see so many of us — children, even! — have already perished? Wake up, God! Stop sleeping when we need you most!"
Like the disciples, we believe the power — the divine — is in the ability to control things. We assume, like the disciples, that the miracle is in Jesus rebuking and calming the storm.
But if you notice, Jesus only reluctantly uses his power. He doesn't seem to want to do anything. He wants to keep sleeping! He goes so far as to rebuke his disciples for even asking for his help. He calls them faithless. This storm-calming power isn't the kind of power Jesus came to demonstrate. Rather, it is the exact kind of power Jesus came in order to give up, to empty himself of. It is the same power he rejects when he refuses to throw himself from the pinnacle when he is tempted in the desert, the same power he turns down when he refuses to kneel before the Adversary, that same superficial power that controls earthly things.
As much as we might like, this isn't a story, I don't think, about Jesus' ability to control the weather. He is bothered to do it and is bothered that his disciples even asked. This is a story, rather, about how little we believe God to be with us in the midst of an overwhelming storm. It's about how, deep down, maybe we don't really believe that a God-with-us is actually enough. It's about how what we really want is a God who is in control. And it is an indictment of the disciples and of us.
I don't really think the miracle in this story is about Jesus calming the storm and taking control. The miracle in this story is that Jesus with the disciples in the water-logged and weatherbeaten boat, experiencing the same terrible storm, the same terrible waves, the same terrible danger.
And that alone should have been enough.
God's power isn't in the control of creation or of people, but in being in covenant and relationship with them. It isn't in imposing the divine will or insisting on its own way but in sojourning with us as we fumble around and make our way in the world. God's power is not in miraculous interventions, pre-emptive strikes in the cosmic war against suffering and evil, but in inviting us to build a kingdom out of love, peace and justice with God. God's power is not in the obliterating of what is bad in the world, but in empowering us to build something good in this world — even if that is something as small and life-changing as constructing storm shelters at every public school on the tornado-strewn plains.
And isn't this true power? Instead of enforcing control and solutions onto the world, God's power is revealed in coming alongside us, journeying with us, suffering with us, and even staying with us in the boat when the storms come.
The omnipotence of God isn't about having all the power. That's would turn God into an insecure narcissist. Rather, the omnipotence of God is in the sharing of power.