The world-champion Philadelphia Eagles are flying high after their Super Bowl victory over the New England Patriots.
But the "underdog" team as they called themselves, is filled with Christ-followers who aren't afraid to speak their mind.  This video shows how their faith is a motivating factor in the team locker room.
Carson Wentz, who was the starting quarterback before suffering a season-ending surgery was part of a video which many churches played during Super Bowl Sunday service NFL players.   The Service hosted by James Brown, Seek, Surrender, and Serve  is a call to "get out of  your seats" and make a difference.
Among others, it featured fellow Philadelphia Eagles Tight End Zach Ertz, Tight End Trey Burton, Safety Chris Maragos andLinebacker Jordan Hicks.
Wentz faith is outspoken with a number of sermons on Youtube including "Accept Jesus and be his Witness," and "Simple Gospel."
Zach Ertz also shared his faith at pre-Superbowl press conference.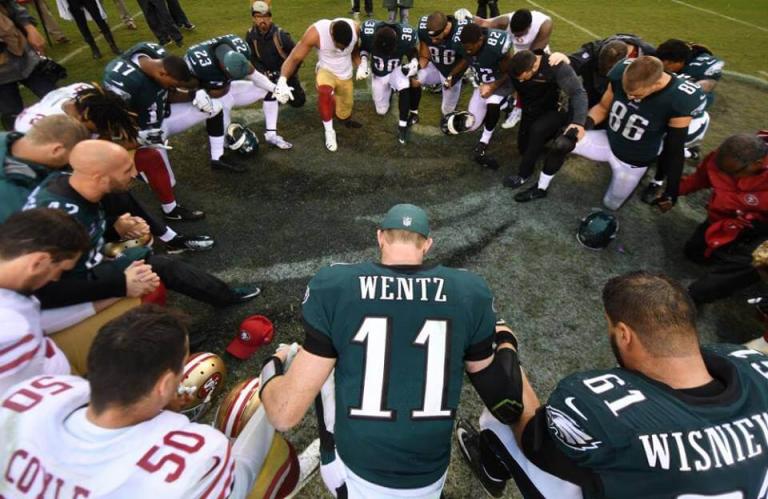 A video of the baptism of Eagles WR Marcus Johnson was widely circulated. In fact, five other Philadelphia Eagles players have been baptized in the team's recovery pool.
Wentz's replacement, Nick Foles, who was the Super Bowl MVP,
told KWY news
that he "wants to be a pastor" when he his playing days are through.
According to Wentz, Every Monday night members from the team has a couple's Bible study. And on Thursdays they have a team study. On Saturday's before games, they meet for prayer.
The goal is not to evangelize, but to push players to be "authentic," he said.
God doesn't pick winners, losers
They aren't Super Bowl Champions because the team is full of Christians. That's not how God works, because there are God-fearing believers on other teams who would have loved to be in that same role. He doesn't pick winners and losers in this life.
He does call us to faithfulness, to hard work and to obedience. There's no certainty of victory in this life. In fact, we are promised hardship and pain more than ease and comfort.
But this moment is an opportunity for God-fearing men to stand tall with a trophy in one hand, and their faith in the other and proclaim loudly their One True Devotion.