I couldn't sleep. Maybe it was adrenaline. Maybe it was nerves. Maybe it was God, trying to get through my thick skull.
 Mile after mile of nothing but water and an inky sky out my window, with only the moonlight separating the two dark bodies.  The lights had been dimmed in the cabin with only a few glowing at floor level to guide the occasional person to the cramped bathroom. I looked around, heads by the hundreds were nodded off into deep sleep. One girl had a whole row to herself and she enthusiastically spread across the three seats.  Another leaned back, her nose pointed at the ceiling. The man across from her mumbled and I strained to catch what he was saying.
And then I turned my attention to blackness, and I strained to hear clarity from another source. "What are you doing God?"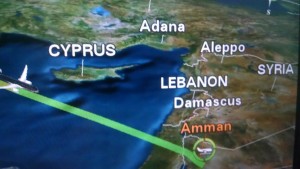 I'm on a pilgrimage to Jordan, the
Other Holy Land
. I'm calling it accidental because I really think someone made a mistake. As a guest of the
Jordan Tourism Board
, they want writers who can speak to a broad audience. They want clout, reach, and influence. Maybe they mixed up my last name. Maybe they mixed up my first name with another. There's a lot of Davids out there. And at least a million writers. But at this point — when I add in all the amazing things that have happened since the selection — I'm believing there's a bigger story at work. God  reminded Samuel, "man looks at outward appearance, but God looks at the heart." So here I am, on an airplane headed to see sites some would call Holy, the Unlikely Pilgrim.
I'm listening.
I've looked at the videos of
Petra
,
Jeresh
, the
Dead Sea
, and
Madaba
. I've talked to others about this journey. I've googled and binged and dogpiled until my head began to swim. Like the ancient diviners who split numbers and cast lots and burned smoke to find the answers, nothing's really clear without faith. So here I am, 30,000 feet high — trusting a pilot and a beautiful
787 Dreamliner
— that I can fly. And I think nothing of it. I push the button and lean my seat back, trusting the pilot.
So why can't I trust God for the story of this trip — and my life?
Lean Back
We are telling our young women to Lean In, to take charge. We're telling our young men to be aggressive and smart. We've got schemes to reach our neighbors for conversion, plans to build our churches, training to get promoted at work. But I think I'm learning to lean back instead of leaning in. You see one requires trust, the other wrenches away command. And this is a story I don't want to miss.
I'll be writing in this space every day. Please
subscribe here
so you don't miss a moment. I covet your prayers. And I ask you, where is God leading you? Are you willing to just … go?
Check this out, an interactive map of the sites I'll be visting. Wish you were here!
#holyjordan