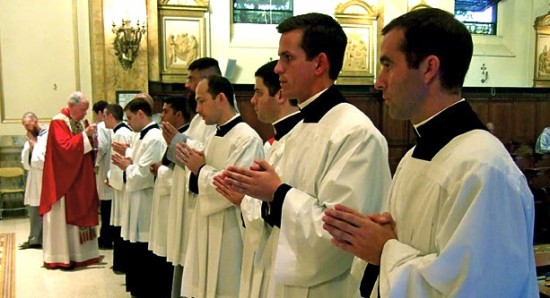 Maybe.  That's the interesting question at the heart of this piece in OSV:
Father Shawn McKnight, executive director of the Secretariat for Clergy, Consecrated Life and Vocations at the U.S. Conference of Catholic Bishops, recently wrote that economic factors and the lack of enough priest-instructors are causing seminaries to merge or close, such as the American College of the Immaculate Conception in Leuven, Belgium.

Those pressures are squeezing seminaries at the same time that more men are entering them for priestly formation.

During the 2010-11 academic year, seminaries that prepare priests for the Church in the United States reported having 3,608 graduate-level seminarians, which marked a 4 percent increase from the previous year and was the highest enrollment figure in more than 20 years, according to the Center for Applied Research in the Apostolate at Georgetown University.

Diocesan enrollment increased by 86 seminarians and religious enrollment by 39 seminarians, according to an April 2011 CARA study, which also noted the average tuition of $15,505 in 2010-11 increased by $836 from the previous year. The average room and board increased by $500 to about $9,687.

"As the number of seminarians has increased (and with them an increase in tuition dollars), there has been a decrease in financial resources available from dioceses to pay for the bumper crop of seminarians," Father McKnight wrote. "Even more challenging is the lack of an adequate number of priest-faculty to fulfill the demands of a healthy program of spiritual, intellectual, pastoral and human formation."

Writer Elizabeth Scalia wrote on her blog, The Anchoress, that she expects the New York seminary merger to be duplicated in other cities. "The pooling of resources and talent can bring new vigor and fresh perspectives to issues that have previously seemed unaddressed and stagnant," Scalia said.
RELATED: