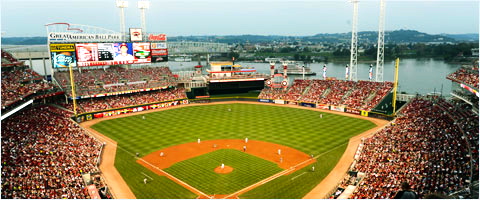 You may remember the controversy from some weeks back. Well, now there's an update:
A looming conflict between a religious holiday and a yearly tradition has been avoided.

The Cincinnati Reds announce the 2012 Opening Day game will be played Thursday, April 5 at 4:10pm vs. the Miami Marlins at Great American Ball Park.

The original 2012 schedule released in September had Opening Day on Friday, April 6 — Good Friday.

"We want to thank Major League Baseball, the MLB Players Association and the Reds and Marlins players for agreeing to move Opening Day to Thursday, April 5," said Bob Castellini, Reds President and CEO, in a news release. "Opening Day is a long-standing tradition for this team, our fans and the city of Cincinnati and we are pleased that the parade and game will now be on Thursday."

"The Findlay Market Association is once again proud to be the sponsor of the Opening Day parade," said Neil Luken, Chairman of the 93rd Findlay Market Opening Day Parade. "We want to thank the Reds and Major League Baseball for working with the Findlay Market vendors so we can put on a great parade."

When the Friday date was first announced, community leaders were concerned that Findlay Market vendors would not sponsor a parade on Good Friday, which is a heavy shopping day for the market.