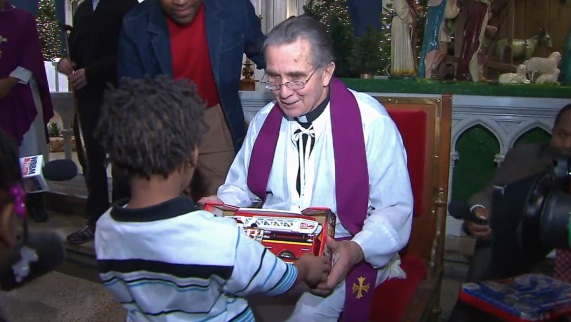 An inspirational story of the season from Chicago:
The Rev. Daniel Mallette, the 80-year-old South Side priest beaten and robbed in his church's rectory earlier this month, joked and handed out gifts to children this morning and declared, "It feels great being back."

With Mallette sitting in a chair, much like Santa Claus, the children approached one by one to receive a Christmas gift and exchange a few words with the priest.

"This is the job I always wanted," he told reporters, noting that he knew since age 6 that this was his vocation.

Police are still looking for the two men who beat and robbed Mallette in an upstairs bedroom at the rectory of St. Margaret of Scotland Church in the 9800 block of South Throop Street at about 12:30 a.m. on Dec. 6.

"He kept saying the act of contrition (a prayer expressing sorrow for sins) and they kept smacking him, telling him to shut up," said Patrick Catania, chairman of the parish council, later that day.

Before he fled, one of the robbers told Mallette: "This might sound ridiculous, but could you pray for me?" Catania said.
There's more, plus a video, at the link.