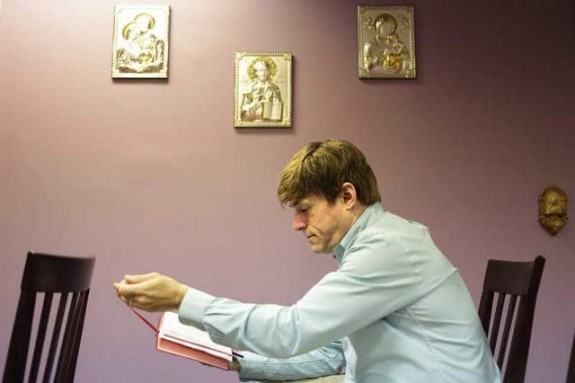 The Detroit Free Press has a lengthy profile of the controversial televangelist:
As a Catholic TV station based in Ferndale becomes increasingly popular around the world, church officials are trying to tell the public that the media outlet does not represent Catholicism.

In two public statements, the Archdiocese of Detroit has taken the unusual step of publicly criticizing Real Catholic TV, saying "that it does not have the authorization required under church law to identify or promote itself as Catholic."

The dispute comes as the TV station, which operates mainly over the Internet, has exploded in popularity since it started in 2008. Its videos attract 10 million views on YouTube and its public face, Michael Voris, has become a well-known, aggressive global advocate for conservative Catholics.

Voris returned from Nigeria last Monday, where he visited the church that terrorists attacked on Christmas Day. And on Friday, he left for the Philippines to help make the case against contraception use.

But as Real Catholic TV's popularity rises, the station is facing its share of detractors concerned about how its traditional views are sometimes expressed in a blunt manner.

"The only way to prevent a democracy from committing suicide is to limit the vote to faithful Catholics," Voris said on a show that stoked controversy.

For much of his life, Michael Voris of Ferndale was a lukewarm Catholic, someone who usually just went through the motions at church.

But after the sudden death of his brother in 2003 from a heart attack and the death of his mother from stomach cancer the following year, the former TV reporter became a changed man.

"Her dying really kind of started to wake me up," Voris recalled. "You have to face mortality. And then the questions came pouring in: What is the meaning of life? Who are we as human beings? Is there life after death? Those are fundamental questions everyone has to look for."

Voris found those answers in the Catholic Church. In 2006, he formed St. Michael's Media, a Catholic TV production company and studio in Ferndale. And in 2008, he helped launch Real Catholic TV. Today, the never-married 50-year-old is consumed by his passion to promote what he considers the one true faith. Working up to 18 hours a day, seven days a week, Voris is on a burning mission to save Catholicism and America by trying to warn the public about what he sees as a decline of morality in society.