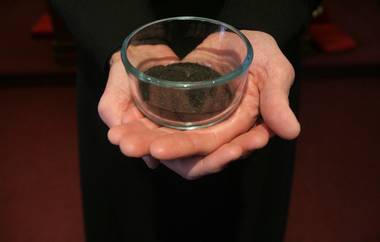 Have we started a trend?
Don't assume every ash-marked forehead you see today belongs to a Catholic.

Ash Wednesday, long associated with Catholicism, is increasingly observed in Protestant churches.

The Rev. Joe DeRoulhac became senior minister of Redlands' First Baptist Church in 1989 but didn't preside over Ash Wednesday services there until 2003. The idea came from an interfaith Ash Wednesday event he participated in a year or two before.

DeRoulhac said there's an increasing desire among Protestants to look anew at ancient Christian practices that previously were identified with Catholics.

"Part of this is retrieving from the past rituals that might help us today to fully experience the significance of our faith," he said. "It's our common heritage."

As in the Roman Catholic Church, ashes are typically seen as signs of repentance and mortality, and Ash Wednesday marks the beginning of Lent, the 40 days — except Sundays — leading up to Easter.

Even a small number of evangelical churches have begun holding Ash Wednesday services, said the Rev. Kurt Fredrickson, an associate dean at Fuller Theological Seminary, an evangelical institution in Pasadena.

Evangelicals historically have avoided practices viewed as Catholic, he said. Today, there's general acceptance among evangelicals that Catholics are fellow Christians and they see less of a need to distance themselves from Catholics, he said.