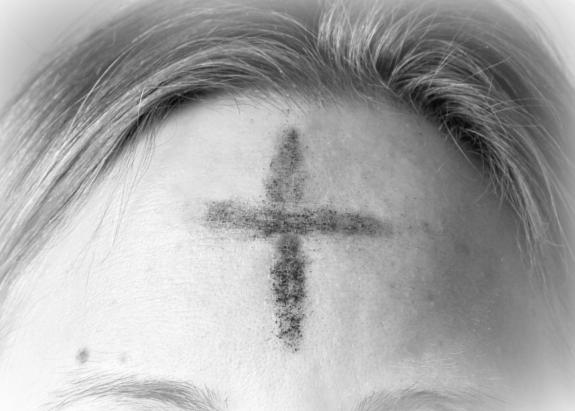 From The Evangelist in Albany:
Greg Zoltowski, a deacon at Our Lady of Grace in Ballston Lake at the time, often constructed charcoal drawings in his studio. Using his thumbs as his main tool, smearing and blending shadows and highlights to create depth and shape, a sudden connection struck him. Could he draw using palm ashes as a medium?

It was 2000 and Ash Wednesday was rapidly approaching. ­After successfully trying the method, he brought the idea to his parish. Although his peers initially expressed confusion about how the ash drawing of Christ's face would integrate into the Mass, he brought his work to Ash Wednesday anyway.

"It was a big hit," Zoltowski said of the project he calls "The Face of Christ as a Palette." Children were particularly impressed by receiving ash from the artwork. Zoltowski, alongside his pastor, used the drawing to mark parishioners at Our Lady of Grace with ashes.

As an artist, Zoltowski understands in any project, it's intended the work will survive once it's finished. But with this project, there's a connection between not only the medium, but the lack of permanency intended from the start. He will spray the drawings with a fixer only after they have been used to sign people in church, allowing his art to have a variety of thumb shapes floating around Christ's face, or in some cases, consuming him.

"The original drawings are artwork in themselves, but it's sort of like when you cut them up and put them back together, you're destroying and putting it back together, similar to the crucifixion and resurrection," said Zoltowski, now a deacon currently assigned to St. Madeleine Sophie and St. Gabriel in Schen­ectady.

After picking out a photo of Christ, Zoltowski will make a transparency of the image and project it onto a wall, where he then works off the projection by using charcoal to draw an outline of each of the pictures. Then he takes the drawing to his table where he fills in details from the original image.

The result is a realistic portrait of Christ's face, drawn with palm ashes and a little bit of charcoal, with his face serving as a palette to sign people with.
Read it all and see the results here.