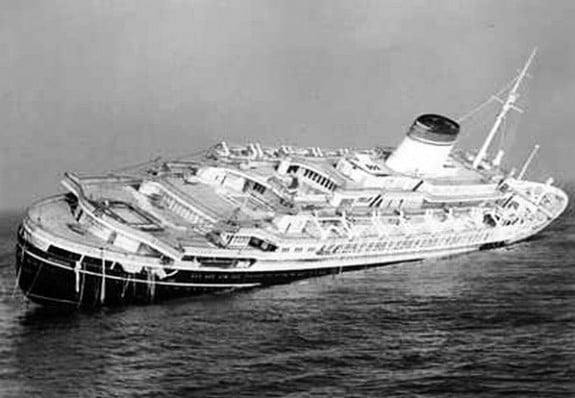 An ambitious undertaking by a seminarian is throwing new light on a dramatic moment of history:
It's been almost 60 years since the Andrea Doria sank 200 miles off Nantucket Island, but retired Auxiliary Bishop Raymond Goedert hasn't forgotten that day or his journey on that ship. And if Mundelein seminarian Kyle Lee has his way, neither will anyone else.

Lee spent five months compiling the recollections of Bishop Goedert, Father Richard Wojcik and Msgr. John Dulciamore of the night July 29, 1956, when the luxury liner collided with the passenger ship Stockholm 200 miles off Nantucket Island in foggy weather. The now-retired Chicago auxiliary bishop and three other Chicago priests were among the ship's 1,600 U.S. bound passengers.

Goedert, Wojcik and Dulciamore were coming home from Rome, where they had been taking graduate courses at the Pontifical Gregorian University, said Lee, who estimates he has six hours of taped interviews from the three.

Lee, who moved to the city from Columbus, Ohio, to attend the University of Chicago, said he's always been interested in lost ships starting with the Titanic and described himself as having a "scientific turn of mind." He was planning to attend medical school and was working in a research lab at Northwestern University when he decided to enter Mundelein Seminary where he is a first-year theology student.

"I was ready to apply (for medical school) at the end of the year, but the whole sense of being drawn to the priesthood was just impossible to ignore," he said.

So it was only natural for him to want to merge his interest in "priests doing priestly things" with the Andrea Doria disaster, Lee said.

"It became very apparent these priests were not alone, that there was something happening I can only characterize as grace," he said. "I felt I had an imperative to do this [tell their story]."

"As the interviews progressed, it got very obvious that the Holy Spirit or some influence was operating because this got less about the historical details and more about the spiritual implications of what happened. And it really became very beautiful," Lee said.

Asked what it was like the night of July 29, 1956, Bishop Goedert cautioned that "everyone's stories depend on where they were at the time. There were other priests ministering to the passengers. We said the rosary, gave general absolution," and tried to calm people down.

Of course he was scared, Bishop Goedert said. "I certainly thought the end had come. When I said the Hail Mary, the words 'now and at the hour of our death' sounded pretty immediate. I started making so many promises to God I don't remember them all. They were genuine. I was reacting partially from faith and partially from fear," Bishop Goedert said.