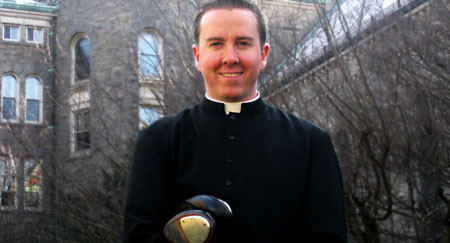 Really! Behold, the terpsichorean skills of David Rider.
From the good folks at CNS, here's a description from Robert Duncan of how it came to be:
I briefly met David Rider two years ago in New York City while on retreat at the archdiocesan seminary. I was surprised to run into him on the streets of Rome last spring. He was wearing clerics and I gave him one of those "don't-I-know-you-from-somewhere" finger wags. Since then, we've run into each other often, he going to and from class at the Pontifical Gregorian University and I all about the city with my camera, on the job.

I'm a lover of the old Fred Astaire movies and all the great show tunes of his day, so when I discovered that Rider had left theater to give his life to the priesthood, I asked him to talk about all that jazz on camera. I hope the video I've produced pays homage to both the quintessential American art form and to Rider's vocation story.
Take a look. When was the last time you saw a guy in Roman collar and tap shoes?