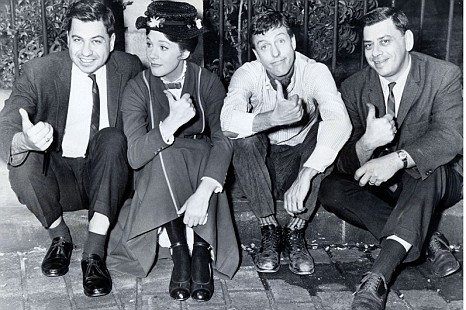 You may not know his name, but you know his music. It's inescapable. "It's A Small World" and "Supercalifragilisticexpialidocious" are just two of his enduring songs, penned with his brother, Richard. (In the photo above, that's Robert on the left and Richard on the right. You know who those other two are.) If memory serves, they also wrote "You're 16, You're Beautiful and You're Mine," along with the score to "Chitty Chitty Bang Bang" and "The Jungle Book."
While few details are currently known about the circumstances, news of the 86-year-old's death was posted by Sherman's son Jeff late Monday evening via Facebook. Read the full statement below.

Sherman had accumulated a slew of prestigious awards throughout his career, including two Academy Awards, one Grammy Award and many more nominations. With his brother Richard Sherman — together known as The Sherman Brothers — he was honored with a star on the Hollywood Walk of Fame in 1976. The duo was featured in a retrospective album, released by Disney Records in 1992, titled The Sherman Brothers: Disney's Supercalifragilistic Songwriting Team.

Sherman was born on Dec. 19, 1925 in New York City.

Read son Jeff's post below:

Hello to family and friends,

I have very sad news to convey.

My Dad, Robert B. Sherman, passed away tonight in London. He went peacefully after months of truly valiantly fending off death. He loved life and his dear heart finally slowed to a stop when he could fight no more.

I will write more about this incredible man I love and admire so much when I am better rested and composed. He deserves that.

In the meantime, please say a prayer for him. As he said, he wanted to bring happiness to the world and, unquestionably, he succeeded. His love and his prayers, his philosophy and his poetry will live on forever. Forever his songs and his genius will bring hope, joy and love to this small, small world.

I love you, Dad.

Safe travels.
It was often said that Walt Disney's favorite song was "Feed the Birds," because of its message of Christian charity and compassion. From Wikipedia:
Robert Sherman recalls:

"Songs have been written about a myriad of subjects. 'Feed the Birds' is the first song written about the merits of giving charity."[cite this quote]

Tony Brown of The Plain Dealer related additional Sherman comments about the song and its role in Mary Poppins in "Finding 'Mary Poppins' from book to movie to stage:
"… [w]e seized on one incident, in Chapter 7 of 'Mary Poppins Comes Back', the second book — the bird woman. And we realized that was the metaphor for why Mary came, to teach the children — and Mr. Banks — the value of charity. So we wrote the song and took it up to Walt's office and played it and sang it for him. He leaned back in his chair, looking out the window, and he said: 'That's it, isn't it? That's what this is all about. This is the metaphor for the whole film.' And that was the turning point in our lives … We were full-time staff, so we had an office at the studio, and every so often Walt would call us up to his office on a Friday afternoon. We knew what he wanted. When we got there, he would say, 'I just wanted to know what you boys were up to these days.' Then he would turn around in his chair and stare out the window, like the first time we played it for him, and he would say, 'Play it.' And we would … And you could just see Walt thinking, 'That's what it's all about, everything we do at Disney.'"
I can't think of a better tribute to Robert Sherman — or a more timely message during Lent. Rest in peace, Richard Sherman. And thank you for giving so much to so many.