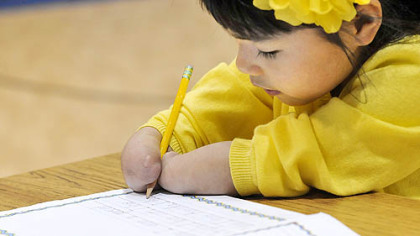 How awesome is this?  H/T Crescat
Details, from the Pittsburgh Post-Gazette:
By all accounts, Annie Clark, 7, a first-grader at Wilson Christian Academy in West Mifflin, is a hard-working and determined student who makes a point of learning from her mistakes and strives for perfection in her work.

So on the surface, it should come as no surprise that she won a national handwriting award from the Zaner-Bloser language arts and reading company. That is, of course, if you didn't know that she was born with no hands.

On Wednesday, Annie received one of two national handwriting awards the Zaner-Bloser firm offered for the first time this year to disabled students. The other went to a student in Eastlake, Ohio, who has a visual impairment.

Along with the Nicholas Maxim Special Award for Excellent Penmanship, Annie got a trophy nearly half her height and $1,000. She was awarded the prizes during a surprise assembly at her school.

When the purpose of the assembly was announced and Annie's name was called, she appeared stunned and overwhelmed as she quietly made her way to the front to accept her trophy and a bouquet of flowers, dressed in a ruffled white skirt and bright golden blouse. Initially she left the assembly with her classmates because she didn't want to miss math class.

But she returned a few minutes later to talk with reporters and demonstrate how she writes with a pencil wedged between her arms.

Her parents, Tom and Mary Ellen Clark, said it's the same method Annie uses to feed and dress herself, cut with scissors and even paint her toenails…

…Annie's can-do attitude may come from her family of eight siblings. The Clarks have three biological children, Amanda, 29, Amy, 25 and Abbey, 21. Abbey was born with Down syndrome, and the Clarks said their experiences with her opened their eyes to the world of disabled children. "I feel like God used that to teach us the value of every human being," Mrs. Clark said.

Devout Christians, the Clarks started to adopt disabled Chinese children. In addition to Annie, the Clarks adopted sons Travis and Talbot, 10, and Tyler, 18, all of whom are missing parts of their right forearm. They also have two other adopted daughters, Alyssa, 18, who also has Down syndrome, and Amelia, 4, who has an undiagnosed lesion on her leg.

The Clarks said while others might consider their family a burden, they consider their children to be blessings.

"If we didn't have them, the blessings and joys and all the fun we have had, we certainly would have missed out on that," Mr. Clark said.
Read on. And there's this, from ABC News:
Annie's siblings, classmates, teachers and family couldn't be happier for her. The determined seven-year-old is stopping here. She has big dreams of becoming an author, according to her teacher.

"This has given her a real sense of confidence," he mother, Mary Ellen Clark said. "She is just proud to be her and as a parent, I'm just thrilled with that."