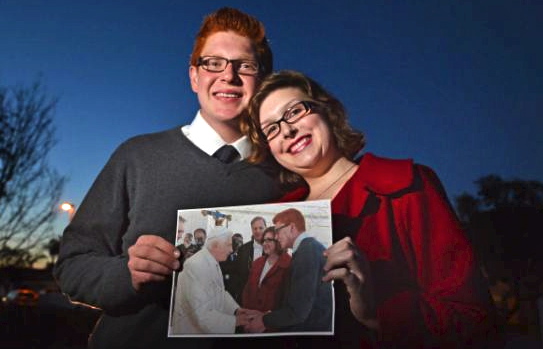 How cool is this?
She wore a red coat to stand out among the foreign dignitaries and international politicians.

Others in line to meet the leader of the Roman Catholic Church carried gifts: Tapestries, paintings, even the Olympic torch.

Olivia Kassien didn't have anything, but it didn't matter

A cardinal wearing Ray Ban sunglasses told her it was time.

She linked arms with her 16-year-old brother, Troy, and walked up to meet Pope Benedict XVI.

"It's so much bigger than meeting the president or a celebrity," Olivia, 17, said. "I looked into his eyes and I literally thought he was looking into my soul."

She worried her illness would prevent her from showing proper respect. Sometimes she can't kneel because it's too painful.

The Vatican meeting was the result of a series of long-shot chances that played out in Olivia's favor.

Visiting Italy had long been her wish; a hope to escape her daily reality of living with a rare disease. But meeting the Pope was something she never thought to request….

…

As a student at the Orange County High School for the Performing Arts in Santa Ana, she studied opera and was singing with the advanced classical choir as a freshman.

She suffered from stage fright so her mother would make her sing in public; markets, parking lots and furniture stores became her stage.

"Once I was able to conquer stage fright … I knew I was good and I really started to love it," she said.

Just as she was getting comfortable in the spotlight, Olivia was diagnosed with Behcet's Disease, an incurable autoimmune disorder.

Olivia started showing symptoms at 13 but it took two years for doctors to diagnose the disease, her mother Lisa Kassien said.

Olivia requires infusions every six weeks and chemotherapy treatments because the medicine she takes can cause cancer.

The disease causes ulcers, intense fatigue and extreme joint pain and stiffness that her mother describes as similar to rheumatoid arthritis.

Olivia started missing school and eventually stopped singing.

Lisa submitted her daughter's story to the Make-A-Wish Foundation and a year later learned she would get a wish.

Representatives from the nonprofit interviewed Olivia, asking her favorite color, favorite restaurant and what kind of music she enjoyed.

Her ultimate wish was to travel to Italy, but meeting Julie Andrews or spending a family vacation in Hawaii was also on her list.

Olivia had kept a running tally of friends she knew who visited Italy.

It was up to 18 people when she got the news in November that she would be able to add her name to the list. But it wasn't until a week before they were to leave that the Kassiens found out they would head to Rome.