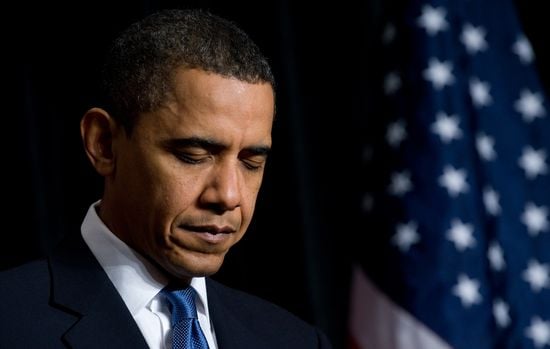 This comes from The Hill, the political paper of record on Capitol Hill:
President Obama has seen his standing among Catholic voters, a crucial segment of the electorate, slip in recent weeks, and a looming confrontation with Catholic activists could make it worse.

Democrats want voters this year to focus on what they have branded a war on women, but the flip side of the debate — the so-called war on religion — is not going away anytime soon.

Earlier this month, the U.S. Conference of Catholic Bishops called for two weeks of public protest in June and July against what it sees as growing government encroachment on religious freedom.

The protests are expected to include priests and nuns and thousands of Catholic parishioners. Some activists expect civil disobedience, which could lead to powerful images of priests and nuns being led away in hand restraints.

"This is the most dynamic situation I've ever seen since I've been involved in Catholics and politics," said Deal Hudson, president of Catholic Advocate, who also headed Catholic outreach for the Bush-Cheney presidential campaign in 2000 and 2004. "I think civil disobedience is almost inevitable. I think that kind of protest is on the way."

Republican strategists say the rallies and protests could become powerfully symbolic in the presidential election.

"These would be devastating images for the Obama administration," said Ron Bonjean, a Republican strategist. "You have a very important religious demographic coming out in protest of Obama's policies and being arrested for their expression. These images would be politically damaging for the president's campaign."

And the conference could go beyond protests — it has also discussed working with evangelical Christian groups on a broader public relations campaign that could include television and radio ads.