"I'll tell you what a priest told me today: Dubuque would not have refused him communion."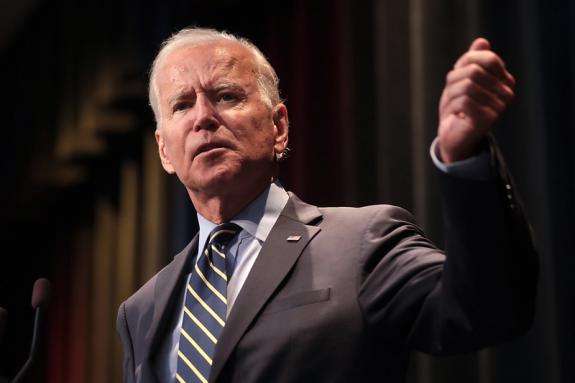 Joe Biden took the stage at a Catholic college in Dubuque, Iowa, and spoke of faith and hope and the soul of America — themes that borrow from his religious upbringing that he's betting will pry a key constituency away from President Donald Trump.

Catholic voters could be a deciding factor in whether Democrats win the White House in 2020. And Biden, a 76-year-old Catholic educated by nuns in Scranton, Pennsylvania, is making an overt attempt to win them back.

Biden's message has particular resonance in Dubuque, a historically Catholic town on the Mississippi River. It's a county that voted Democratic for every presidential candidate since John F. Kennedy — the first and only Catholic president — but that supported Donald Trump in 2016.

Trump's 2016 campaign made outreach to Catholic voters a key part of his strategy — crafted in part by Catholic advisers like Steve Bannon and Kellyanne Conway. He promised to appoint anti-abortion judges, and told Catholics "I will fight for you."

Biden's approach is a softer sell. He has no official Catholic outreach — or any religious outreach, for that matter. He's careful to say that he doesn't seek to impose his religious views on anyone, or make them the basis of public policy. He supports abortion rights, which prompted a priest in South Carolina to refuse him the sacrament of Holy Communion last week.

And yet Biden's Catholic identity is at the heart of his campaign.

"He practices his faith. He doesn't proselytize," said campaign manager Greg Schultz, who is also Catholic. "People see that."

At 22% of the population, Catholics are arguably the largest group of swing voters in the country — in part because they span the political spectrum and usually vote for the winner.
The reporter also talks to a Catholic voter in Dubuque, a woman named Anne Heinz, who took note of some recent news about Biden:
She's not troubled by the communion flap, which she said reflected more on the South Carolina priest than it did on Biden.

"I'll tell you what a priest told me today: Dubuque would not have refused him communion," she said.