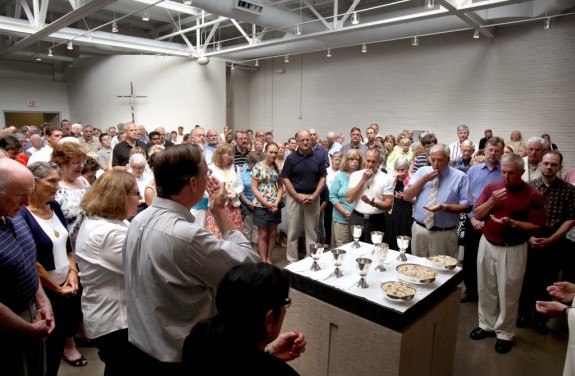 The Rev. Robert Marrone has been suspended from priestly ministry for disobeying an order by Cleveland Catholic Bishop Richard Lennon to remove himself as pastor of a breakaway congregation, according to a letter the priest wrote to his followers.

Marrone and his congregation, the Community of St. Peter, broke away from the diocese to set up their own worship space in a commercial building in August 2010, four months after Lennon closed their church, St. Peter, in downtown Cleveland.

The closing was part of a diocese-wide downsizing that saw the elimination of 50 churches.

But the majority of the congregation and Marrone vowed to stay together, leasing space in a century-old warehouse, where they have been celebrating Mass since their self-imposed exile.

Last week, the bishop met with the priest and told him that the breakaway congregation of more than 300 was not in communion with the Roman Catholic Church.

According to a letter Marrone wrote this week to his congregation, Lennon told him he had seven days from the May 22 meeting to remove himself as pastor of the community or immediately be suspended from his priestly duties.

Marrone wrote: "I will not comply with this decree and I intend to remain in solidarity with this community and will not remove myself as pastor of the Community of St. Peter."

The seven days expired Tuesday.

Diocese spokesman Robert Tayek said in an email Wednesday that he did yet have all the details of the meeting between Marrone and Lennon.

He said the bishop "asked Father Marrone to reconcile himself with the diocese and that he communicate his response within seven days, which he did."

"As proposed, the Rev. Marrone wrote a letter in response to Bishop Lennon and indicated he would not comply with the request that he reconcile," Tayek wrote in his email.
Read more.
Marrone's letter is also at the link.
Please keep this priest and the community of St. Peter in your prayers.  I think all concerned need them.
UPDATE: Bishop Lennon is now denying that the priest is suspended:
Bishop Richard Lennon of the Catholic Diocese of Cleveland said in a letter Thursday that he has not suspended the Rev. Robert Marrone from his priestly ministry, despite what Marrone told his breakaway congregation this week.

Lennon, writing to priests and deacons, said that on May 22, he met with Marrone to encourage him to remove himself as pastor of the Community of St. Peter and to reconcile with the Catholic church. The bishop said he gave Marrone seven days to respond.

Although Marrone responded that he would not leave his congregation, Lennon said in his letter that he has not suspended the priest. Instead, the bishop wrote, he has "begun an investigation to determine whether a canonical penalty is to be imposed."

Marrone said Thursday that he still believes, according to what the bishop told him during their meeting last week, that he was suspended. He added that he was troubled and puzzled by the bishop's denial.