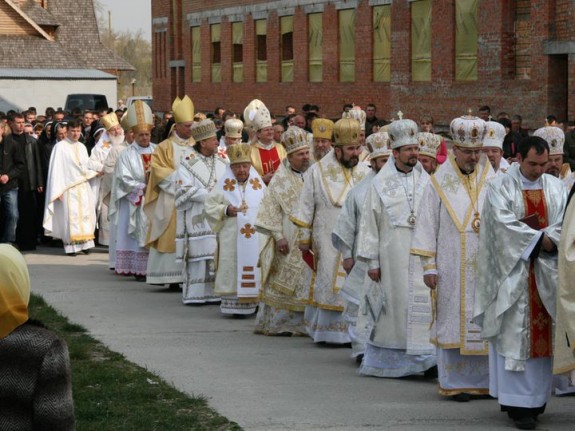 That's the bitter assessment of one Ruthenian Catholic priest, and it provoked an interesting essay in First Things on a subject we in the Latin Rite don't hear about very much:
Gathered for their ad limina, Eastern Catholic bishops from the U.S. were addressed last week by Prefect of the Congregation for the Oriental Churches, Leonardo Cardinal Sandri. His injunction—made not about abortion, the HHS mandate, war, wealth redistribution, or gay marriage—could have a critical influence on the Christian response to all of the above.

Among the Cardinal's remarks was a tersely reiterated expectation of celibacy for priests serving the Eastern Catholic Churches in diaspora—in this case the U.S. The message may not have been carried directly from the hand of Benedict but the effect has been unpleasant to say the least.

Enter Thomas Loya, a Ruthenian Catholic priest of the Parma Ohio Eparchy, writing his eparch in response:

In addition to being chillingly reminiscent of the demeaning attitude of the Latin Rite bishops toward the Eastern Catholic Churches during the beginning of the last century in America, the Cardinal's remarks about celibacy seem to confirm what so many Eastern Catholics in America have suspected for too long: Rome and the Latin Rite see the Eastern Catholic Churches in America as essentially inconsequential, perhaps even in the way of ecumenism between Rome and the Orthodox Churches.

The chilling reminiscence refers, in part, to an exercise in aberrant ecclesiology—more a power play—engineered by Archbishop John Ireland that resulted in an entire body of U.S. Eastern Catholics breaking communion with Rome.

I'm not about to jump into the trenches on the issue of celibacy (I would rather the comments box not turn into a Mixed Martial Arts cage). I'll simply repeat the known fact that celibacy it is not a dogma of the Church but a discipline, and that its normative status in the Latin Church is not of ancient provenance. Moreover, Loya's point is not about celibacy per se but ecclesial integrity and mutual respect.

What moves us onto this more sensitive landscape is his suggestion that Rome views the Eastern Catholic churches as "in the way" of relations between itself and the Orthodox Churches. I can certainly see why it would occur to him and he's not the first to say it. For centuries, the existence of the so-called Uniate Churches has been a vexed point in those relations.

But I wonder how much help he can realistically expect from the Eastern hierarchs. Too many Eastern Catholic bishops behave as though their mandate actually is to allow their Churches to die a slow, palliated death.