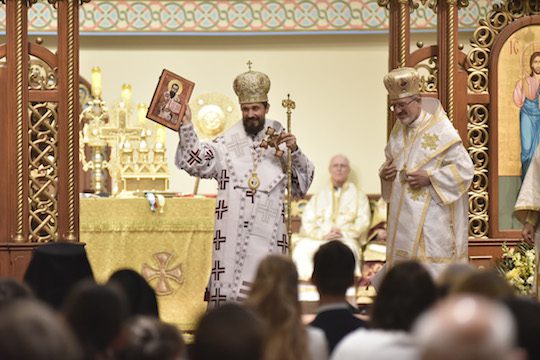 From our Eastern siblings:
At 44, Bishop Milan Lach is the fifth bishop of the Byzantine Ruthenian Eparchy of Parma and the youngest bishop to head a diocese in North America.

He also is the third-youngest Eastern Catholic bishop to head a diocese and the first foreign-born bishop for an eparchy that comprises 12 states in the Midwest.

A native of Slovakia, Bishop Lach is among about a dozen bishops from other countries that Pope Francis has appointed to the United States.

He was enthroned recently as Parma's bishop during a Divine Liturgy at the Cathedral of St. John the Baptist, after having served as its apostolic administrator since 24 June 2017. He succeeds Bishop John M. Kudrick, who resigned in May 2016.

Bishop Lach, who is a Jesuit, has visited almost every parish and mission of the eparchy since his arrival to the United States last summer and has established pastoral priorities that include youth, evangelization, and parish reorganization.