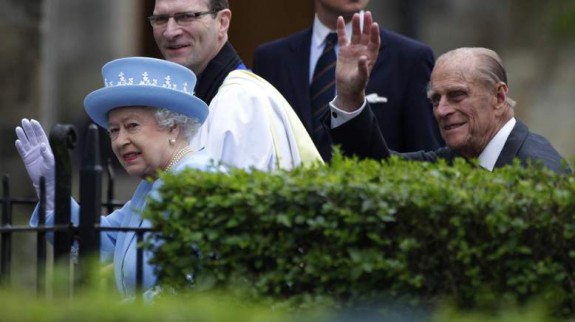 From Sky News:
For the first time, the Queen has stepped inside a Roman Catholic church on the island of Ireland in what is being seen as a hugely symbolic moment.

It came as she visited the town of Enniskillen – the scene of one of the worst atrocities of The Troubles – during a two-day Diamond Jubilee tour of Northern Ireland.

Her Majesty was cheered as she waved to the crowds outside St Michael's Church and then those inside clapped as she entered the building.

Earlier in the day, the Queen attended a thanksgiving service at an Anglican cathedral in the town, on the eve of her historic handshake with Deputy First Minister and alleged former IRA commander Martin McGuinness.

Eleven people died in the IRA bombing of the war memorial on Remembrance Sunday 1987.

After the thanksgiving service, the Queen was thought to have met the families of some of the victims.