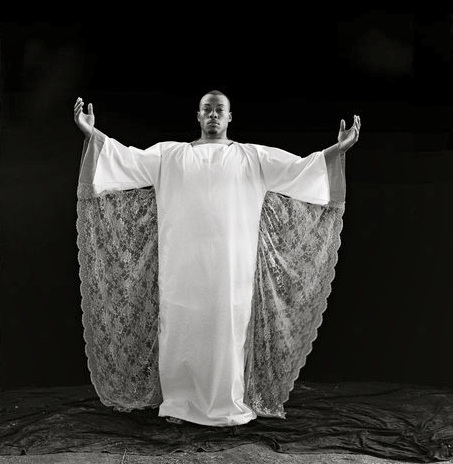 Imagine the life of Christ told by inmates in jail — and you will have the astonishing production recently staged in Louisiana's State Penitentiary in Angola.  NPR has more:
The Life of Jesus Christ featured 70 inmates, men and women acting together for the first time — in costume, with a real camel, performing for the general public. For the untrained actors, this production held special meaning as they saw pieces of their own lives revealed in the characters they played.

The Roman soldier who executes Jesus is played by Terrence Williams, a muscular convicted murderer who is serving time for his earlier role as an assassin for a drug-dealing gang on the streets of New Orleans.

The centurion's armor is castoff football pads, and his shield is cut from a plastic garbage can. His thick arms are covered with prison tattoos. Williams is in his 17th year of a life sentence at Angola.

"I was involved with a large drug trade, things went haywire, people wound up dead, I got charged with murder, you know, more than once. … I left with my hands bloody," he says. "But here I am, in prison, playing a character in The Life of Jesus Christ, so who's to say we can't change? And I think what me and the guys are doing, this is a way to say that we're making amends for the crimes that brought us to the situation in our lives at this point."

It is not possible, during a one-day visit, to know whether these inmate actors have become penitent and sorrowful for their sins, or whether they have changed, as many are quick to tell a reporter. Some believe they are innocent.

Many of the inmates interviewed, however, say their roles in this play have deeply affected them. Serey Kong, playing the Virgin Mary, is serving 15 years for armed robbery. Born in Cambodia, Kong was raised in New Orleans from the time she was 2.

Now 31, Kong has spent a third of her life in the Louisiana Correctional Institute for Women in St. Gabriel, an hour-and-a-half bus ride away. She is one of 19 women in the play.

Kong says the role of Mary has helped her deal with a trauma she experienced as a teenager that she'd never spoken about, until now.

"They say Mary is 14, 15, something like that, and when I was that age, I came up pregnant," she says. "I ended up having an abortion. And Mary gave birth to God, and, I don't know, doing this part is kinda healing for me in a sense, with the abortion I had at 14."

The Life of Jesus Christ was staged over three days in May inside the rodeo arena at the Louisiana State Penitentiary. About 1,200 people saw the production: prisoners in jeans and T-shirts, relatives, church groups and a few curious members of the public. They applauded appreciatively in the sticky Southern heat.

The title role is played by New Orleanian Bobby Wallace.

"I been here for two armed robberies, and I have 66 years flat and I have two years left before I go up for parole," says the man who portrays Jesus.

In the Last Supper scene, Wallace wears prison shower slippers and a tunic of white muslin donated to the production, telling his "disciples" to "teach the world as I have taught you."

Wallace, along with many of the male actors, is a member of the Angola Drama Club and a student of the Baptist Theological Seminary — the first prison seminary of its kind in the nation.

Wallace says he was surprised when he was selected for the lead role during a two-week acting workshop, but he's grateful.

"Jesus was considered to be a criminal. He was being punished for what he believed in, let me say that. I identify with him on some parts, because he was condemned," Wallace says.
Read more. And check out the slideshow and audio.
Photograph of the Angel Gabriel (Rontrell Wise) by Deborah Luster for NPR