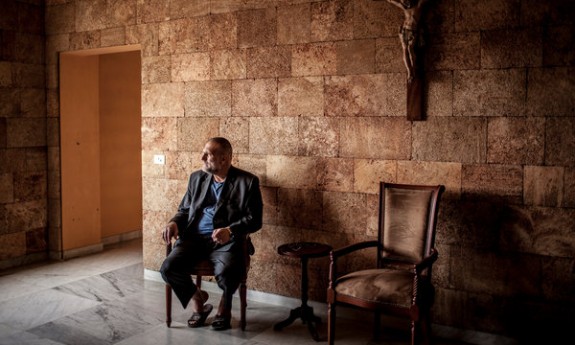 From the New York Times:
Thick wooden beams barred the doors of St. Cyril's Church in Damascus when friends of Bassel Shahade, a young opposition filmmaker killed in Homs in late May, arrived for a memorial prayer service. Government thugs dragged some mourners off to jail and chased away the rest, according to activists.

The leadership of the Melkite Greek Catholic Church did not intervene, they said. But the Rev. Paolo Dall'Oglio, an Italian Jesuit, invited Mr. Shahade's friends to pray at Deir Mar Musa, an ancient desert monastery "Nobody was allowing them to pray for their lost friend," he said in Beirut, noting that both Muslims and Christians attended.
His offer was the last straw for the Syrian government, which had been seeking to expel Father Paolo since last year — and finally did. He departed on Saturday, leaving behind the monastery that he rebuilt and reinvented over the last 30 years into a center for interfaith dialogue.

"The very fact that I am for change, for democracy, for human rights and dignity, this is very provocative," said Father Paolo, 57, a burly, animated man with cropped gray hair and a salt-and-pepper beard, wearing a dark gray suit and indigo T-shirt. "I received a one-way visa out."

The government of President Bashar al-Assad, dominated by his own minority Alawite sect, has long presented itself as the guardian of Syrian minorities and pluralism. But that is a mirage, opponents said, with minorities cherished only if they kowtow.

The life and times of Father Paolo are proof enough, they said.

"For 40 years they have been scaring Christians about others, making them believe that the regime is protecting them and protecting minorities, but that is a lie," said Sarjoun al-Akkadi, the head of the Christian Coordinating Committee in Latakia, one of the few Christian organizations openly opposing the government.

Father Paolo was punished for supporting groups like his, he said. "He spoke with a spirit opposed to the repression of the demands of the people," Mr. Akkadi said in an interview via Skype. "If he weren't Italian, he would have been arrested, if not killed."

The Christian population is estimated at less than 2 million among Syria's 23 million people, or about 8 percent. Fear of a looming Muslim fundamentalist takeover drives most of the Christians to support Mr. Assad, or at least remain on the fence, Father Paolo said.

"The fear of Islam is a big, massive fact," he said, adding that Christians here, like all Syrians, have zero schooling in democracy. "The democratic system is still something coming from the West with Zionist interests."